Computer Programming
Home. Computer Science. OpenProcessing - Share your sketches! Udacity | Free Online Courses. Advance your College Education & Career. Stack Overflow. Learning LESS: An Introduction. Today, I'm proud to start a series of posts that will focus on LESS , the dynamic language that takes your CSS and puts it on steroids.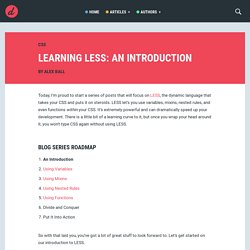 LESS let's you use variables, mixins, nested rules, and even functions your CSS. It's extremely powerful and can dramatically speed up your development. There is a little bit of a learning curve to it, but once you wrap your head around it, you won't type CSS again without using LESS. Blog Series Roadmap Using Variables. How to Teach Yourself to Code. 8 Useful Websites to Learn How to Code Quickly. As a lead frontend developer, it's my responsibility to make sure I'm keeping up-to-date with the web development industry trend.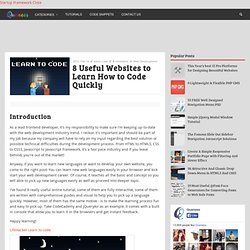 I reckon it's important and should be part of my job because my company will have to rely on my input regarding the best solution or possible technical difficulties during the development process. From HTML to HTML5, CSS to CSS3, Javascript to Javascript framework, it's a fast pace industry and if you leave behind, you're out of the market! 6 Free Javascript E-Book Worth Reading. Introduction Web development industry is a fast-paced industry.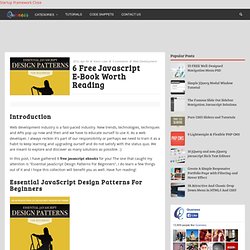 New trends, technologies, techniques and APIs pop up now and then and we have to educate ourself to use it. As a web developer, I always reckon it's part of our responsibility or perhaps we need to train it as a habit to keep learning and upgrading ourself and do not satisfy with the status quo. Tutorials. YouTube Playlists for Learning Programming. YouTube has been very good platform for learning any thing.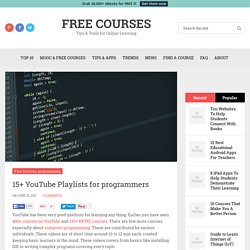 Earlier you have seen 400+ courses on YouTube and 130+ NPTEL courses. There are few more courses especially about computer programming. 20+ Computer Science Programming Courses. Hacker News. HTML5, CSS3, Javascript tutorials - learn and teach | TheCodePlayer. 30 Days to Learn HTML & CSS - Free Tuts+ Premium Course. Learn HTML | Mozilla Developer Network. Tutorials. Learn Web Design, Web Development, and iOS Development - Treehouse. Learn How to Make Websites | Mozilla Developer Network. CodePupil - Learn to code thru fun visual exercises & games.
WiBit.net. Learn Python - Free Interactive Python Tutorial. Programr | Code It Online.
---
irosen Jul 31 2012

As another great website to learn computer programming for free is the MIT website
---