Tools
15 Ways To Use The New iPad In Classrooms. 3 Tools to Export Twitter Search Results to Excel. You probably know how much I love Excel for being an excellent data management tool.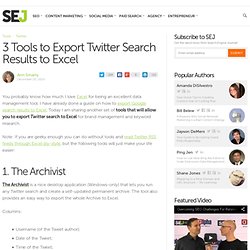 I have already done a guide on how to export Google search results to Excel. Today I am sharing another set of tools that will allow you to export Twitter search to Excel for brand management and keyword research. 3 Tools to Export Twitter Search Results to Excel. The Ultimate Dropbox Toolkit & Guide. Dropbox, the app we all (at least many of us) know and love, has a plethora of advanced uses to make life so much easier in managing data between multiple computers and online.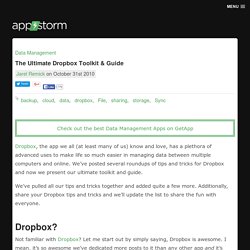 We've posted several roundups of tips and tricks for Dropbox and now we present our ultimate toolkit and guide. We've pulled all our tips and tricks together and added quite a few more. Additionally, share your Dropbox tips and tricks and we'll update the list to share the fun with everyone. Dropbox? Not familiar with Dropbox? Five APIs that developers should know about.
Developers have arguably never had it better.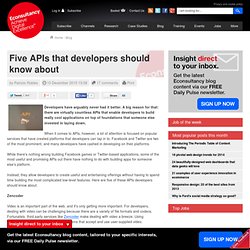 A big reason for that: there are virtually countless APIs that enable developers to build really cool applications on top of foundations that someone else invested in laying down. When it comes to APIs, however, a lot of attention is focused on popular services that have created platforms that developers can tap in to. Facebook and Twitter are two of the most prominent, and many developers have cashed in developing on their platforms. 25 Tips for Intermediate Git Users : Andy Jeffries : Ruby on Rails, MySQL and jQuery Developer. I've been using git for about 18 months now and thought I knew it pretty well.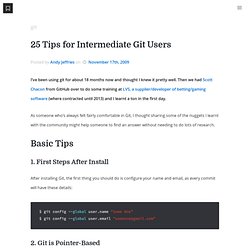 Then we had Scott Chacon from GitHub over to do some training at LVS, a supplier/developer of betting/gaming software (where contracted until 2013) and I learnt a ton in the first day. As someone who's always felt fairly comfortable in Git, I thought sharing some of the nuggets I learnt with the community might help someone to find an answer without needing to do lots of research. 1. First Steps After Install After installing Git, the first thing you should do is configure your name and email, as every commit will have these details: Pete's Power Point Station - A Collection of FREE Presentations in PowerPoint format for K-12 Teachers and Students. Query Language. What is YQL?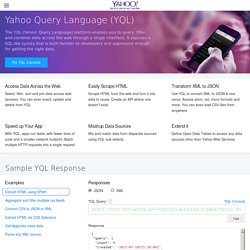 The Yahoo Query Language is an expressive SQL-like language that lets you query, filter, and join data across Web services. With YQL, apps run faster with fewer lines of code and a smaller network footprint. Yahoo and other websites across the Internet make much of their structured data available to developers, primarily through Web services. 15 examples. Data Visualization is a method of presenting information in a graphical form.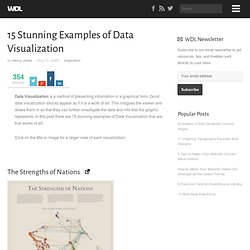 Good data visualization should appear as if it is a work of art. This intrigues the viewer and draws them in so that they can further investigate the data and info that the graphic represents. In this post there are 15 stunning examples of Data Visualization that are true works of art. Click on the title or image for a larger view of each visualization. Modern graphic design inspiration blog + vintage graphics resource. Consumerist Budget Spreadsheet Balances Your Money, Encourages Your Nest Egg. @cbalian: I somewhat agree with you, the end result looks like something created during intro to excel class (couldn't even spell "SAVIINGS" right).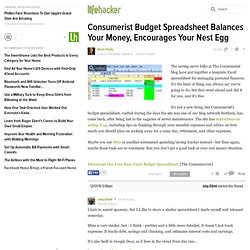 I think the main point though is that it has been refined over time into something that works for the creators. For myself I tried all the templates, money manager programs etc... I found them either not suited to how I want to track my money or else way too big/complicated. So I perused the net for excel budget templates with nifty formulas, tables, charts etc and learned about pivot tables(which are awesome btw). As my understanding of excel and budgeting grew so did my spreadsheet... in fact my expenses sheet looks quite similar to this, though I've opted to only show debits on it since I don't want to micromanage every penny (especially since my wife does dozens of transactions in a day and is horrible at recording them) GRAMPS – Free Software Project for Genealogy 
If you're new here, you may want to subscribe to my RSS feed and if you have questions related to your ubuntu system post question to our forums.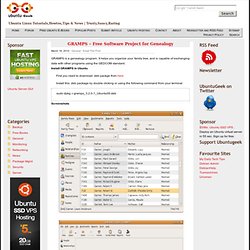 Thanks for visiting! GRAMPS is a genealogy program. It helps you organize your family tree, and is capable of exchanging data with other programs using the GEDCOM standard.Install GRAMPS in Ubuntu First you need to download .deb packge from here Install this .deb package by double clicking or using the following command from your terminal.
Pearltrees
25 Best SSH Commands / Tricks. OpenSSH is a FREE version of the SSH connectivity tools that technical users of the Internet rely on.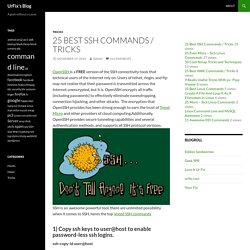 Users of telnet, rlogin, and ftp may not realize that their password is transmitted across the Internet unencrypted, but it is. OpenSSH encrypts all traffic (including passwords) to effectively eliminate eavesdropping, connection hijacking, and other attacks. The encryption that OpenSSH provides has been strong enough to earn the trust of Trend Micro and other providers of cloud computing.Additionally, OpenSSH provides secure tunneling capabilities and several authentication methods, and supports all SSH protocol versions.
SSH is an awesome powerful tool, there are unlimited possibility when it comes to SSH, heres the top Voted SSH commands. Nebraska Fusion Center Implementing New Search Tool. Photo courtesy of the U.S.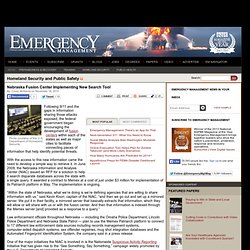 Department of Homeland Security. Following 9/11 and the gaps in information sharing those attacks exposed, the federal government began encouraging the development of fusion centers within each of the states as well as major cities to facilitate connecting pieces of information that help identify potential threats. With the access to this new information came the need to develop a simple way to retrieve it.
Perl. Javascript. All commands. Firefox Extensions for the Web Developer - www.htmlgoodies.com. Raindrops on roses and whiskers on kittens...yada yada yada (I mentioned the kittens). Here are a few of my favorite Firefox things: Web Developer, Pixel Perfect, ColorZilla, Measure It and Pixl Grabber. If you are not yet using the Firefox extension Firebug, run--don't walk--to downloadville.
---