Technology
Publishing Your Applications
Before you publish your app on Google Play and distribute it to users, you need to get the app ready, test it, and prepare your promotional materials. This document helps you understand the publishing process and get ready for a successful product launch on Google Play. It summarizes some of the tasks you'll need to complete before publishing your app on Google Play, such as creating a signed, release-ready APK, understanding the requirements of the app, and creating the product page and graphic assets for your app.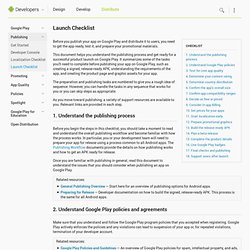 Welcome to Rosetta Code
Technology Review: The Authority on the Future of Technology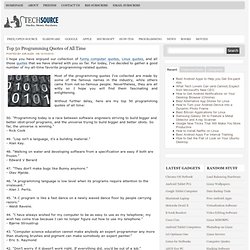 I hope you have enjoyed our collection of funny computer quotes, Linux quotes, and all those quotes that we have shared with you so far. For today, I've decided to gather a good number of my all-time favorite programming-related quotes. Most of the programming quotes I've collected are made by some of the famous names in the industry, while others came from not-so-famous people. Nevertheless, they are all witty so I hope you will find them fascinating and enlightening. Without further delay, here are my top 50 programming quotes of all time:
Top 50 Programming Quotes of All Time
Richard Stallman. Photo by jeanbaptisteparis on Flickr. Some rights reserved Google's new cloud computing ChromeOS looks like a plan "to push people into careless computing" by forcing them to store their data in the cloud rather than on machines directly under their control, warns Richard Stallman, founder of the Free Software Foundation and creator of the operating system GNU. Two years ago Stallman, a computing veteran who is a strong advocate of free software via his Free Software Foundation, warned that making extensive use of cloud computing was "worse than stupidity" because it meant a loss of control of data. Now he says he is increasingly concerned about the release by Google of its ChromeOS operating system, which is based on GNU/Linux and designed to store the minimum possible data locally.
Google's ChromeOS means losing control of data, warns GNU founder Richard Stallman | Technology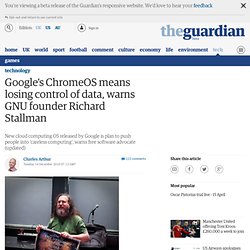 gawker.csv - Google Fusion Tables
[Welcome back to the Damn, I Wish I'd Thought of That! newsletter. This is text of the great issue all of our email subscribers just received. Sign yourself up using the handy form on the right.] This week, we'd like to share three quotes hung up in our office that represent some of the big ideas behind how we do business.
Andy Sernovitz's Damn, I Wish I'd Thought of That!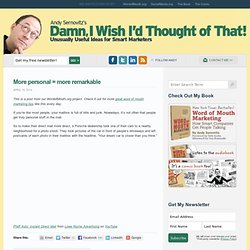 Newsmap
@TrombaMarina: "Even then, if you have 2 PCs, it's going to download all the files from one PC to the other the first time you connect" Not really... if you copy them youself the first time it cheksums them and call it a day. I use dropbox to backup my small_but_critical stuff: Work documents, cheatsheets for the next time I get computer hell, encrypted passwords, my Roaming folder... all the kind of stuff that I get cold sweats thinking about. And I still have 2GB free for sending bigger stuff to people or myself. Of course it's not a backup tool for your 200GB of pictures (Seriously? Are you a photographer or something?)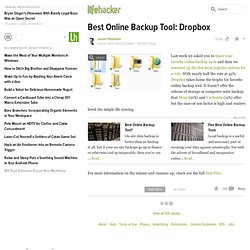 Best Online Backup Tool: Dropbox
Android users have it even worse. Although there are fewer apps to peruse (around 100,000 at last count), the Android Market is a nightmare to navigate compared with the iTunes App Store. Yes, even though is the master of search, its Android Market's search feature is less effective than 's. The Market also has no answer for the App Store's "Staff Favorites," "Essentials" or "New and Noteworthy" selections, which pull good apps to the front of the catalog.
Top 10 Must-Have Android Apps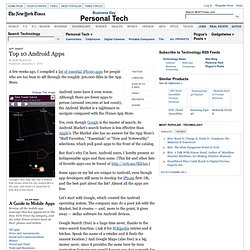 CodeMirror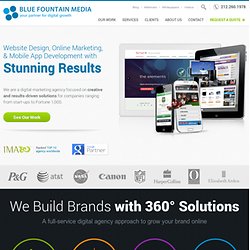 Our website design, planning, and conversion optimization services are focused on increasing the chances that a visitor who lands on your website will take a desired action, such as make a purchase, download a document, or fill-out a web form. We are an end-to-end web agency, which means we care about user paths from start to finish. These types of desired actions are known as "conversions". Every website has a conversion rate. That is the percentage of visitors who take a desired action.
Professional Website Design & SEO Company | New York City | BFM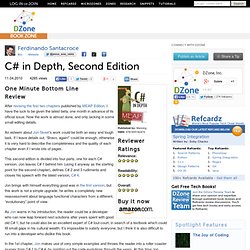 C# in Depth, Second Edition | Book Zone
One Minute Bottom Line Review After revising the first two chapters published by MEAP Edition, I have the luck to be given the latest beta, one month in advance of its official issue. Now the work is almost done, and only lacking in some small editing details.
Design Milk: Modern Design
Google News Timeline