Knowledge
Star Charting Apps for iPhone/iPod Touch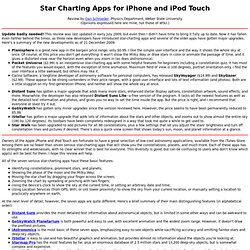 Review by Dan Schroeder, Physics Department, Weber State University (Opinions expressed here are mine, not those of WSU.) Update badly needed! This review was last updated in early July 2009, but even then I didn't have time to bring it fully up to date. Now it has fallen even farther behind the times, as three new developers have introduced star-charting apps and several of the older apps have gotten major upgrades.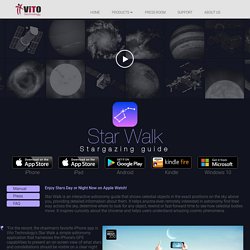 Stargazing guide Find your way across the sky. Star Walk is an interactive astronomy guide that shows celestial objects in the exact positions on the sky above you, providing detailed information about them.
Starmap
Starmap is the perfect app for viewing the universe with realistic maps and detailed factual information. Based on the iPhone compass geo-location technology, Starmap Pro pinpoints your exact location and lets you view the sky in real-time, and zoom in/out on objects in the sky as you please. Starmap has several other features to enhance your space-viewing experience, including information and images on celestial objects, sky-gazing information specific to your area, and more. This application is perfect for the casual stargazer or the professional astronomer. Starmap Pro is available in iTunes for iPhone, iPad, and iTouch.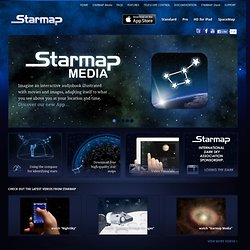 Key Considerations for your Platform as a Service Strategy iPhone App Review Pocket Universe is the creation of one John T. Kennedy who was inspired by lack of opportunities to view the night sky with any clarity or frequency in his native Dublin. The app is basically a star map, which takes advantage of the new iPhone 3GS compass to provide a Virtual Sky, which follows your movements, enabling you to identify any object in the firmament.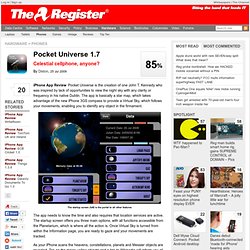 Pocket Universe 1.7 • Register Hardware
Application Description The NASA App showcases a huge collection of the latest NASA content, including images, videos on-demand, NASA Television, mission information, news & feature stories, latest tweets, ISS sighting opportunities, satellite tracking, Third Rock Radio and much more. The NASA App is available free of charge on the iOS App Store from Apple or on Google Play for Android. Features
NASA app for iPhone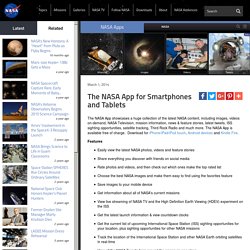 Samsung executives discussed Steve Jobs' passing as "unfortunately" having an "unintended benefit for Apple," and at the same time, "our best opportunity to attack iPhone," in internal memos marked "highly confidential," presented in the Apple v. Samsung trial. A group of smartphone industry giants, including Apple, Samsung, Google and Microsoft, signed on to a voluntary program spearheaded by the U.S. wireless industry that looks to incorporate anti-theft technology into handsets by July 2015. New confidential internal memos presented in the Apple v.
TED talk videos available through free iPhone app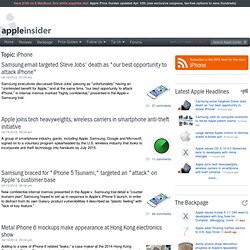 WordWeb English Dictionary for iPhone, iPad and iPod Touch Also available: the Chambers Dictionary and Chambers Thesaurus Up-to-date international English dictionary, based on WordWeb Fuzzy lookup with spelling and sounds-like suggestions Synonyms, similar words and many usage examples 285 000 words, phrases and derived forms 225 000 word sense definitions (Audio version) 70 000 professionally-recorded audio pronunciations 85 000 easy-to-understand text pronunciations Fast pattern-matching search (*, ?, vowel, consonant, select word types) Includes many proper nouns, compounds and phrases Bookmarks, recent and random words Full coverage of American, British, Canadian, Australasian and Asian English Works offline, one app for iPad, iPod and iPhone Cross-reference to other offline and online references On iPad:
WordWeb iPhone Dictionary and Thesaurus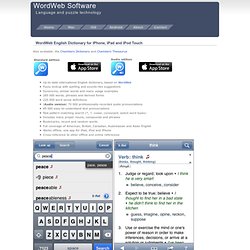 SlovoEd French-Russian and Russian-French dictionary for iPhone
WordPower MyWords Gengo Flashcards Pocket Russian Pocket3 Russian
Learn Russian - Buy Russian iPhone Applications Today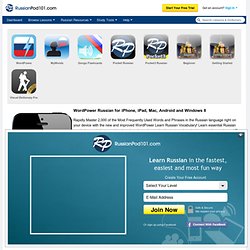 Home « HearPlanet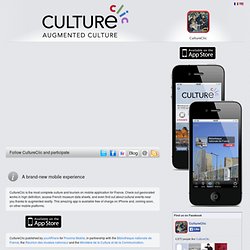 A brand-new mobile experience Another way to discover art and history With CultureClic you can explore 900 geolocated paintings, photos and engravings. Most of them are located in Paris, but many are also in Bordeaux, Lyon, Marseille and Avignon. These can be discovered and explored in augmented reality mode (iPhone 3GS and iPhone 4 only, Android application soon available) or via maps and lists.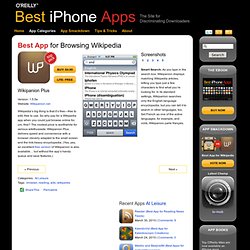 Best App for Browsing Wikipedia Screenshots Smart Search: As you type in the search box, Wikipanion displays matching Wikipedia articles, letting you type just a few characters to find what you're looking for. In its standard settings, Wikipanion searches only the English-language encyclopedia, but you can tell it to search in other languages, too.
Wikipanion Plus (Best App for Browsing Wikipedia) - Best iPhone
Articles - The Wikipedia App
Elegant and intuitive interface. Articles' beautiful design presents Wikipedia articles perfectly optimized for reading on your iPad, iPhone and iPod touch. Read Later! Too many articles to read right now? Just tap and hold on an article link and select "Read Later" to save it to your queue.