Knowledge
Star Charting Apps for iPhone/iPod Touch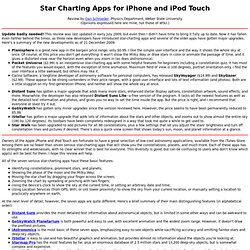 Review by Dan Schroeder , Physics Department, Weber State University (Opinions expressed here are mine, not those of WSU.)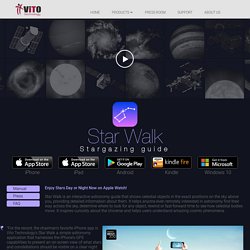 Star Walk is enhanced for the new iPad Star Walk is an award-winning Education app that allows users to easily locate and identify 20,000+ objects in the night sky. The 360-degree, touch control star map displays constellations, stars, planets, satellites, and galaxies currently overhead from anywhere on Earth.
Starmap
iPhone App Review Pocket Universe is the creation of one John T. Kennedy who was inspired by lack of opportunities to view the night sky with any clarity or frequency in his native Dublin. The app is basically a star map, which takes advantage of the new iPhone 3GS compass to provide a Virtual Sky, which follows your movements, enabling you to identify any object in the firmament. The startup screen (left) is the portal to all other features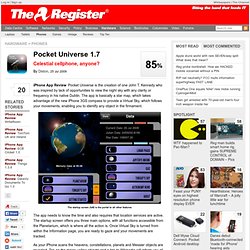 Pocket Universe 1.7 • Register Hardware
NASA app for iPhone
A new study showcases the dominance of "freemium" titles on Apple's iOS platform, as in-app purchases made through free apps accounted for 71 percent of total iPhone app revenue in the month of February. BlackBerry on Thursday said demand for its new flagship Z10 handset helped produce a net income of $98 million — a minor surprise during a transitional quarter for the previously spiraling company. Apple's iPhone continues to overshadow Samsung in consumer appeal, as a quick look at Twitter activity during the two tech giants' flagship device announcements shows the latest iPhone 5 netted more five times as many messages compared to the Galaxy S4, says one analyst. BMW on Wednesday announced four new BMW Approved apps for Apple's iPhone, bringing owners of both items a range of new music and connectivity options.
TED talk videos available through free iPhone app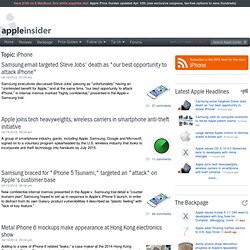 WordWeb English Dictionary for iPhone, iPad and iPod Touch Also available: the Chambers Dictionary and Chambers Thesaurus
WordWeb iPhone Dictionary and Thesaurus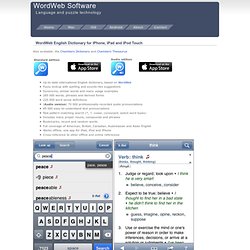 SlovoEd French-Russian and Russian-French dictionary for iPhone
MyWords
Learn Russian - Buy Russian iPhone Applications Today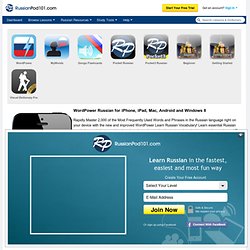 Home « HearPlanet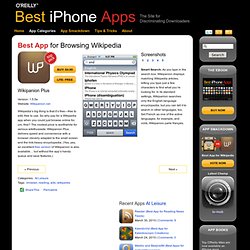 Best App for Browsing Wikipedia
Wikipanion Plus (Best App for Browsing Wikipedia) - Best iPhone
Articles - The Wikipedia App