Graphisme
Colourcode - find your colour scheme. CSS Sprite Generator | Project Fondue. Silk Icons. "Silk" is a smooth, free icon set, containing over 700 16-by-16 pixel icons in strokably-soft PNG format.
Containing a large variety of icons, you're sure to find something that tickles your fancy. And all for a low low price of $0.00. You can't say fairer than that. The Noun Project. 20 @fontface Icon Sets. The pros for using @fontface icon sets far outweigh the cons.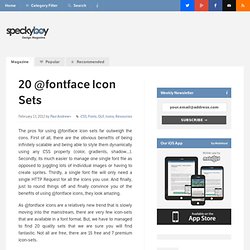 First of all, there are the obvious benefits of being infinitely scalable and being able to style them dynamically using any CSS property (color, gradients, shadow…). Secondly, its much easier to manage one single font file as opposed to juggling lots of individual images or having to create sprites. Thirdly, a single font file will only need a single HTTP Request for all the icons you use. And finally, just to round things off and finally convince you of the benefits of using @fontface icons, they look amazing. The Colour Clock. Slides - Un slideshow en JQuery simple et léger. Slides est un slideshow en JQuery simple et léger sans effets superflues ou configurations en trop.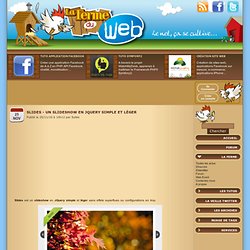 Slides possède une 20aines d'options classiques que l'on retrouve dans les autres Slideshow, comme le paramétrage de la vitesse de défilement des images, le temps d'arret lorsque la souris passe dessus... Pour le faire fonctionner, vous devez tout d'abord inclure les librairies JS et déclarer votre Slides avec ses options: 01. <script src="js/jquery-1.4.4.min.js"></script> Boxtuffs - Des éléments d'interfaces ergonomiques en CSS3 et XHTML. Boxtuffs est un site proposant plusieurs widgets / éléments d'interfaces web très design, réalisés en XHTML & CSS3 et téléchargeables gratuitement.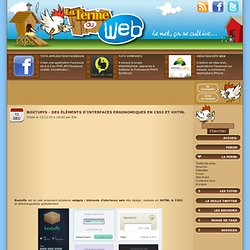 Réalisé par un graphiste talentueux, Salvador Lopez Mendoza, Boxtuffs est une mine de ressources web en terme de widgets et UI web. 6 ressources sont actuellement disponibles au téléchargement et en test en ligne: Autogrow Search: Un input de recherche qui s'agrandit au clic avec un design très bien réalisé.Tickets: Un simulateur d'étiqueteuse pour afficher le prix d'un produit avec style.Switcher: Widget permettant d'activer ou désactiver une option de manière graphique.Download Me!
: Un bouton affichant les caractéristiques du téléchargement au survol.My Notes: Un bloc note au style écrit main.CSS3 Album Selection: Un widget de sélection d'image en CSS3. IconSweets 2 - 400+ icones pour applications iPhone, iPad et Android. IconSweets 2 est un pack de plus de 400 icones en formes photoshop vectorisées, idéal pour les applications mobiles natives sous iPhone, iPad ou Android.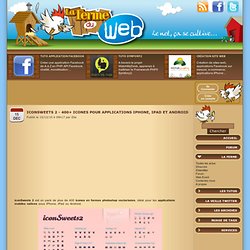 Dans le monde des interfaces mobiles natives, l'utilisation d'icones en "vector shape" peut s'avérer pratique, voire indispensable. iconSweets2 est un pack comprenant plus de 400 icones de ce type, toutes uniques et déclinées dans plusieurs tailles: 16 * 16px32 * 32pxet 64 * 64px Ces icones sont présentées au format PSD, vous n'aurez plus qu'a découper les icones souhaitées, ou les intégrer directement dans vos maquettes photoshop. De quoi faire votre bonheur si vous concevez des applications mobiles, d'autant plus qu'elles sont utilisables à la fois pour vos projets perso et commerciaux ! PNG Icons & Icon Packs Download | IconsPedia - Free Icons. Iconizer.net | Free icons generator | Actions.
Plus de 200 000 icônes gratuites sur Icones.pro ! Kuler. Ajaxload - Ajax loading gif generator.
---