Webdesign
Are you familiar with pikipimp.com? What about comeeko.com? If you haven't seen these sites yet, I would recommend checking them out. Pikicentral is allowing you to create your own white labelled version of these sites ... for nothing!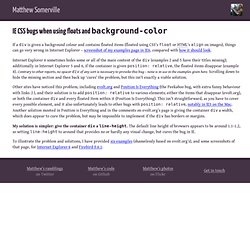 If a div is given a background colour and contains floated items (floated using CSS's float or HTML's align on images), things can go very wrong in Internet Explorer – screenshot of my examples page in IE6, compared with how it should look. Internet Explorer 6 sometimes hides some or all of the main content of the div (examples 2 and 5 have their titles missing); additionally in Internet Explorer 5 and 6, if the container is given position: relative, the floated items disappear (example 4). Contrary to other reports, no spacer div of any sort is necessary to provoke this bug – none is in use in the examples given here. Scrolling down to hide the missing section and then back up 'cures' the problem, but this isn't exactly a viable solution.
IE CSS bugs when using floats and <code>background-color</code> - Dracos.co.uk
What is this? 960 Gridder is an excellent tool for any web developer/ designer that wants to easily align, match and/or lay out websites. The idea came when designing a website for a student organization where I worked with several designers that handed their lay outs and designs in Photoshop format with a similar grid built-in to me. After a while I noticed how hard it became to make sure everything looked exactly how they intended it, especially in the different browsers. 960 Gridder is cross-browser compliant and works well in Internet Explorer 6/7/8, Firefox 2/3 and Chrome. Safari 4 Beta and Opera 9 is also working as expected and it should work in Safari 2.x-3.x also.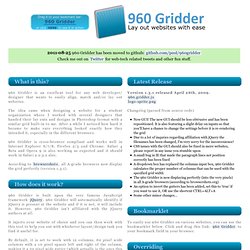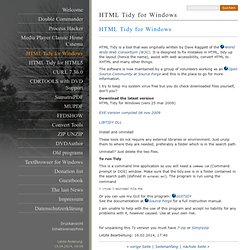 Dirk Paehl Opensource page - HTML Tidy for Windows
HTML Tidy is a tool that was originally written by Dave Raggett of the World Wide Web Consortium (W3C). It is designed to fix mistakes in HTML, tidy up the layout (hence the name), assist with web accessibility, convert HTML to XHTML and many other things.
It takes a lot of practice and effort to become a successful creative artist. Whether it's in writing, design, 3D modeling, development, or any similar field. Creative ideas typically happen on-the-fly and usually branch off from a separate thought pattern. When the idea strikes you should take action and get it down before you have the chance to forget. This article will cover some techniques for planning out your creative ideas. The initial concept needs to be refined in order to produce something magnificent.
6 Web Design Workflows That Work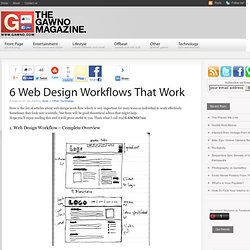 Here is the list of articles about web design work flow which is very important for every team or individual to work effectively. Sometimes they look very scientific, but there will be good theoretical advice that might help. Hope you'll enjoy reading this and it will prove useful to you. Thats what I call real GAWNO!!
Top 10 articles for web dev and design - April 2009 | HieuUK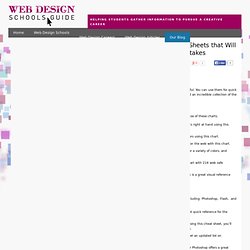 By Nicole White Most web designers know that cheat sheets are incredibly useful. You can use them for quick reference, easy learning, and more. In this list, we've compiled an incredible collection of the 100 best and most useful cheat sheets out there.
100 Terrific Web Design Cheat Sheets that Will Save you Time, Money and Mistakes - Web Design Schools Guide
Designologue Designer Link Blog Marc Hemeon, a fellow OSWD designer, has just launched Design By Humans — a community centered around t-shirt designs. Definitely worth a look!