Finance blogs
Blogging Stocks. When Your Income From Investments Covers Your Living Expenses: The "Crossover Point" About a month and a half ago, I read Your Money or Your Life and found it to be a relevatory experience (check out my review of the book).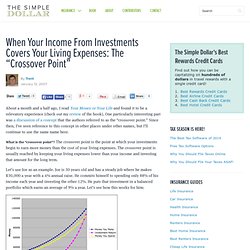 One particularly interesting part was a discussion of a concept that the authors referred to as the "crossover point." Since then, I've seen reference to this concept in other places under other names, but I'll continue to use the same name here. What is the "crossover point"? The crossover point is the point at which your investments begin to earn more money than the cost of your living expenses. Trader Mike. The Big Picture: Rotation Underway: S&P100 to S&P600.
Monday, August 14, 2006 | 01:14 PM Technical Analysis gets a bad name, and for all the wrong reasons.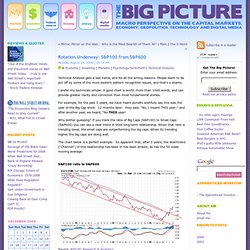 People seem to be put off by some of the more esoteric pattern recognition issues, and that's a shame. Get Rich Slowly. The Bonddad Blog. Grad Money Matters: Credit Card Arbitrage (Plus an Image of the $2,000 we Made...) They say a picture speaks a thousand words.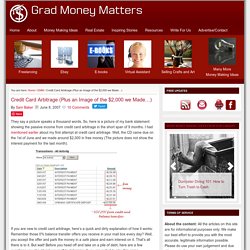 So, here is a picture of my bank statement showing the passive income from credit card arbitrage in the short span of 9 months. I had mentioned earlier about my first attempt at credit card arbitrage. Well, the CD came due on the 1st of June and we made around $2,000 in free money (The picture does not show the interest payment for the last month). If you are new to credit card arbitrage, here's a quick and dirty explanation of how it works: Remember those 0% balance transfer offers you receive in your mail box every day? Clever Dude Personal Finance & Money. TreasurePicks. Calculated Risk. Zero Hedge. The Big Picture. Biiwii.com Technical Analysis & Commentary.
---