RESEARCH ARCHIVES
Home. Netball Australia - Papers - The Australian Women's Register. Title Netball Australia - Papers Repository Private Hands (contact Australian Women's Archive Project) Date Range Creator.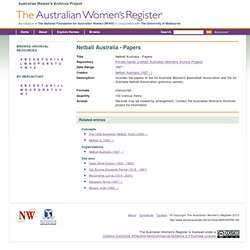 Home - The Australian Women's Register. Trove - Search results for 'adair, daryl' World War II in Europe. The Holocaust took place in the broader context of World War II.
Still reeling from Germany's defeat in World War I, Hitler's government envisioned a vast, new empire of "living space" (Lebensraum) in eastern Europe. The realization of German dominance in Europe, its leaders calculated, would require war. 1939After securing the neutrality of the Soviet Union (through the August 1939 German-Soviet Pact of nonaggression), Germany started World War II by invading Poland on September 1, 1939. Britain and France responded by declaring war on Germany on September 3. Within a month, Poland was defeated by a combination of German and Soviet forces and was partitioned between Nazi Germany and the Soviet Union.
---