Edition d'images
Pixia mascot designed by ASAMI. This website is to introduce graphic softwares, Pixia and Phierha. The original Japanese Edition of Pixia was created and developed by the author, Isao Maruoka, but has also been aggressively raised by its fans, which makes this software to be quite unique and different from other tools. Isao recently added a brother software, Phierha, to seek more advanced functions and UI, while he wants to keep Pixia the same for the users who are so used to its UI. Pixia Help File is available as a separate installation file.
introducing Pixia and Phierha
GIMP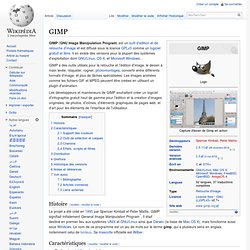 Un article de Wikipédia, l'encyclopédie libre. GIMP [ g i m p ] , pour GNU Image Manipulation Program , littéralement « programme GNU de manipulation d'images », est un logiciel libre et gratuit [ 2 ] de traitement d' images matricielles (dessin, retouche , animation, etc.). Il est souvent présenté comme une alternative libre au logiciel Adobe Photoshop [ 3 ] . Le projet a été créé en 1995 par Spencer Kimball et Peter Mattis. GIMP signifiait initialement General Image Manipulation Program [ 4 ] . Il était destiné en premier lieu aux systèmes UNIX et GNU / Linux ainsi que Darwin (la base de Mac OS X ), mais fonctionne aussi sous Windows .
Paint.NET
Un article de Wikipédia, l'encyclopédie libre. Paint.NET est un logiciel de retouche photo freeware . Le projet de développement a débuté à l'université de l'État de Washington (WSU) avec le soutien de Microsoft . C'est un programme d'édition graphique gratuit, destiné aux systèmes d'exploitation Windows Vista , 7 et Server 2003 . Le logiciel est écrit en C# . Une bibliothèque de greffons permet d'enrichir les fonctionnalités du logiciel, en proposant notamment des pinceaux personnalisés (sur un canevas séparé), un remplacement de couleurs, la capture d'écran , la gestion du format Bitmap en 32 bits, etc.