Estudio
Main : fwystudios.com
http://www.designchapel.com/
ward404 is an independent digital design practice. Boasting a roster of heavyweight names in the corporate and entertainment industries, we have a diagnosis for every condition presented. We are committed to breathing new life into your projects. Ranging from localised e-promotions to international digital campaigns, we work around the clock to meet the individuals needs, carving out interactive solutions with surgical precision.
++ ward404 ++ Interactive Design Agency ++ 020 7729 5404 ++
art director interactive - VOLVO SAFETY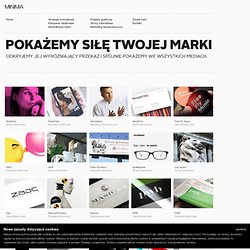 MINIMA | Advertising People
Nasza strona wykorzystuje pliki cookies w celu zapamiętywania preferencji i ustawień oraz zbierania anonimowych danych dla celów reklamowych i statystycznych. Korzystając ze strony, wyrażasz zgodę na wykorzystywanie plików cookies. Możesz w każdym czasie określić sposób wykorzystywania plików cookies w ustawieniach swojej przeglądarki internetowej. Jeżeli pozostawisz te ustawienia bez zmian, pliki cookies zostaną zapisane w pamięci Twojego urządzenia. Zmiana ustawień plików cookies może ograniczyć funkcjonalność serwisu.
IAAH™ / v7
Achtung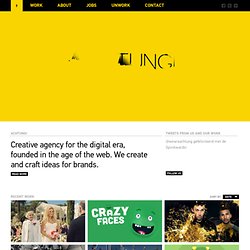 You set the standard in digital design. You make the rest of the internet look bad. You make work that scares most ad agencies. Here at Achtung! the role of a Digital Design Director isn't a traditional one. We are looking for an inspiring person who has great understanding of communication and is able to transform strong concepts into fresh and surprising work.
B I G K I D: the design playground of ryan macpherson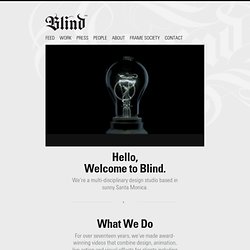 We're a multi-disciplinary design studio based in sunny Santa Monica. For over seventeen years, we've made award-winning videos that combine design, animation, live action and visual effects for clients including Ad Agencies, TV Networks, Brands and businesses of all sizes. Animation / VFX Video Production
OPX » Showcase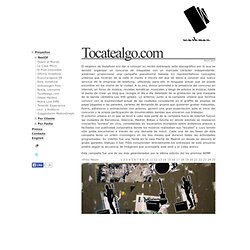 Waskman Diseño » Tocatealgo.com
March 2007 El objetivo de Vodafone era dar a conocer su recién estrenado sello discográfico por lo que se decidió organizar un concurso de maquetas con un marcado carácter independiente. waskman proporcionó una campaña pseudoviral basada en representativos conceptos urbanos que hicieran de la calle el medio a través del que se diera a conocer ese nuevo servicio de la empresa de telefonía, utilizando para ello el lenguaje actual que se puede encontrar en los muros de la ciudad. A su vez, dimos prioridad a la presencia del concurso en internet, en foros de música, revistas temáticas musicales y blogs de adictos la música, hasta el punto de crear un blog que recogía el día a día detallado de la grabación de una maqueta de la banda cántabra Los 400 golpes.
Crafting a Revolutionary Entertainment with Art and Technology Mix. Latest coverages Project /January 2, 2013Live Sketchbook in Digital PavilionIn January 2013, d'strict 4D Kids Platform's representative product Live Sketchbook was installed in Nuridream Square Digital Pavilion... Project / November, 2012Shinhan Bank S20 SmartZoneS20 Smart Zone of Shinhan Bank, Korea. The SMARTMALL, a kiosk providing useful information to customers... Project / September 14, 2012McQ by Alexander McQueen Flagship Stored'strict's interactive platform Stikus Frame and SMART MIRROR were installed in the first Flagship Store in London's fashion street...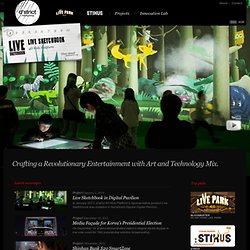 DSTRICT
Unlike Studio Blogezine
Denis Olenik : Corporate and Brand Identity Services
WeShouldDoItAll : Work
Vice-President, Account Group, Partner With Sid Lee since 2006 and having a passion for digital communications and content. The branded content produced by his team far surpasses the limits of traditional methods of communication.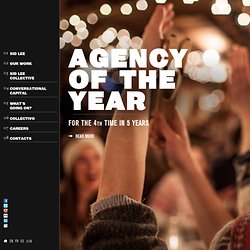 WSDIA | WeShouldDoItAll : Work
Creemos en las ideas, en la comunicación entendida como un territorio por explorar donde descubres cosas nuevas que son eficaces. El mundo y la publicidad están cambiando, y nos gusta sentirnos parte de ese cambio. Pensamos que los resultados dependen de las personas, y por eso contamos con un equipo de buenas personas, porque sólo así se consiguen buenos resultados. La energía está presente en nuestras oficinas de Madrid, México y Buenos Aires. Creemos en la energía positiva.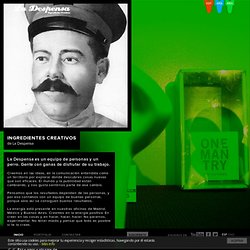 BIENVENIDO A LA DESPENSA
coa is a design company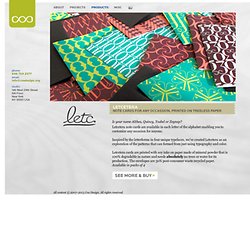 Is your name Althea, Quincy, Ysabel or Zeynep? Letcetera note cards are available in each letter of the alphabet enabling you to customize any occasion for anyone. Inspired by the letterforms in four unique typefaces, we've created Letcetera as an exploration of the patterns that can formed from just using typography and color.
firstborn
Nile Inside
PARK: Contest Winner
HELLOHELLO!!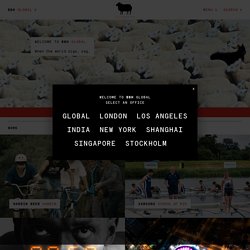 Johnnie Walker has launched a new global 'Keep Walking' integrated campaign fronted by its latest 'From the Future' spot via BBH London. This week marks the launch of major new brand work for Johnnie Walker globally and the evolution of our iconic "Keep Walking" campaign. The integrated campaign kicked off with a social content platform, #NextStep, which sees Johnnie Walker filtering the web to provide a globally curated feed of content; a service designed to inspire our communities and help them move forward on a daily basis. At the centre of the campaign is our new brand film, 'From the Future', written by Nick Gill and directed by Fredrik Bond, which marks a step change in the tone, look and feel of the Johnnie Walker brand, in a bold move to refresh and modernise its communications and make it more relevant to progressively minded drinkers around the world.
Chilli Design & Multimedia / Work / immo-eecke
Hornall Anderson
www.hornallanderson.com/work/projects Good work makes you stop.Great work makes you feel. Turning the End into a New Beginning Conversation-fueled, Interactive Public Art
group94 / webdesign from belgium
Tilt Design Studio
Sven Kils: Portfolio 2001-2005 ™
NEODG.V'04
VASAVA
GNV & Partners » Web Design Studio, Rimini » Lovemypod - Fot
Bleed Designstudio
GIOVANNI BIANCO STUDIO 65 NEW YORK
. - . - . - brainpatch! con sumo diseño - . - . - .
DOGO Diseño + Comunicación
K2 Internet S.A. - new technology experts
Urban_Silo
// Attik.com
247 MEDIA STUDIOS :: flash webdesign | internet | multimedia | c