Chemistry
Tables charting the chemical elements have been around since the 19th century - but this modern version has a short video about each one. We've done all 118 - but our job's not finished. Now we're updating all the videos with new stories, better samples and bigger experiments. Plus we're making films about other areas of chemistry, latest news and occasional adventures away from the lab.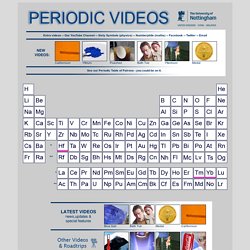 Chemistry
Chemistry Multimedia http://www.ncl.ox.ac.uk/quicktime/index.html This web site contains a downloadable collection of quicktime movies of chemical animations such as catalytic reactions and 3-D molecules. These are good resources for chemistry teachers to use in their classrooms to facilitate the learning of chemical processes including bond formations and chemical structures. Molecule of the Month http://www.bris.ac.uk/Depts/Chemistry/MOTM/motm.htm This web site highlights the complete chemistry of a different molecule each month. An archive of past month's molecules is included. The resources include 3-D molecular images, animations and graphics that can be used by chemistry teachers to explain different physical and chemical properties of molecules. The Catalyst-Chemistry Resources For The Secondary Education Teacher on the WWW http://www.TheCatalyst.org/wwwchem.html This site contains a variety of annotated web sites specifically for secondary chemistry teachers.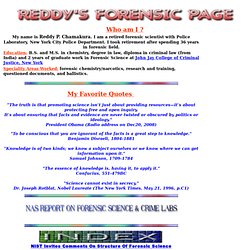 "The truth is that promoting science isn't just about providing resources—it's about protecting free and open inquiry. It's about ensuring that facts and evidence are never twisted or obscured by politics or ideology." President Obama (Radio address on Dec20, 2008)
Reddy's Forensic Page
This list of books is for FORENSIC CHEMISTRY/NARCOTICS only. Also see the book list for FORENSIC TOXICOLOGY. For latest books in forensic science and books of general forensic interest for students and professionals and for books in speciality areas like Forensic DNA, Fingerprints, visit individual pages or visit FORENSIC SCIENCE BOOK STORE. You can buy these books at Discount Prices from Amazon.com.
Reddy's Forensic Page: forensic chemistry
Chemistry - Links for Chemists - Other Resources - Chemistry Indexes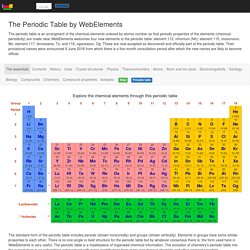 The periodic table is a table of the chemical elements in which the elements are arranged by order of atomic number in such a way that the periodic properties (chemical periodicity) of the elements are made clear. The standard form of the table includes periods (usually horizontal in the periodic table) and groups (usually vertical). Elements in groups have some similar properties to each other. There is no one single or best structure for the periodic table but by whatever consensus there is, the form used here is very useful.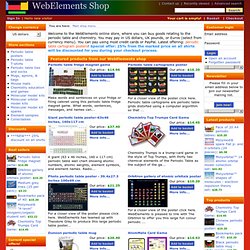 Welcome to the WebElements online store, where you can buy goods relating to the periodic table and chemistry. You may pay in US dollars, UK pounds, or Euros (select from currency menu). You can pay using most credit cards or PayPal. Latest offering: periodic table cartogram posters! Special offer: 25% from the marked price on all shirts will be discounted for you during your checkout process.
Ltd> Main shop menu > Periodic table T-shirts and socks > Periodic table shirt - periodic noir
The software used for the earlier version of Chemdex packed in totally after a server update and so the update planned for summer 2009, which is not finished, is here now. The bad news is most of the links are not yet in the system, but will appear slowly in the next few weeks. The good news is the links get checked automatically now and therefore the link fail rate of some 25% on the old system will be well under 5% or so and should stay at that level. Keeping web site links up to date is a problem for any directory site, as you may have spotted on this and other chemistry directories. Hopefully the new system (the wonderful open-source Drupal) will do a lot of the updating, so benefiting all of us.