Marketing
Business
Guide. Facebook. Social technology growth marches on in 2009, led by social netwo. We just published our third annual Social Technographics Profile in a document called "The Broad Reach of Social Technologies" .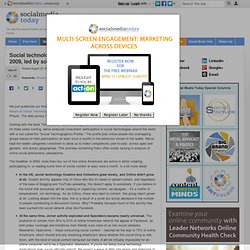 The author is Sean Corcoran, with help from out data expert Cynthia Pflaum. The data across North America, Europe, and Asia will be available later today. Starting with the book "Groundswell" and continuing now for three years running, we've analyzed consumers' participation in social technologies around the world with a tool called the "Social Technographics Profile. " The profile puts online people into overlapping groups based on their participation (at least once a month) in the behaviors shown in the ladder.
We've kept the ladder categories consistent to allow us to make comparisons year-to-year, across ages and genders, and across geographies. The 6 Spheres of Social Media Marketing. Brian Carter is Director of SEO, PPC, and Social Media at Fuel Interactive, a full-service interactive agency in Myrtle Beach, South Carolina.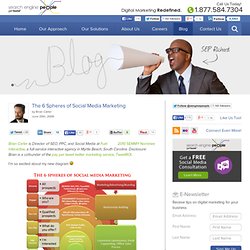 Disclosure: Brian is a cofounder of the pay per tweet twitter marketing service, TweetROI. I'm so excited about my new diagram YOU: "Beautiful, Brian. Looks complicated. What is it? " Preventing a Cluster Around the Water Cooler: T-Mobile's Twitter. Facebook - setting it up for your business. Three top ways to damage your brand with Social Media. While social media can do a lot to humanize a brand; increase the effectiveness of customer service, and create brand evangelists, it also can cause damage.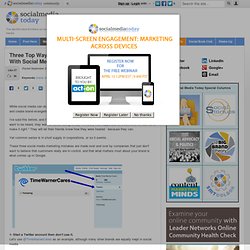 I've said this before, and I'll say it again - brand management is a matter of common sense. People want to be heard, they want a human being to say "I'm sorry that happened, let's see what we can do to make it right. " They will let their friends know how they were treated - because they can. Yet common sense is in short supply in corporations, or so it seems. These three social media marketing mistakes are made over and over by companies that just don't want to believe that customers really are in control, and that what matters most about your brand is what comes up in Google. The top six reasons companies are still scared of Social Media. 1- Employees will waste time with social media.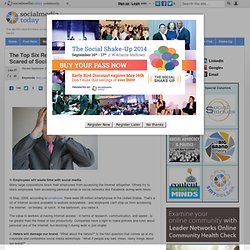 Many large corporations block their employees from accessing the Internet altogether. Others try to block employees from accessing personal email or social networks like Facebook during work hours. Social media strategie: Wie is er verantwoordelijk? Hoewel ik de eerste ben om om te zeggen dat deze poll met ruim 70 respondenten nog geen representatief onderzoek is, vallen er in de tussentijdse uitslagen een paar zaken op.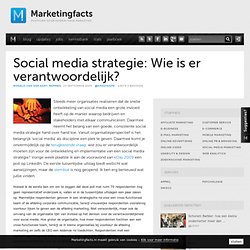 Mannelijke respondenten geloven in een strategische rol voor een cross-functioneel team of de afdeling corporate communicatie, terwijl vrouwelijke respondenten vooralsnog voorkeur lijken te geven aan de afdeling marketing. Niet verwonderlijk, maar ook de omvang van de organisatie lijkt van invloed op het denken over de verantwoordelijkheid voor social media.
---