Howto
Tools. Mac. Linkedin. Books. HOW TO: Stay Organized With Google Calendar. This post originally appeared on the American Express OPEN Forum, where Mashable regularly contributes articles about leveraging social media and technology in small business.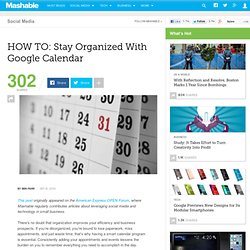 There's no doubt that organization improves your efficiency and business prospects. If you're disorganized, you're bound to lose paperwork, miss appointments, and just waste time; that's why having a smart calendar program is essential. Consistently adding your appointments and events lessens the burden on you to remember everything you need to accomplish in the day. Online database of Social Media policies. Want a corporate Social Media job? Demonstrate these three essen. Hiring managers, recruiters, and management staff are often confused on where they can find qualified social media professionals for corporate positions.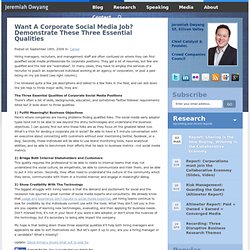 They get a lot of resumes, but few are qualified and the rest are "wannabes". In many cases, they have to employ the services of a recruiter to poach an experienced individual working at an agency or corporation, or post a paid listing on my job board (see right column). I've reviewed quite a few job descriptions and talked to a few folks in the field, and can boil down the job reqs to three major skills, they are: The Three Essential Qualities of Corporate Social Media Positions There's often a list of skills, backgrounds, education, and sometimes Twitter follower requirements listed but It boils down to three qualities:
HOW TO: Share Files From Your Hard Drive to Twitter and Facebook. Recently we profiled a number of great gadgets for social media lovers, and Pogoplug made the list for its ease of socially sharing local files on your hard drive.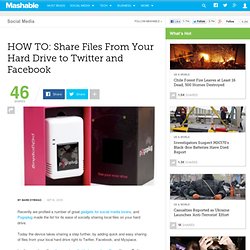 Today the device takes sharing a step further, by adding quick and easy sharing of files from your local hard drive right to Twitter, Facebook, and Myspace. In other words, unlike other services that help you share files with your Twitter followers, you don't actually need to upload anything to enable sharing. Mac OS X 10.6 Snow Leopard New Features.
---