Info
le potager de cathy | FORMULES ET PANIERS
OCLSnippets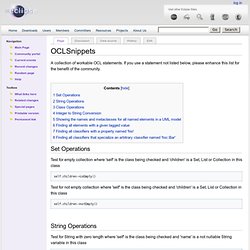 A collection of workable OCL statements. If you use a statement not listed below, please enhance this list for the benefit of the community. Set Operations Test for empty collection where 'self' is the class being checked and 'children' is a Set, List or Collection in this class self.children->isEmpty() Test for not empty collection where 'self' is the class being checked and 'children' is a Set, List or Collection in this class
TimeSquare » T² in a nutshell
Plasma/GettingStarted
Creating your first Plasmoid Abstract This tutorial needs KDE 4.2 (or newer) to build. We are going to create a simple plasmoid in this tutorial. To keep things simple, we will only create a static plasmoid which will contain the following items: An SVG Image Icon Some nice text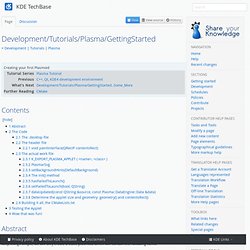 Dell XPS 13 UltraBook
General Natural Semantics is based on Plotkin's Structural Operational Semantics (SOS) and further developed at INRIA by Kahn. Specifications consist of data type declarations (abstract syntax, environments, run-time values, types, etc.) and sets of inference rules. The inference rules specify relations between objects, in a style akin to Gentzen s Sequent Calculus for Natural Deduction. (Hence the name Natural Semantics.)
Relational Meta-Language (RML) - generation of compilers from Natural Semantics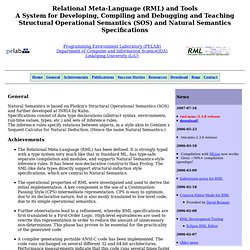 Relational Meta-Language (RML) - generation of compilers from Natural Semantics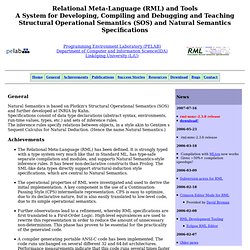 General Natural Semantics is based on Plotkin's Structural Operational Semantics (SOS) and further developed at INRIA by Kahn. Specifications consist of data type declarations (abstract syntax, environments, run-time values, types, etc.) and sets of inference rules. The inference rules specify relations between objects, in a style akin to Gentzen s Sequent Calculus for Natural Deduction.
OxygenOffice Professional - free and multilingual office suite
C# / C#.NET | 1786 sources C#, ASP.Net, Source, Code, CSharp, .Net, Visual Studio.Net, Programmation, Cours , Tutorial, Tutoriaux, etc...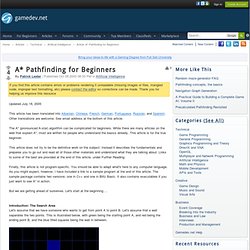 Updated July 18, 2005 This article has been translated into Albanian, Chinese, French, German, Portuguese, Russian, and Spanish. Other translations are welcome. See email address at the bottom of this article.
A* Pathfinding for Beginners - Artificial Intelligence
Download - The Player Project
From The Player Project Downloading the source code The official download page for all the software of the Player project is located on sourceforge: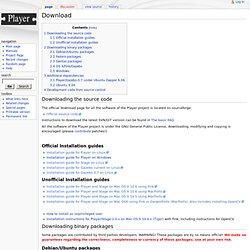 An example of using libplayerc++. More... An example of using libplayerc++. The C++ library is built on a "service proxy" model in which the client maintains local objects that are proxies for remote services. There are two kinds of proxies: the special server proxy PlayerClient and the various device-specific proxies.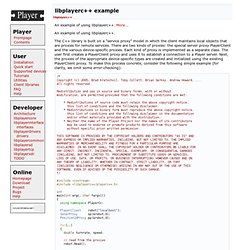 Player: libplayerc++ example
1 Introduction La virtualisation permet, sur un même PC, de faire tourner plusieurs systèmes d'exploitation en concurrence. Le système d'exploitation « principal » fait tourner par le biais d'une application servant au partage des ressources et à l'émulation d'un PC un autre système d'exploitation. L'une de ces applications est VirtualBox.
VirtualBox : installation, configuration, utilisation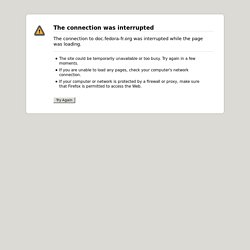 Hi Farah The first line says "This page describes functionality available when EMF 2.6.0M4 or later and MDT/OCL 3.0.0M6 or later are installed within Eclipse." 3.0.0M6 has not yet been built.
Eclipse Community Forums: OCL » validate the dynamic instances of my ecore metamodel with OCL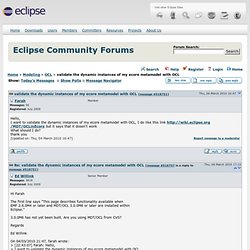 Help - Eclipse SDK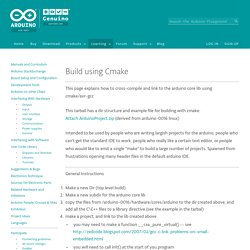 This page explains how to cross-compile and link to the arduino core lib using cmake/avr-gcc This tarball has a dir structure and example file for building with cmake: Attach:ArduinoProject.zip (derived from arduino-0016 linux) Intended to be used by people who are writing largish projects for the arduino, people who can't get the standard IDE to work, people who really like a certain text editor, or people who would like to emit a single "make" to build a large number of projects. Spawned from frustrations opening many header files in the default arduino IDE. General Instructions
CmakeBuild
Most of the sensor and switch are a single line for signal. There is some other module need more than one signal line, so we need the bus connection. The 1602LCD module have 16 pins, there are 5 power pins and 11 signal pins.
Electronic Brick : BUS | Seeed Studio Blog
Rainbowduino LED driver platform - Atmega 328 - Wiki
Home » Decorative » 101! Clock Face » 101! Clock Face Your download will start in 20 seconds...
101! Clock Face Font Download
Difficile Le revers est rabattu vers le haut pour une poche de gilet, de manteau ou la poche de poitrine de veste. 1/ préparer le revers On procède comme pour un poignet de chemise. Selon l'effet recherché, le revers peut être dans le même tissu que le vêtement ou dans un tissu assorti. En général, il est coupé dans le même sens que le vêtement (droit fil). Mais on peut le couper dans le sens perpendiculaire, par exemple pour un tissu à rayures. Couper deux rectangles de tissu ayant : - en longueur : la longueur de la fente de la poche + 2 cm pour les coutures - en largeur : la hauteur du rabat + 2 cm pour les coutures.
Poches Archives