Food
By The National Gardening Association , Bob Beckstrom , Karan Davis Cutler , Kathleen Fisher , Phillip Giroux , Judy Glattstein , Mike MacCaskey , Bill Marken , Charlie Nardozzi , Sally Roth , Marcia Tatroe , Lance Walheim , and Ann Whitman from Gardening All-in-One For Dummies You can plant vegetable seeds indoors or outdoors. If you plant seeds indoors, you transplant them into your garden later. With direct seeding, you skip the indoor step and sow the seeds directly in your garden. If you're serious about growing vegetables, you'll probably end up using both options.
Planting Vegetables from Seed and Seedling
When to Plant Vegetable Seeds
If you're new to vegetable gardening, you'll want to know that there is a right time to sow each variety of vegetable seed. By using our zone chart as an estimate for both cool and warm season vegetables, you'll be sure to sow or plant your seeds in the correct window of time, enabling optimum sprouting and yield. And don't forget, the seeds you pick are also of the greatest importance. 2B Seeds Vegetable Seeds are foil packed in our tradmarked Seal'n'Sow package which has been specially designed to keep seeds from drying out, thus insuring much higher germination ratio. Our tomato seeds , squash seeds , broccoli seeds , bush bean seeds and more represent the finest vegetable seeds you will find. Many are AAS award winners, and all are famous for their flavor and excellent production! Even if you are an old hand in the vegetable garden, we hope that our USDA zone planting chart will be a useful tool for organizing your spring and summer vegetable planting.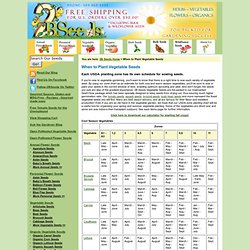 Rachel's Tiny Farm
Welcome to Markham Farm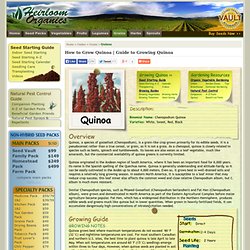 Growing Guide GROWING NOTES Quinoa grows best where maximum temperatures do not exceed 90°F (32°C) and nighttime temperatures are cool. For most southern Canadian and northern U.S. sites, the best time to plant quinoa is late April to late May. When soil temperatures are around 60°F (15°C) seedlings emerge within three to four days. However, when quinoa seeds are planted in soil with night-time temperatures much above that, quinoa, like spinach, may not germinate.
How to Grow Quinoa | Guide to Growing Quinoa