Learning management and strategy
ASTD 2014 International Conference & Exposition Session Details - M115 - Practical Usage of Social Media for Formal Learning
Location: 207A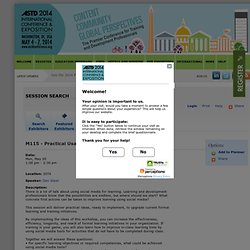 Dan Steer Music
Listen to the podcast live version here (MP3, works directly on iPad iPhone Mac and on PC with VLC)
Diversity Rap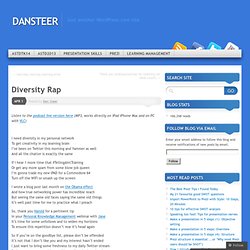 ASTDTK14: Experimenting and Engaging to Create Effective Learning
As the days distance me from Las Vegas and the ASTD Techknowledge Conference, the eternal presenter in me is looking for the message, the one big takeaway, the answer to the 3 most important questions: "What is the point? What do you want from me?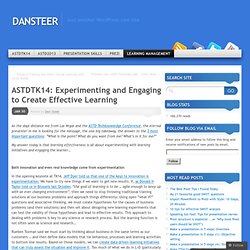 ol_lam : Knowledge workers have to manage
Whilst researching for a conference speech I will give soon for a Belgian government organisation on new learning trends, I have been checking out some of the ideas and literature around Big Data.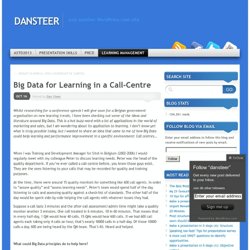 Big Data for Learning in a Call-Centre
Enhance Training and Other Formal Learning with Social Media
During my own ASTD Techknowledge session this year, I discussed various ways in which trainers and formal-learning facilitators can enhance their initiatives with social media. The possibilities are endless and this post outlines tools that I find very useful, in addition to some best practices and other guidance. My PPT from the session can be found here on SlideShare…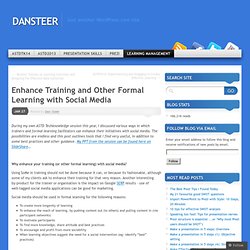 Vegas Videos no1 - #astdTK14
The world's first School in the Cloud opens in the UK
A group of students explores a question at the Killingworth School in the Cloud, as a volunteer member of the "Granny Cloud" gives them guidance from the screen. By Sarah Schoengold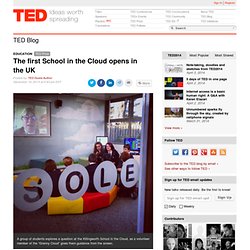 SoMe SoLearn books
There are SO many ways to approach learning. This post is the beginning of a learning methods A to Z, based on ideas I have been collecting and discussing in various conferences and workshops… If you have ideas, please comment and I will add them!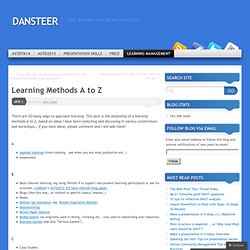 Learning Methods A to Z
David Kelly on Curation and Learning
dan_steer
dan_steer : Oh yes I AM speaking at #astd2014
@dan_steer #astdtk14 session introduction
ASTD TechKnowledge 2014 Session Details - TH303 - Genghis Khan Never Used Webinars: Why Collaboration Technology Is Only Part of the Answer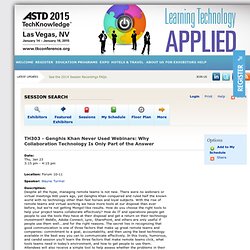 Location: Forum 10-11 Speaker: Wayne Turmel Description: Despite all the hype, managing remote teams is not new.
What are the added-values of integrating social media into formal learning initiatives? What are the issues that people face when doing this?
What are the added-values of integrating social media into formal learning initiatives? What are the issues that people face when doing this?
This post accompanies the newly established 'Social Media News' email list for academics and university support staff, sharing info about the latest platforms for use by academics in their professional lives. This is more about tools we can use to create or curate content, rather than a list of resources for use in academia.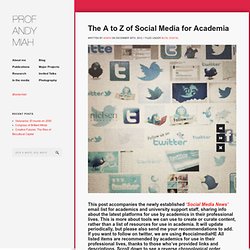 NetAppVoice: The Crisis Of Corporate Learning (And 3 Steps To Solve It)
The 1980s weren't just famous for bad hair and good music: Global companies stepped up, successfully dealt with disastrous crises that could have potentially destroyed them, and re-wrote the rule book of marketing.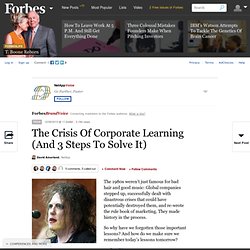 ASTD TechKnowledge 2014 Sessions W202 and FR202: Practical Usage of Social Media for Formal Learning
On Wednesday 22nd and Friday 24th January 2014 I will speaking at the 2014 ASTD TechKnowledge Conference in Las Vegas. My topic is the practical use of social media in formal learning. This page delivers:
Het ABC van de Toekomst van HRD, B = Big Data » NVO2Blog
Big Data is ongetwijfeld het buzzword van 2013.
Karen Kocher: KISS and Tell at Cigna
Capability development and encouraging employees to learn from one another is helping the health services company to put customers first.
The only 3 questions that count
When presenting for an audience, selling something or even just talking to another person, you need to answer 3 key questions. If you don't, you will not get the attention or result you want. In "The Presentation Secrets of Steve Jobs" @carminegallo notes one of these questions and says that its the only one that an audience cares about: "How can this help me?" or "How is this interesting for me?". I agree that this is the bottom-line when it comes to presenting.
For anyone planning to join one of my ASTD TechKnowledge 2014 sessions, please take a moment to introduce yourself...
Donald H Taylor on "Raising the Level of the Learning Profession"
This post is part of 3 covering my review of the Stimulearning L+D talks of October 2013.
Charles Jennings on "Unleashing the Full 100%"