Learning management and strategy
ASTD TK Recap: Survey Results From Mobile Learning Affordances Session
ASTD 2014 International Conference & Exposition Session Details - M115 - Practical Usage of Social Media for Formal Learning
Location: 207A Speaker: Dan Steer Description: There is a lot of talk about using social media for learning. Learning and development professionals know that the possibilities are endless, but where should we start?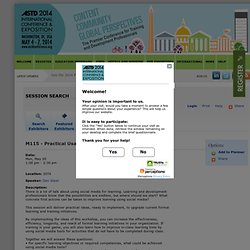 Dan Steer Music
Listen to the podcast live version here (MP3, works directly on iPad iPhone Mac and on PC with VLC) I need diversity in my personal network To get creativity in my learning brain I've been on Twitter this morning and Yammer as well And all the chatter is exactly the same If I hear 1 more time that #TellingAintTraining Or get any more spam from some blow-job queen I'm gonna trade my new iPAD for a Commodore 64 Turn off the WIFI or smash up the screen I wrote a blog post last month on the Obama effect And how true networking power has incredible reach But seeing the same old faces saying the same old things It's well past time for me to practice what I preach
Diversity Rap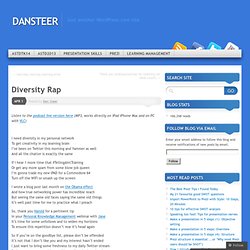 ASTDTK14: Experimenting and Engaging to Create Effective Learning
As the days distance me from Las Vegas and the ASTD Techknowledge Conference, the eternal presenter in me is looking for the message, the one big takeaway, the answer to the 3 most important questions: "What is the point? What do you want from me? What's in it for me?" My answer today is that learning effectiveness is all about experimenting with learning initiatives and engaging the learner… Both innovation and even real knowledge come from experimentation In the opening keynote at TK14, Jeff Dyer told us that one of the keys to innovation is experimentation: We have to try new things if we want to get new results.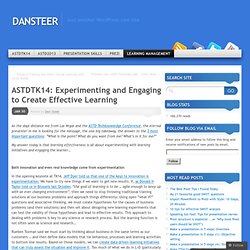 ol_lam : Knowledge workers have to manage
Whilst researching for a conference speech I will give soon for a Belgian government organisation on new learning trends, I have been checking out some of the ideas and literature around Big Data. This is a hot buzz-word with a lot of applications in the world of marketing and sales, but I am wondering about its application to learning. I don't know yet what is truly possible today, but I wanted to share an idea that came to me of how Big Data could help learning and performance improvement in a specific environment: Call centres… When I was Training and Development Manager for Sitel in Belgium (2002-2006) I would regularly meet with my colleague Peter to discuss learning needs. Peter was the head of the quality department.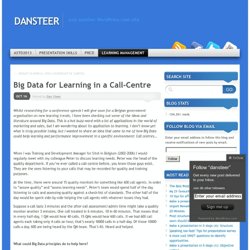 Big Data for Learning in a Call-Centre
Enhance Training and Other Formal Learning with Social Media
During my own ASTD Techknowledge session this year, I discussed various ways in which trainers and formal-learning facilitators can enhance their initiatives with social media. The possibilities are endless and this post outlines tools that I find very useful, in addition to some best practices and other guidance. My PPT from the session can be found here on SlideShare…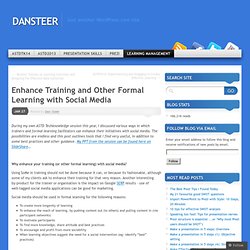 Vegas Videos no1 - #astdTK14
The world's first School in the Cloud opens in the UK
A group of students explores a question at the Killingworth School in the Cloud, as a volunteer member of the "Granny Cloud" gives them guidance from the screen. By Sarah Schoengold Sugata Mitra has opened the doors of the world's first School in the Cloud. Located inside George Stephenson High School in Killingworth, England, this one-room learning lab is a space where students can embark on their own learning adventures, exploring whatever questions most intrigue them. Students even designed the interior of the space — which has colorful beanbags scattered throughout and (very appropriately) fluffy clouds painted on the walls. Sugata Mitra: Build a School in the CloudOn the glass doors of the lab is the acronym "SOLE," which stands for "Self-Organized Learning Environment."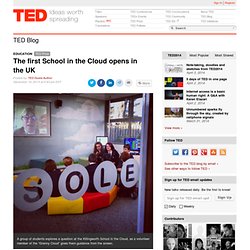 SoMe SoLearn books
There are SO many ways to approach learning. This post is the beginning of a learning methods A to Z, based on ideas I have been collecting and discussing in various conferences and workshops… If you have ideas, please comment and I will add them! Agenda tracking (time-tracking – see when you are most productive etc..)Assessment Back-channel learning (eg using Twitter # to support non-present learning participants or see for example, LnDDave's ASTD2012 ICE back-channel blog page)Blogs (like this one… or related to specific topics, lessons…)BooksBottom-Up Innovation (eg: Kluwer Inspiration Market)BrainstormingBrown Paper SessionsBuddy System (as originally used in diving, climbing etc.. now used in onboarding and induction)Business Games (see also "Serious Games")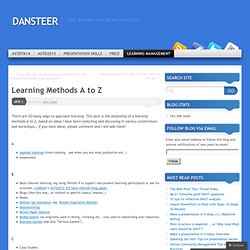 Learning Methods A to Z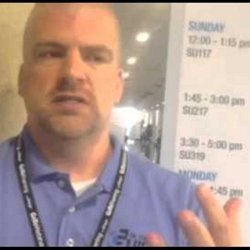 David Kelly on Curation and Learning
Dieses Video ist derzeit nicht verfügbar. Das Video ist auf diesem Gerät nicht verfügbar. Der Videoplayer ist zu klein. Später ansehen als __user_name__ als __user_name__ Normal
dan_steer
dan_steer : Oh yes I AM speaking at #astd2014
@dan_steer #astdtk14 session introduction
ASTD TechKnowledge 2014 Session Details - TH303 - Genghis Khan Never Used Webinars: Why Collaboration Technology Is Only Part of the Answer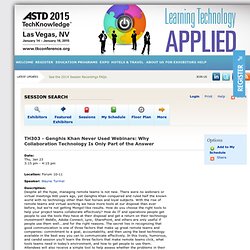 Location: Forum 10-11 Speaker: Wayne Turmel Description: Despite all the hype, managing remote teams is not new.
What are the added-values of integrating social media into formal learning initiatives? What are the issues that people face when doing this?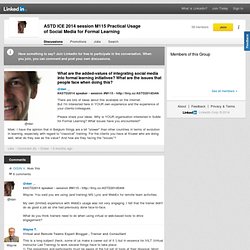 @dan _. #ASTD2014 speaker - session #M115 - http://tiny.cc/ASTD2014DAN There are lots of ideas about this available on the internet.
What are the added-values of integrating social media into formal learning initiatives? What are the issues that people face when doing this?
This post accompanies the newly established 'Social Media News' email list for academics and university support staff, sharing info about the latest platforms for use by academics in their professional lives. This is more about tools we can use to create or curate content, rather than a list of resources for use in academia. It will update periodically, but please also send me your recommendations to add. If you want to follow on twitter, we are using #socialmediaHE All listed items are recommended by academics for use in their professional lives, thanks to those who've provided links and descriptions. Scroll down to see a reverse chronological order, instead of alphabetical list. Latest update: 2 April, 2014.
NetAppVoice: The Crisis Of Corporate Learning (And 3 Steps To Solve It)
The 1980s weren't just famous for bad hair and good music: Global companies stepped up, successfully dealt with disastrous crises that could have potentially destroyed them, and re-wrote the rule book of marketing. They made history in the process. So why have we forgotten those important lessons? And how do we make sure we remember today's lessons tomorrow?
ASTD TechKnowledge 2014 Sessions W202 and FR202: Practical Usage of Social Media for Formal Learning
On Wednesday 22nd and Friday 24th January 2014 I will speaking at the 2014 ASTD TechKnowledge Conference in Las Vegas. My topic is the practical use of social media in formal learning. This page delivers:
Het ABC van de Toekomst van HRD, B = Big Data » NVO2Blog
Big Data is ongetwijfeld het buzzword van 2013. In allerlei sectoren duikt deze term op dus hoog tijd om te verkennen wat de invloed zal zijn op HRD. Eerst maar eens kijken wat Big Data is en waar het vandaan komt. Sinds de opkomst van het internet hebben we toegang tot heel veel data. Eerst bestond het internet alleen uit een internet van computers: we konden via onze computer allerlei teksten en afbeeldingen raadplegen en deze ook uploaden.
Karen Kocher: KISS and Tell at Cigna
Capability development and encouraging employees to learn from one another is helping the health services company to put customers first. Sometimes the best thing you can have in business is a big, fat KISS, as in, keep it simple, stupid. A popular phrase coined from a 1960 U.S. Navy project, the acronym has multiple iterations, but its meaning — don't overcomplicate that which does not need complexity — could be a motto by which learning leaders operate.
The only 3 questions that count
For anyone planning to join one of my ASTD TechKnowledge 2014 sessions, please take a moment to introduce yourself...
Donald H Taylor on "Raising the Level of the Learning Profession"
Charles Jennings on "Unleashing the Full 100%"