Dannyraines
Danny Raines
Webtools: No Registration Needed for Students | Nathan Hall
QR Codes QuikQR: Create QR codes from text or website address (URL). Choose from three sizes of image and then download as a PNG file which can be put into any document or website.TagMyDoc: Upload a PDF, Word, Excel, PowerPoint, OpenDocument, or image (max 5MB) and the site automatically puts a QR code in the bottom right corner of the first page of the file [Note: it will cover over whatever is in the corner, so prepare your documents accordingly]. You can then download and print or share the document electronically. If someone scans the code, he or she is taken to the online, cloud hosted version of the document which then can view or download online. The unregistered version will only host the document for 14 daysQR code business cards: Type in your information, choose an online image, and the site will create online business cards that you can download as a PDF file to print on Avery business card paper.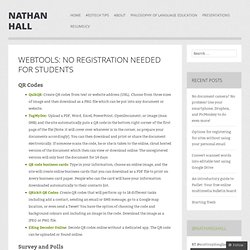 Top 10 Search Modifiers: Why They Matter, What They Are & How To Use Them
Google is working hard to improve search, and it's doing such a great job that the general public doesn't seem to be noticing. With the inclusion of personalization, localization, customization, and with the depth of data Google knows and understands about the average user, it's easy to overlook how much goes into making a useful (intuitive) search. Especially when you factor in how little the average person understands Google, or how Google search actually works. Yet despite Google's improvement, or perhaps because of it, people seem to be losing their ability to perform advanced searches within Google — something I'd define as critical to navigating the Web efficiently and effectively, especially as a search marketer.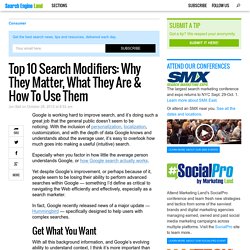 Customer Experience Matrix
Overview Big data can be stored, acquired, processed, and analyzed in many ways. Every big data source has different characteristics, including the frequency, volume, velocity, type, and veracity of the data. When big data is processed and stored, additional dimensions come into play, such as governance, security, and policies.
Big data architecture and patterns, Part 1: Introduction to big data classification and architecture