Dannyraines
Danny Raines
Webtools: No Registration Needed for Students | Nathan Hall.
My Favs
Apps. Top 10 Search Modifiers: Why They Matter, What They Are & How To Use Them. Google is working hard to improve search, and it's doing such a great job that the general public doesn't seem to be noticing.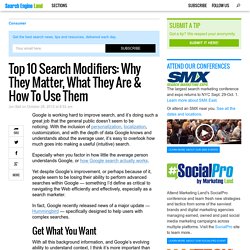 With the inclusion of personalization, localization, customization, and with the depth of data Google knows and understands about the average user, it's easy to overlook how much goes into making a useful (intuitive) search. Especially when you factor in how little the average person understands Google, or how Google search actually works. Yet despite Google's improvement, or perhaps because of it, people seem to be losing their ability to perform advanced searches within Google — something I'd define as critical to navigating the Web efficiently and effectively, especially as a search marketer.
Customer Experience Matrix. Web-Design. Salesforce. Big data architecture and patterns, Part 1: Introduction to big data classification and architecture. Overview Big data can be stored, acquired, processed, and analyzed in many ways.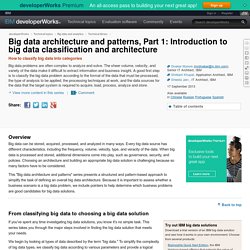 Every big data source has different characteristics, including the frequency, volume, velocity, type, and veracity of the data. When big data is processed and stored, additional dimensions come into play, such as governance, security, and policies. Choosing an architecture and building an appropriate big data solution is challenging because so many factors have to be considered.
Interesting & Useful
---