Web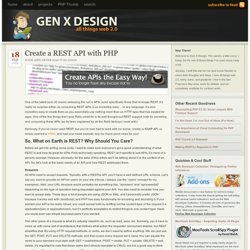 Your apps never had it so good One of the latest (sort of) crazes sweeping the net is APIs, more specifically those that leverage REST. It's really no surprise either, as consuming REST APIs is so incredibly easy… in any language. It's also incredibly easy to create them as you essentially use nothing more than an HTTP spec that has existed for ages. One of the few things that I give Rails credit for is its well thought-out REST support, both for providing and consuming these APIs (as its been explained by all the Rails fanboys I work with). Seriously, if you've never used REST, but you've ever had to work with (or worse, create) a SOAP API, or simply opened a WSDL and had your head explode, boy do I have good news for you!
Advertisement The importance of typography in design can't be overestimated. The accuracy, precision and balance of geometric forms can give letters the elegance and sharpness they deserve.
Pen Actions Create New Pen Save Info Panel (if owned) Re-Run Code Editor Commands
CSS3 Wristwatch & CodePen - StumbleUpon - Pentadactyl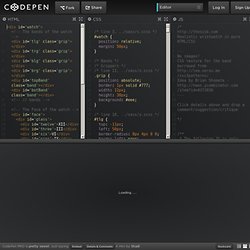 Today we're giving away a wonderful set of social media icons designed exclusively for WDD by Orman Clark, a web designer from the UK. The icon set is called "Buddycons" and includes 126 vector social media icons. Included in the set are PNG versions of all 126 icons in both circular and rounded variations as well as a vector source file for easy resizing. The icons are free to use for personal and commercial usage, however, redistribution is not allowed, so if you'd like to share these icons with your friends, please direct them to this page so that they can download their own copy from here. See a full preview of the icons and the download link after the jump. Thanks to Orman for this fantastic set and we hope you enjoy the new icons!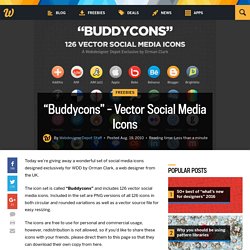 "Buddycons" - Vector Social Media Icons - StumbleUpon - Pentadactyl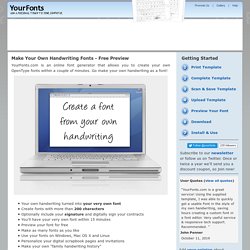 YourFonts.com is an online font generator that allows you to create your own OpenType fonts within a couple of minutes. Go make your own handwriting as a font! Your own handwriting turned into your very own font Create fonts with more than 200 characters Optionally include your signature and digitally sign your contracts You'll have your very own font within 15 minutes Preview your font for free Make as many fonts as you like Use your fonts on Windows, Mac OS X and Linux Personalize your digital scrapbook pages and invitations Make your own "family handwriting history" Use your fonts in Microsoft Word, PowerPoint and every program that you own Just $9.95 (plus $5.00 if you upload both template pages) - only purchase if you're satisfied!
Pentadactyl
In March 1936, an unusual confluence of forces occurred in Santa Clara County. A long cold winter delayed the blossoming of the millions of cherry, apricot, peach, and prune plum trees covering hundreds of square miles of the Valley floor. Then, unlike many years, the rains that followed were light and too early to knock the blossoms from their branches.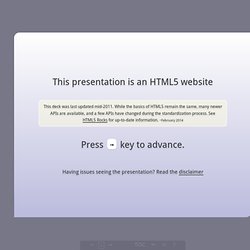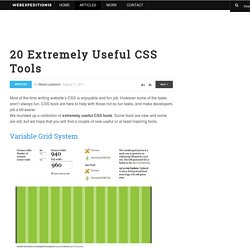 20 Extremely Useful CSS Tools - StumbleUpon - Pentadactyl
Most of the time writing website's CSS is enjoyable and fun job. However some of the tasks aren't always fun. CSS tools are here to help with those not so fun tasks, and make developers job a bit easier. We rounded up a collection of extremely useful CSS tools. Some tools are new and some are old, but we hope that you will find a couple of new useful or at least inspiring tools. The variable grid system is a quick way to generate an underlying CSS grid for your site.
CSS Ribbon Menu - StumbleUpon - Pentadactyl
February 1, 2012 This uses CSS3 transitions and CSS2 pseudo-elements to create an animated navigation ribbon with minimal markup. Browser Support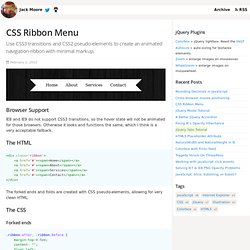 Create horizontal css menu - StumbleUpon - Pentadactyl
Web Design Layout #14 - StumbleUpon - Pentadactyl
TIP: You can share your stripes clicking "SHARE" near the stripe preview. stripe sizespacingstripe color(s)background styleshadowgradient heightbackground color(s)stripe orientation preview Tile size: 40px * 40px open fullscreen preview Tiled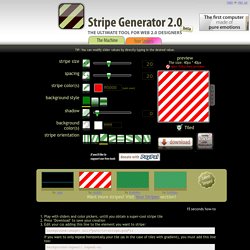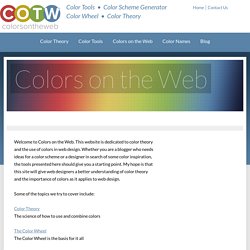 Welcome to Colors on the Web. This website is dedicated to color theory and the use of colors in design. Whether you are a blogger who needs ideas for a color scheme or a designer in search of some color inspiration, the tools presented here should give you a starting point. My hope is that this site will give web designers a better understanding of color theory and the importance of colors as it applies to web design. Some of the topics we try to cover include:Color Theory The science of how to use and combine colors
Pentadactyl
The power of CSS3 is enormous and in this tutorial we will see how to exploit it in a very creative way. We are going to create some thumbnail hover effects with CSS3 transitions. On hover over a thumbnail, we will reveal some description of the thumbnail, using a different style in each example. View demo Download source
Today's blog post we have decided to do a massive collection of 99 icon sets which can each be used within commercial design projects. This compilation was put together simply because of the lack of free icon sets which are available to be used in commercial design projects, what's the point creating an icon set if its not free to use ? A great blog post of high quality icon sets which is a greate reference to bookmark for future reference. This post was time consuming putting together therefore any comments on your thoughts about the article would defiantly be really appreciated.
In the early days of PHP programming, PHP code was limited to being procedural in nature. Procedural code is characterized by the use of procedures for the building blocks of the application. Procedures offer a certain level of reuse by allowing procedures to be called by other procedures. However, without object-oriented language constructs, a programmer can still introduce OO characteristics into PHP code. It's a tad more difficult and can make the code more difficult to read because it's mixing paradigms (procedural language with pseudo-OO design).
The most awesome jQuery Image Slider Plugin: Quake Image Slider - StumbleUpon - Pentadactyl
scriptygoddess - StumbleUpon - Pentadactyl