Entrees
Fried GoatChz Salad w Potato. Spaghetti and Meatballs in Garlic Bread Bowl. Remember those meatballs I made for a "special idea" on Friday?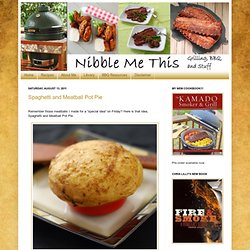 Here is that idea, Spaghetti and Meatball Pot Pie. I took the concept and figured if pizza was a good pot pie, then spaghetti and meat balls would be too. This isn't as much a recipe as it is a process. I started by greasing the inside of ramekins (1 cup sized, 3 1/2" in diameter). Then I put in a mix of white and mild cheddar cheese. Creamy Chicken Picasso. This totally irresistible and colorful chicken recipe is so not low-fat.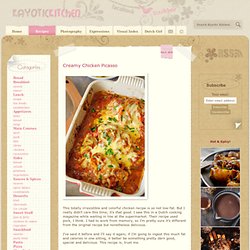 But I really didn't care this time; it's that good. I saw this in a Dutch cooking magazine while waiting in line at the supermarket. Chicken and Bean Burrito Verde. Directions Heat 2 teaspoons of the oil in a medium skillet.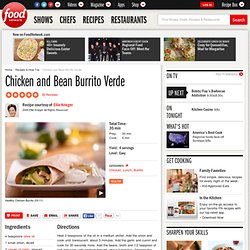 Add the onion and cook until translucent, about 3 minutes. Add the garlic and cumin and cook for 30 seconds more. Add the beans, broth and 1/2 teaspoon of salt and cook until warmed through, about 2 minutes. Chicken Potpie. Growing up, chicken potpie meant a Swanson's frozen dinner, pulled hot from the oven before my parents escaped for a night of freedom.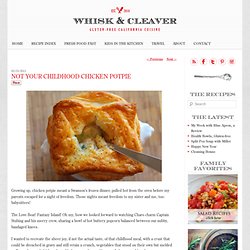 Those nights meant freedom to my sister and me, too: babysitters! The Love Boat! My Drunken Noodles. There are various stories about the origin for the name of this popular Thai noodle dish.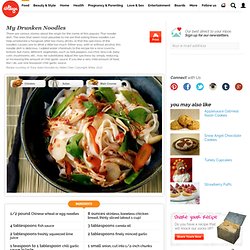 The ones that seem most plausible to me are that eating these noodles can help ameliorate a hangover after too many drinks, or that the spiciness of the noodles causes one to drink a little too much. Either way, with or without alcohol, this noodle dish is delicious. Crab Cakes. We leave mayo and a deep fryer out of the equation to make flavorful, healthy crab cakes In the skilled hands of a four-star chef or a seafaring Maryland man, the goal of a crab cake is simple: Use just enough ingredients to build flavor and bind the cakes, but never at the expense of the crab itself.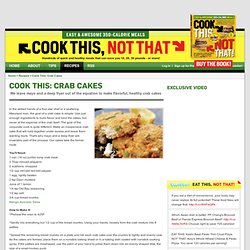 The goal of the corporate cook is quite different: Make an inexpensive crab cake that will hold together under duress and leave them wanting more. That's why mayo and a deep fryer are invariably part of the process. Baked Crab Cakes with Spicy Avocado Sauce. I will be the first to admit that I haven't eaten enough crab cakes in my life.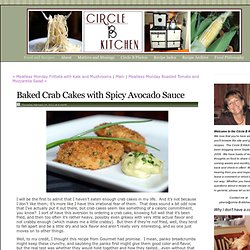 And it's not because I don't like them; it's more like I have this irrational fear of them. That does sound a bit odd now that I've actually put it out there, but crab cakes seem like something of a caloric commitment, you know? I sort of have this aversion to ordering a crab cake, knowing full well that it's been fried, and then too often it's rather heavy, possibly even greasy with very little actual flavor and not crabby enough (which makes me a little crabby). Crispy Cod Nuggets Recipe. Tarte aux Moutarde. Eggplant Rollatini. DashEggplant Rollatini The silky creaminess of cooked eggplant pairs perfectly with a three-cheese garlicky filling.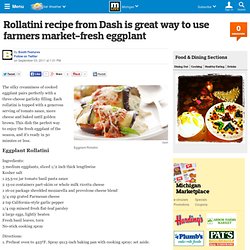 Each rollatini is topped with a generous serving of tomato sauce, more cheese and baked until golden brown. This dish the perfect way to enjoy the fresh eggplant of the season, and it's ready in 50 minutes or less. Eggplant Rollatini Ingredients:3 medium eggplants, sliced 1/2 inch thick lengthwiseKosher salt1 25.5-oz jar tomato basil pasta sauce2 15-oz containers part-skim or whole milk ricotta cheese1 16-oz package shredded mozzarella and provolone cheese blend3/4 cup grated Parmesan cheese2 tsp California-style garlic pepper1/4 cup minced fresh flat-leaf parsley2 large eggs, lightly beatenFresh basil leaves, tornNo-stick cooking spray.
Zucchini Cakes. I think it's safe to say that the zucchinis have won.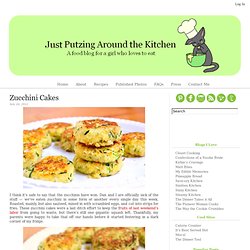 Dan and I are officially sick of the stuff — we've eaten zucchini in some form or another every single day this week. Roasted, mainly, but also sauteed, mixed in with scrambled eggs, and cut into strips for fries. These zucchini cakes were a last ditch effort to keep the fruits of last weekend's labor from going to waste, but there's still one gigantic squash left. Thankfully, my parents were happy to take that off our hands before it started festering in a dark corner of my fridge. Bubble Up Pizza.
---