Two Wheels
boxermanufaktur | limited motorcycles
Cafe Racers, British Classics and Custom Motorbikes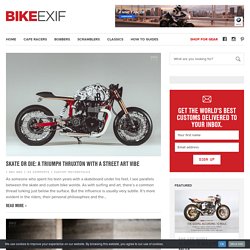 Herr Funk's Yamaha TW125 Some motorcycles just scream fun. Before the Honda Grom there was the Yamaha TW125: A low-riding dual-sport bike that can't decide if it belongs on the beach or the farm.
Triumph Motorräder | Triumph Motorräder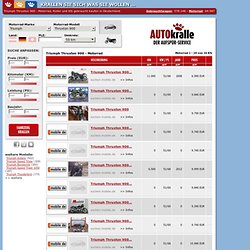 Motorrad 1 - 10 von 16 Kfz suchen.mobile.de >> Infos Titel: Triumph Thruxton 900 einige extras TOP ZustandBeschreibung: Naked Bike, Used vehicle; Electric Starter, Full Service History,
Triumph Thruxton 900 - Motorrad – gebraucht - kaufen
Triumph Bonneville & Thruxton Bikes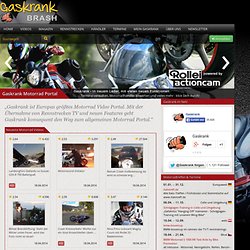 Motorrad Video Portal Gaskrank TV
, das durch ein eigenes Redaktionsteam und die Unterstützung von Medienpartnern die aktuellen News rund um das Thema Motorrad veröffentlicht. Durch die Übernahme von Rennstrecken TV haben wir das Thema Renn- und Fahrertrainings auf internationalen Rennstrecken nahtlos integriert. Veranstalter von Renn- und Fahrertrainings können hier Ihre Termine kostenlos veröffentlichen. Ein neues Highlight ist unser Motorradhändler Verzeichnis. Hier können Motorradhändler von den Gaskrank-Usern bewertet werden.
BMW Bobber
BMW Bobber
Preis: Teilekosten zirka 3500 Euro inkl. Rahmen, Motor etc. Leistung: 40 PS bei 6400/min Motor: Viertakt-Zweizylinder-Boxermotor R60/7 von 1978, luftgekühlt, zwei Ventile pro Zylinder, über untenliegende Nockenwelle und Stoßstangen betätigt, Bohrung x Hub 73,5 x 70,6 mm, Hubraum 599 ccm, Verdichtung 9,2:1. Zwei 26 mm Bing-Schiebervergaser, Zubehör-Luftfilter von Louis, Eigenbau-Schalldämpfer. Nasssumpfschmierung ohne Ölkühler, elektronische-Zündanlage mit Fliehkraftversteller, Elektrostarter, Fünfganggetriebe, Endantrieb per Kardan. Fahrwerk: Stahlrohr-Doppelschleifenrahmen R60 von 1956, vorne /6-Telegabel, Baulänge um 40 mm gekürzt, /6 Vorderrad.
BMW Bobber von Dirk Staubach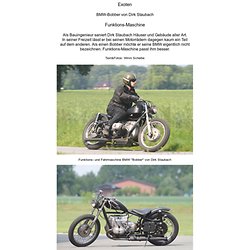 At Ace Cafe London we welcome all who share our passion, based upon the traditions of motorcycles, cars and rock n' roll. This is your cafe, devised, designed and built by fellow petrolheads, so enjoy the ambience and make the most of the facilities and activities to ensure that its history lives on The way of expressing oneself, the music and the machines may have changed over the last decades, but the spirit and motivation remains the same,individual and authentic So set the wheels in motion and take a journey with us through the unique Ace Cafe London experience! Join Ace Cafe ClubSign Up For Email NewsJoin Us on FacebookSign our Guest Book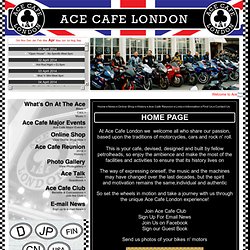 Ace Cafe London
Ace Racer 72
As the lines blur between the different styles of custom bike building and builders become more adventurous, it's getting much harder to simply label a custom motorcycle as a Cafe Racer, Tracker, Bobber, etcetera. While this latest build by CRO motorcycles is a self proclaimed Cafe Racer many may argue otherwise (and I'm sure a few of my Facebook followers will!) but personally I think it's evolution at work. If you want to build a period correct Cafe Racer you'd probably never consider a BMW as a donor let alone one released in the late 70's. As older bikes get older and are either falling to bits or cost an arm and a leg to buy we're all looking for alternatives.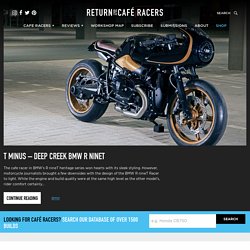 Cafe racer, kustom cultur and streets' maniacs