Android
AlloCine - Google Apps sur l'Android Market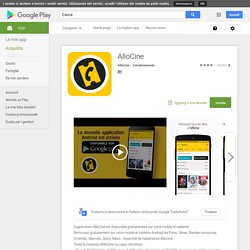 Discover the new AlloCiné application on your Android mobile: Films, trailers, cinemas, TV series, showtimes, stars and news: All of AlloCiné available on Android... for free! Key features: - Database of 110,000 films, 8,000 series, 9,000 cinemas in France, 460,000 people and their filmographies. - Optimised search engine. - For each film find press and user reviews. - Find nearby film showings and cinemas thanks to GPS mapping. - For each serie getSeason and episode listings plus TV broadcasts. - High quality trailers and AlloCiné web shows. - All cinema, series and stars news in real time. - Rate and review films as soon as you leave the cinema! Save your favourites. - Share: Send a film or showtime to your friends via email, Facebook and Twitter. - Find all Android functionnalities : Widget, hard key menu, search in the app from the Android search. Coming soon: Book your cinema ticket from your phone
AlloCiné Blogs - ALLOCINÉ INSIDER
h31c9sxj Shared by D_Dso
Google's Android 3.0 Honeycomb for tablets: a guided tour of the UI (video)
A funny thing happened after Google posted (and subsequently pulled) its Android 3.0 Honeycomb video: T-Mobile celebrated its G-Slate announcement by posting the same video. And about six more after that (to be fair, they're also on the Motorola / Verizon Xoom we demoed). Today it was made official during Verizon's keynote , with Google itself narrating a hands-on demo. We've scrutinized these videos to no end and we think we've come up with the most complete picture of Google's tablet OS experience at this point.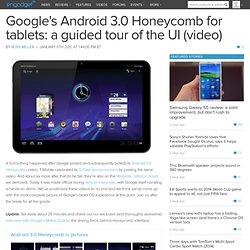 Most of us have been waiting for Sony Ericsson to unveil the XPERIA Play so it can really up the ante when it comes to Android gaming, but Sony may have beaten SE to the punch. Earlier today in Tokyo, Sony announced PlayStation Suite, a game platform that will allow Android devices running 2.3 and up access to PlayStation 1 games. All games will be certified to make sure the games run smoothly, and both QWERTY and full-touch devices will be supported. The service will be going live by the end of the year and will feature a healthy mix of PS1 titles.
Sony's PlayStation Suite will bring PSOne games to Android devices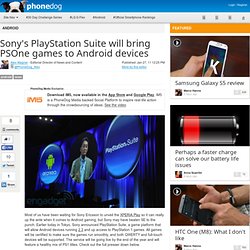 A year in Android — 2010 in a nutshell | Fonehome.co.uk
Me, my mobile and I - Un nouvel AppStore pour Android
Visualized: the real Android fragmentation
YouTube Remote: Control YouTube on your TV from your (Android) phone
YouTube just got more couch-friendly. Google today announced YouTube Remote , an Android application (available for free from the Android Market ) that will let you send YouTube videos from your smartphone to Google TV devices and computers. Moving content from your Android phone to Google TV is something Google has been showing off since it first unveiled its next-generation TV platform. The app creates a "virtual connection" between your Android phone and YouTube Leanback — the large-screen interface used on Google TV, which is also available to computer users by visiting youtube.com/leanback — when you sign in with the same Google account on both devices.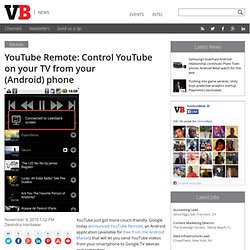 How Android Is Transforming Mobile Computing - Newsweek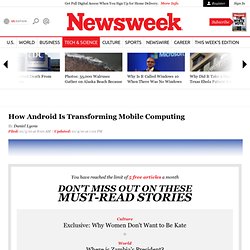 Nobody ever imagined how quickly the Android mobile-phone platform would take off–not even Andy Rubin, the Silicon Valley engineer who created it. Five years ago Rubin was leading a startup that had just been acquired by Google and was trying to develop software that could power a smart phone. Two years ago the first Android phone hit the market and, frankly, it was a bit of a dud.
Why Android developers are losing money, and it's not due to piracy | Royal Pingdom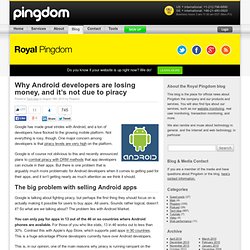 Posted in Tech blog on August 16th, 2010 by Pingdom Google has made great strides with Android, and a ton of developers have flocked to the growing mobile platform. Not everything is rosy, though. One major concern among developers is that piracy levels are very high on the platform.
200 000 smartphones équipés d'Android sont activés tous les jours, a annoncé mercredi Eric Schmidt, le directeur général de Google. Selon lui, le marché des liens sponsorisés sur mobile devrait, à terme, dépasser celui sur PC, sans pour autant donner de date. Selon une étude du cabinet NPD, le système d'exploitation pour mobile de Google équipe un tiers des téléphones qui ont été vendus entre avril et juin aux Etats-Unis, devant le BlackBerry et l'iPhone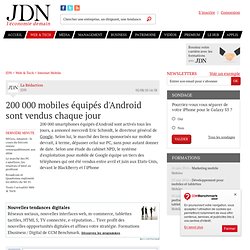 200 000 mobiles équipés d'Android sont vendus chaque jour - Journal du Net > e-Business
J'ai enfin reçu l'invitation pour App Inventor , un nouvel outil en ligne de Google qui permet de créer des applications pour Android façon click n play. Tout se fait à la souris, de manière graphique, destinant cet outil à des non initiés à la programmation. Une fois loggé sur App Inventor , j'ai du tout d'abord installer une petite appli (Windows Mac ou Linux ) qui permet de faire communiquer l'application web avec le téléphone Android. Pour que App Inventor fonctionne correctement, vous devez avoir un ordinateur équipé au choix de : Mac OS X 10.5, 10.6 (Intel) Windows XP, Windows Vista, Windows 7 Ubuntu 8+, Debian 5+
Test de Google App Inventor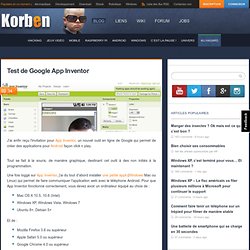 Android market share trebles in three months | Fonehome.co.uk
Another day, another Android departure. Google's worldwide head of Android business development and operations, Tom Moss, has left the company this month. He owned relationships with the major handset manufacturers and carriers for Google and led business development for the Android operating system. He was also a recipient of a Founders Award, which are generous Google stock grants that can be worth hundreds of thousands or millions of dollars and are used to protect employees from poaching.
Google's head of Android partnerships departs