Android
Allocine : #AlloCiné lance sa nouvelle ... AlloCiné lance sa nouvelle application mobile. Lancée en janvier 2010, et depuis adoptée par 8 millions d'utilisateurs, la première version de l'application mobile fait aujourd'hui peau neuve.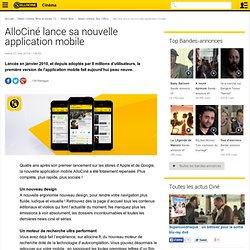 Quatre ans après son premier lancement sur les stores d'Apple et de Google, la nouvelle application mobile AlloCiné a été totalement repensée. Plus complète, plus rapide, plus sociale ! AlloCine - Google Apps sur l'Android Market. GSC Mobile App (Android™) brings you GSC movie listings with real-time show times and the option to select your seats and purchase movie tickets via your smartphone.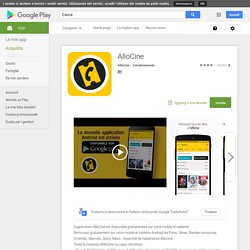 Just imagine… the convenience at your finger tips, directly from your smartphone through Maybank2U, PayPal or RHB Now account for GSC cinemas with E-Payment facility, regardless of which telco company you subscribe to. Golden Screen Cinemas, your preferred choice. *****Do give us your feedback at custserv@gsc.com.my Release Notes: AlloCiné Blogs - ALLOCINÉ INSIDER. h31c9sxj Shared by D_Dso. Google's Android 3.0 Honeycomb for tablets: a guided tour of the UI (video) A funny thing happened after Google posted (and subsequently pulled) its Android 3.0 Honeycomb video: T-Mobile celebrated its G-Slate announcement by posting the same video.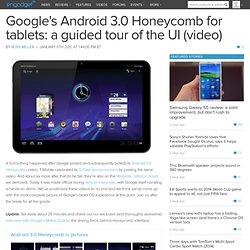 And about six more after that (to be fair, they're also on the Motorola / Verizon Xoom we demoed). Today it was made official during Verizon's keynote, with Google itself narrating a hands-on demo. We've scrutinized these videos to no end and we think we've come up with the most complete picture of Google's tablet OS experience at this point. Sony's PlayStation Suite will bring PSOne games to Android devices. PhoneDog Media ExclusiveDownload iM5, now available in the App Store and Google Play. iM5 is a PhoneDog Media backed Social Platform to inspire real-life action through the crowdsourcing of ideas.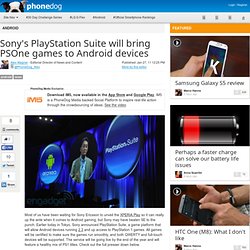 See the video Most of us have been waiting for Sony Ericsson to unveil the XPERIA Play so it can really up the ante when it comes to Android gaming, but Sony may have beaten SE to the punch. Earlier today in Tokyo, Sony announced PlayStation Suite, a game platform that will allow Android devices running 2.3 and up access to PlayStation 1 games. Introducing Nexus S with Gingerbread. A year in Android — 2010 in a nutshell | Fonehome.co.uk.
Me, my mobile and I - Un nouvel AppStore pour Android. Visualized: the real Android fragmentation. YouTube Remote: Control YouTube on your TV from your (Android) phone. YouTube just got more couch-friendly.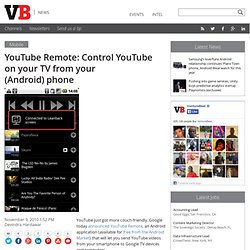 Google today announced YouTube Remote, an Android application (available for free from the Android Market) that will let you send YouTube videos from your smartphone to Google TV devices and computers. Moving content from your Android phone to Google TV is something Google has been showing off since it first unveiled its next-generation TV platform. The app creates a "virtual connection" between your Android phone and YouTube Leanback — the large-screen interface used on Google TV, which is also available to computer users by visiting youtube.com/leanback — when you sign in with the same Google account on both devices. How Android Is Transforming Mobile Computing. Why Android developers are losing money, and it's not due to piracy. Posted in Tech blog on August 16th, 2010 by Pingdom Google has made great strides with Android, and a ton of developers have flocked to the growing mobile platform.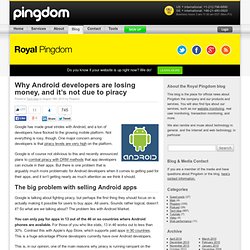 Not everything is rosy, though. One major concern among developers is that piracy levels are very high on the platform. 200 000 mobiles équipés d'Android sont vendus chaque jour - Journal du Net > e-Business. Test de Google App Inventor. J'ai enfin reçu l'invitation pour App Inventor, un nouvel outil en ligne de Google qui permet de créer des applications pour Android façon click n play.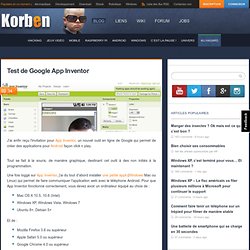 Tout se fait à la souris, de manière graphique, destinant cet outil à des non initiés à la programmation. Une fois loggé sur App Inventor, j'ai du tout d'abord installer une petite appli (Windows Mac ou Linux) qui permet de faire communiquer l'application web avec le téléphone Android. Pour que App Inventor fonctionne correctement, vous devez avoir un ordinateur équipé au choix de : Mac OS X 10.5, 10.6 (Intel)Windows XP, Windows Vista, Windows 7Ubuntu 8+, Debian 5+ Android market share trebles in three months | Fonehome.co.uk. Google's head of Android partnerships departs. Another day, another Android departure.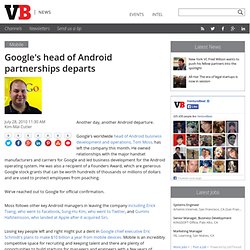 Google's worldwide head of Android business development and operations, Tom Moss, has left the company this month. He owned relationships with the major handset manufacturers and carriers for Google and led business development for the Android operating system. He was also a recipient of a Founders Award, which are generous Google stock grants that can be worth hundreds of thousands or millions of dollars and are used to protect employees from poaching.
---