Skills
David DeAngelo - AttractionWiki
Driving is the controlled operation and movement of a vehicle, such as a car, carriage, truck or bus. History[edit] The world's first long distance road trip by automobile[1] took place in Germany in August 1888 when Bertha Benz, the wife of Karl Benz, the inventor of the first patented motor car (the Benz Patent-Motorwagen), travelled from Mannheim to Pforzheim[2] (a distance of 106 km or 66 miles)[3] and back in the third experimental Benz motor car, which had a maximum speed of 10 mph or 16 km/h, with her two teenage sons Richard and Eugen but without the consent and knowledge of her husband.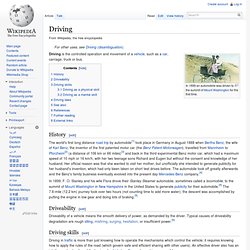 Driving
Equestrianism
Equestrianism (from Latin equester, equestr-, horseman, horse)[1] more often known as riding, horseback riding (American English) or horse riding (British English)[2] referring to the skill of riding, driving, steeplechasing or vaulting with horses.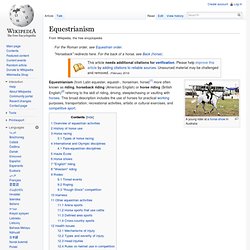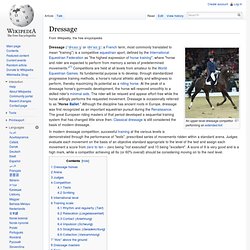 Dressage (/ˈdrɛsɑːʒ/ or /drɨˈsɑːʒ/; a French term, most commonly translated to mean "training") is a competitive equestrian sport, defined by the International Equestrian Federation as "the highest expression of horse training", where "horse and rider are expected to perform from memory a series of predetermined movements
Dressage
Google Afbeeldingen resultaat voor http://www.productioncars.com/send_file.php/vw_polo_hatch_red_1986.jpg
Getting Things Done, in het algemeen afgekort tot GTD, is een actiegebaseerde managementmethode, en de titel van een boek door David Allen. GTD is gebaseerd op het principe dat een persoon door zijn taken vast te leggen zich over die taken geen zorgen hoeft te maken.
Getting Things Done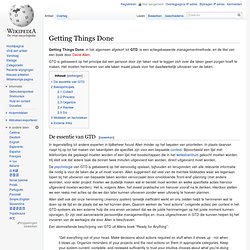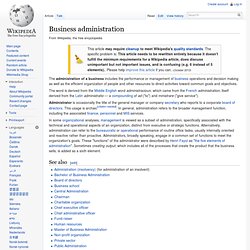 The administration of a business includes the performance or management of business operations and decision making as well as the efficient organization of people and other resources to direct activities toward common goals and objectives.
Administration (business)
The Bachelor of Business Administration (BBA or B.B.A.) is a bachelor's degree in commerce and business administration.
Bachelor of Business Administration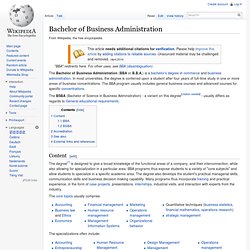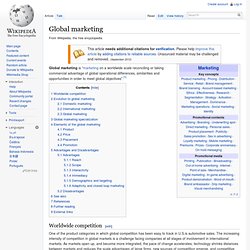 International marketing
Global marketing is "marketing on a worldwide scale reconciling or taking commercial advantage of global operational differences, similarities and opportunities in order to meet global objectives".[1] Worldwide competition[edit] One of the product categories in which global competition has been easy to track in U.S.is automotive sales. The increasing intensity of competition in global markets is a challenge facing companies at all stages of involvement in international markets. As markets open up, and become more integrated, the pace of change accelerates, technology shrinks distances between markets and reduces the scale advantages of large firms, new sources of competition emerge, and competitive pressures mount at all levels of the organization.
Marketing is the process of communicating the value of a product or service to customers, for the purpose of selling that product or service.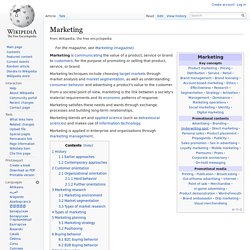 In agriculture, agribusiness is the business of agricultural production.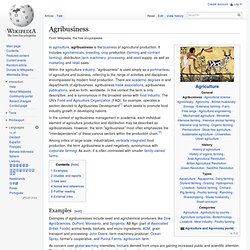 Agribusiness
International trade is the exchange of capital, goods, and services across international borders or territories.[1] In most countries, such trade represents a significant share of gross domestic product (GDP).
International trade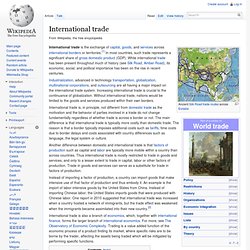 Datamining
Datamining is het gericht zoeken naar (statistische) verbanden in gegevensverzamelingen met als doel profielen op te stellen voor wetenschappelijk, journalistiek of commercieel gebruik. Zo'n verzameling gegevens kan gevormd worden door gebeurtenissen in een praktijksituatie te registreren (aankoopgedrag van consumenten, symptomen bij patiënten, et cetera) of door de resultaten van eerder uitgevoerde wetenschappelijke onderzoeken met elkaar te vergelijken en te herinterpreteren.
Correlation and dependence
In statistics, dependence is any statistical relationship between two random variables or two sets of data.
Time series
Time series: random data plus trend, with best-fit line and different applied filters
Regression analysis is widely used for prediction and forecasting, where its use has substantial overlap with the field of machine learning. Regression analysis is also used to understand which among the independent variables are related to the dependent variable, and to explore the forms of these relationships.
Regression analysis
Strategic management
Strategic management analyzes the major initiatives taken by a company's top management on behalf of owners, involving resources and performance in internal and external environments.[1] In management theory and practice, a distinction is often made between operational management and strategic management.
Ballroom dance
Latin dance
RESULTS]
Krav Maga
Modern physics
Civilization
Sun Tzu
Sun Tzu the Art of War Success Strategy Presentation By Osama El-kadi
Technical drawing
AutoCAD
AutoCAD 2009 Demo - Part 4 - Ribbon
Telemarketing
Alec Baldwin - Best performance
User interface
CMS Made Simple
Adobe Photoshop
New company website
futurepathways - Pearltrees
WebGUI
Innovatieve ketels, direct geinstalleerd - van Slooten BV