Skills
David DeAngelo - AttractionWiki
Driving is the controlled operation and movement of a land vehicle , such as a car , truck or bus . Although direct operation of a bicycle and a mounted animal are commonly referred to as riding , such operators are legally considered drivers and are required to obey the rules of the road . Driving over a long distance is referred to as a road trip .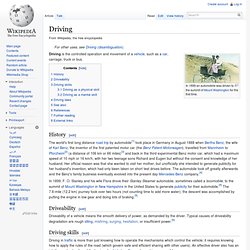 Driving
Equestrianism
Equestrianism (from Latin equester, equestr-, horseman , horse ) [ 1 ] more often known as riding , horseback riding (American English) or horse riding (British English) [ 2 ] referring to the skill of riding, driving, steeplechasing or vaulting with horses .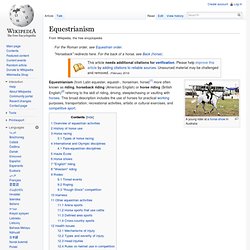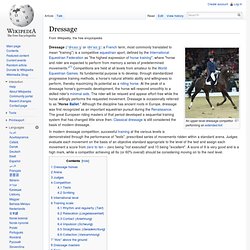 Dressage ( / ˈ d r ɛ s ɑː ʒ / or / d r ɨ ˈ s ɑː ʒ / ; a French term, most commonly translated to mean "training") is a competitive equestrian sport, defined by the International Equestrian Federation as "the highest expression of horse training ", where "horse and rider are expected to perform from memory a series of predetermined movements." [ 1 ] Competitions are held at all levels from amateur to the World Equestrian Games .
Dressage
Google Afbeeldingen resultaat voor http://www.productioncars.com/send_file.php/vw_polo_hatch_red_1986.jpg
Getting Things Done , in het algemeen afgekort tot GTD , is een actiegebaseerde managementmethode, en de titel van een boek door David Allen . GTD is gebaseerd op het principe dat een persoon door zijn taken vast te leggen niet over zijn taken hoeft na te blijven denken.
Getting Things Done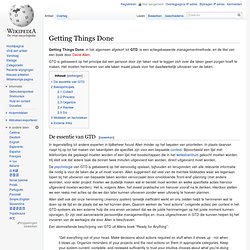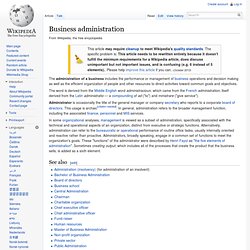 The administration of a business is interchangeable with the performance or management of business operations, maybe including important decision making.
Administration (business)
The Bachelor of Business Administration ( BBA or B.B.A. ) is a bachelor's degree in commerce and business administration .
Bachelor of Business Administration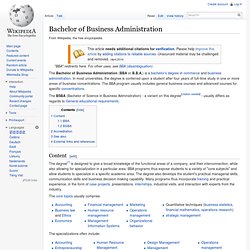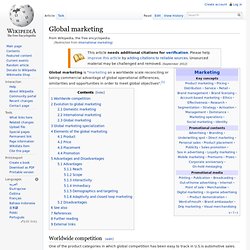 International marketing
International marketing (IM) or global marketing refers to marketing carried out by companies overseas or across national borderlines.
Marketing is the process of communicating the value of a product or service to customers .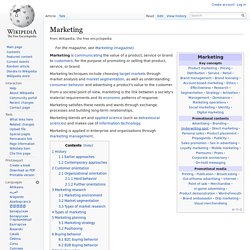 In agriculture , agribusiness is a generic term that can be applied to businesses involved in some or all of the following agriculturally related production systems: crop production, including farming and contract farming , seed supply, agrichemicals , farm machinery , wholesale and distribution, processing , marketing , and retail sales.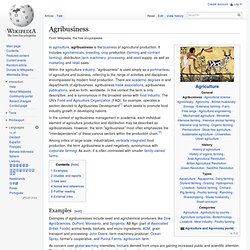 Agribusiness
International trade is the exchange of capital , goods , and services across international borders or territories. [ 1 ] In most countries, such trade represents a significant share of gross domestic product (GDP).
International trade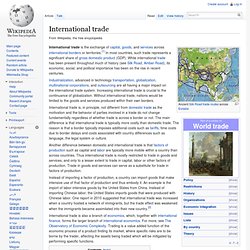 Datamining
Datamining is het gericht zoeken naar (statistische) verbanden in gegevensverzamelingen met als doel profielen op te stellen voor wetenschappelijk of commercieel gebruik. Zo'n verzameling gegevens kan gevormd worden door gebeurtenissen in een praktijksituatie te registreren (aankoopgedrag van consumenten, symptomen bij patiënten, et cetera) of door de resultaten van eerder uitgevoerde wetenschappelijke onderzoeken met elkaar te vergelijken en te herinterpreteren.
Correlation and dependence
In statistics , dependence refers to any statistical relationship between two random variables or two sets of data .
Time series
Time series: random data plus trend, with best-fit line and different smoothings
In statistics , regression analysis is a statistical technique for estimating the relationships among variables. It includes many techniques for modeling and analyzing several variables, when the focus is on the relationship between a dependent variable and one or more independent variables .
Regression analysis
Strategic management
Strategic management analyzes the major initiatives taken by a company's top management on behalf of owners, involving resources and performance in external environments. [ 1 ] It entails specifying the organization 's mission , vision and objectives, developing policies and plans, often in terms of projects and programs, which are designed to achieve these objectives, and then allocating resources to implement the policies and plans, projects and programs. A balanced scorecard is often used to evaluate the overall performance of the business and its progress towards objectives.
Agenda | NL EVD Internationaal: Collectieve handelsreis naar China, 6 t/m 13 mei 2011
Ballroom dance
Latin dance
RESULTS]
Krav Maga
Modern physics
Civilization
Sun Tzu
Sun Tzu the Art of War Success Strategy Presentation By Osama El-kadi
Technical drawing
AutoCAD
AutoCAD 2009 Demo - Part 4 - Ribbon
Telemarketing
Alec Baldwin - Best performance
User interface
CMS Made Simple
Adobe Photoshop
New company website
futurepathways - Pearltrees
WebGUI
Innovatieve ketels, direct geinstalleerd - van Slooten BV