Snacks
By brooklynsupper |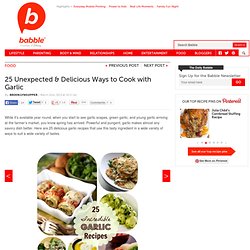 For New Year's Eve, I wanted to make an easy appetizer that was at least a little impressive.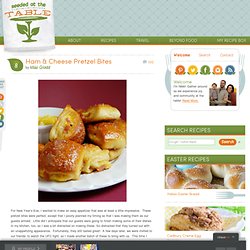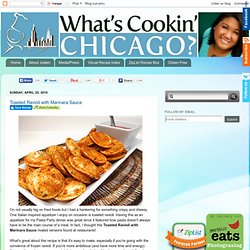 I'm not usually big on fried foods but I had a hankering for something crispy and cheesy.
When I told my friends I was planning on making homemade mozzarella sticks for a guy's weekend out of town the idea was met with a profound lack of enthusiasm. Everybody knows that I like to experiment in the kitchen, but somehow the idea of making a bar food staple like mozzarella sticks from scratch seemed like a complete waste of time to the group.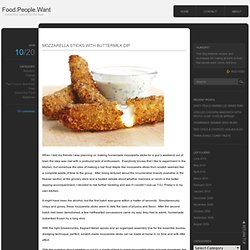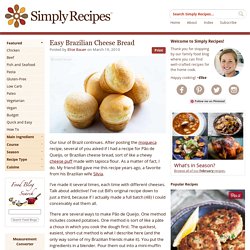 Our tour of Brazil continues. After posting the moqueca recipe, several of you asked if I had a recipe for Pão de Queijo, or Brazilian cheese bread, sort of like a chewy cheese puff made with tapioca flour. As a matter of fact, I do. My friend Bill gave me this recipe years ago, a favorite from his Brazilian wife Silvia. I've made it several times, each time with different cheeses.
Best Ever Jalapeno Poppers Recipe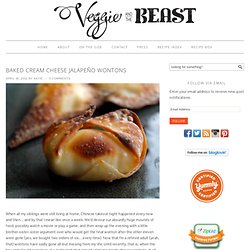 When all my siblings were still living at home, Chinese takeout night happened every now and then…and by that I mean like once a week. We'd devour our absurdly huge mounds of food, possibly watch a movie or play a game, and then wrap up the evening with a little brother-sister-sister argument over who would get the final wonton after the other eleven were gone (yes, we bought two orders of six…every time). Now that I'm a refined adult (yeah, that) wontons have sadly gone all-but missing from my life. Until recently, that is, when the boy and I found ourselves at a restaurant that served jalapeno cream cheese wontons. In all my childhood wonton-consuming years, I had never thought about mixing anything with that smooth dollop of cheese. I mean, that's just crazy.
Baked Cream Cheese Jalapeno Wontons « Veggie and the Beast
Tuesday, April 17, 2012 Pizza Cupcakes I made these on a whim this weekend and they were a huge hit with FH and my brother.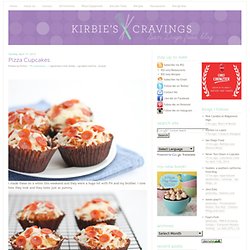 Pizza Cupcakes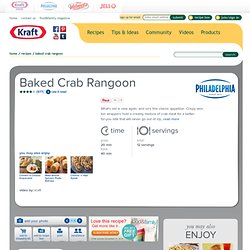 Makeover - How We Did It
Baked Crab Rangoon recipe
Bacon Appetizer Crescents recipe
How to Make American Cheese | From Away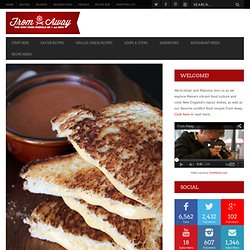 As our regular readers know, I'll go to my grave defending processed, pasteurized American cheese. I understand your objections to this position. I've heard all of the arguments.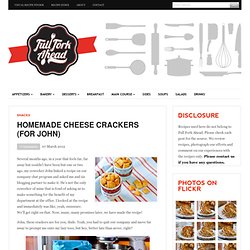 Homemade Cheese Crackers (for John) | Full Fork Ahead
Several months ago, in a year that feels far, far away but couldn't have been but one or two ago, my coworker John linked a recipe on our company chat program and asked me and sis blogging partner to make it. He's not the only coworker of mine that is fond of asking us to make something for the benefit of my department at the office.
There are about a handful of things left in life that bring out my inner child, and one of them is fruit roll ups... Given the opportunity -- meaning the man of the house brings them home because he thinks it's funny to see me light up like a little kid -- I will eat an entire box in one sitting. So when I saw this recipe in September's Food Network Magazine, I knew I had to give it a try.
That's so Michelle...: Homemade Fruit Roll Ups
Junk Food Makeover: Quinoa "Doritos" : BA Daily
In our new column, Junk Food Makeover, we challenge culinary nutritionist Tricia Williams to recreate iconic snacks with a more wholesome, nutritious recipe. Williams' Quinoa "Doritos" plated with the dehydrated onion and tomato they were made with. Photograph by Louis Chan The Challenge: Nacho Cheese Doritos Our memories of these nacho cheesiest of chips are fond ones: eating them out of the bag at sleepovers, pairing them with Coca-Cola on road trips, getting that greasy orange film on our fingers and happily licking it off.