Map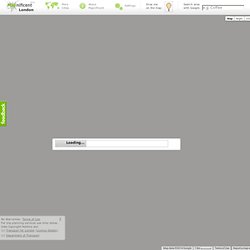 London - Dynamic Public Transport Travel Time Maps for London
close It's Mapnificent shows you the area you can reach with public transport from any point in a given time. It is available for major cities in the US and world wide.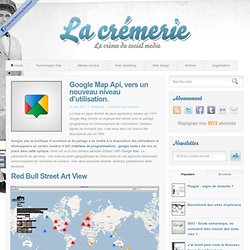 Google Map Api, vers un nouveau niveau d'utilisation. La mise en ligne récente de deux application basées sur l'API Google Map montre un engouement certain pour le partage géographique et communautaire de l'information. Certains signes ne trompent pas, c'est deux sites ont chacun été récompensé par un FWA
Google Map Api, vers un nouveau niveau d'utilisation.
DaylightMap shows the pattern of night and day on a Google map, for any area of the Earth, for any date and time. The night-side satellite view includes city lights as seen from orbit. It also allows you to select up to ten locations on the map; in addition to seeing at a glance whether it's daytime there, you can show their local time, sunrise and and sunset times, and length of day. These locations can be remembered for future visits, saved as a bookmark, or sent to other people as a web link. This site can thus function as a graphical world clock, and can be used to show relative times of any future or past event. This particular DaylightMap is highlighting times for .
STREETVIEW ZOMBIE APOCALYPSE - RUN FROM ZOMBIES INSIDE GOOGLE MAPS STREET VIEW