Inspiration
THREEDEE « Jaguar Shoes Collective. 'ThreeDee' is a group exhibition curated by ourselves, hailing the artists involved as the future of illustration and graphic design, it is our selection of the finest new emerging talent in the UK.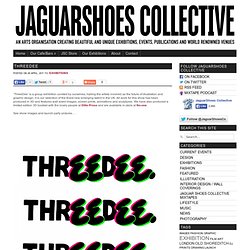 All work for this show has been produced in 3D and features wall sized images, screen prints, animations and sculptures. We have also produced a limited edition 3D booklet with the lovely people at Ditto Press and are available in-store at No-one. See show images and launch party pictures…. THREEDEEA GROUP EXHIBITIONPV: Thursday 21st April 2011. 7pm till late.DreamBagsJaguarShoes THREE DEE features artists-
Instagr.am. .:. markbeasley .:. Instagram + cats, surely the very nexus of the internet - Instac.at. Instagr.am.
---