Creative projects
Lego Album Cover : un album. MaSAT. MaSAT (Madrid Street Advertising Takeover) is the second international street ad takeover project, and the third in a series of civil disobedience projects intent on changing our expectations of public behavior in our shared environments.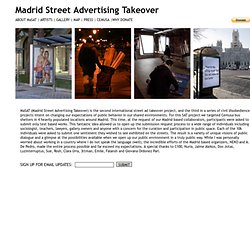 For this SAT project we targeted Cemusa bus shelters in 4 heavily populated locations around Madrid. This time, at the request of our Madrid based collaborators, participants were asked to submit only text based works. This fantastic idea allowed us to open up the submission request process to a wide range of individuals including sociologist, teachers, lawyers, gallery owners and anyone with a concern for the curation and participation in public space. Videos | Live @ Paris : Two Door Cinema Club 'Fans Can Talk' En novembre dernier, l'Olympia accueillait les sulfureux survoltés irlandais pour un show pour le moins intense.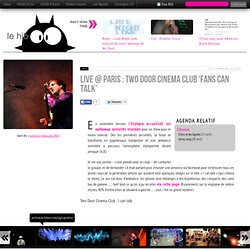 Dès les premières secondes, la fosse se transforma en gigantesque trampoline et une ambiance survoltée a parcouru l'atmosphère olympienne durant presque 1h20. Je me suis permis – culot powah pour le coup – de contacter le groupe, et de demander s'il était partant pour envoyer une annonce via facebook pour (re)trouver tous ces jeunes issus de la génération iphone qui auraient volé quelques images sur le titre « I can talk » (qui clôtura le show). Le son est donc d'ambiance, les iphone sont mélangés à des blackberrys, des compacts, des cams bas de gamme … bref tout ce qu'on a pu récolter via cette page. Where The Hell Is Matt? Joburg Jam. JE PENSE À VOUS. Someone Once Told Me - a new photo every day. The Sartorialist. Intel Visual Life - The Sartorialist.
---