General Literature
The Best English-Language Fiction of the Twentieth Century - By Rank. A Reading List for Futurists - Singularity 101. More material to help you understand the future of technology and artificial intelligence.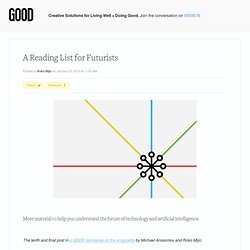 The tenth and final post in a GOOD miniseries on the singularity by Michael Anissimov and Roko Mijic. Interested in finding out more about the singularity and going beyond this short series? Here are a few interesting books you can read to increase your knowledge about the singularity and associated topics: BookCrossing - The World's Biggest Free Book Club - Catch and Re. Philosophy since the Enlightenment, by Roger Jones. Mother Jones | Smart, Fearless Journalism (Private Browsing)
Squashed Philosophers- Condensed Plato Aristotle Augustine Desca.
---