InteraXon
InteraXon on Twitter
Hey everyone We've received a lot of questions about the number of sensors Muse has, as well as why the number of sensors is important. We're answering this question here for you today to help clarify things.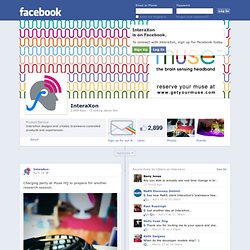 InteraXon on Facebook
InteraXon
Muse the brain sensing headband Today, the possibilities of Muse are remarkable. We've already proven that working with Muse can help you do extraordinary things with your mind. The power is already within you – we simply want to unleash it to your full potential.