WordPress
The WordPress Guy — builds your WordPress advantage. How to Install Wordpress on XAMPP. Edit Article Edited by Jand0001, Me13, Teresa, Mountain Dew and 7 others The goal of this guide is to show web designers how to install Wordpress [1] (2.8 or above) locally on their computers for the purpose of designing and testing Wordpress themes.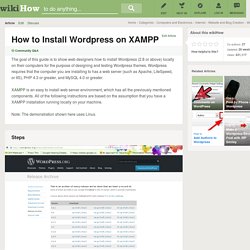 Wordpress requires that the computer you are installing to has a web server (such as Apache, Litespeed, or IIS), PHP 4.3 or greater, and MySQL 4.0 or greater. XAMPP [2] is an easy to install web server environment, which has all the previously mentioned components. Blog Tool and Publishing Platform. WordPress. The latest stable release of WordPress (Version 3.8.2) is available in two formats from the links to your right.
If you have no idea what to do with this download, we recommend signing up with one of our web hosting partners that offers a one-click install of WordPress or getting a free account on WordPress.com. What's Next? With our famous 5-minute installation, setting up WordPress for the first time is simple. We've created a handy guide to see you through the installation process. If you're upgrading your existing installation, we've got a guide for that, too.
---