TriedAndGood
A hint of honey: Summer Veggie Omelette. Can you believe I've never made an omelette/omelet (same thing- spell it however you want) until now?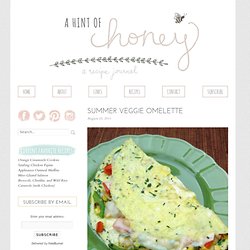 I have no idea why not! It just never crossed my mind. It might have something to do with not being much of a breakfast person. Spinach Pesto with Whole-Wheat Pasta. Bring a large pot of salted water to boil.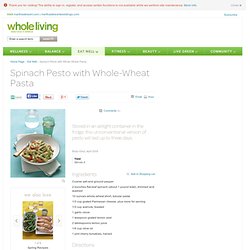 Prepare a large bowl of ice water; place a colander inside, resting in ice. In batches, stir spinach into boiling water. Cook until wilted and bright green, about 30 seconds. Transfer spinach to the colander (in the ice bath) to stop cooking. Kimchi Omelet Recipe. Monday, November 7, 2011 Kimchi Omelet Every week, about 2-3 times a week, I go to physical therapy for my knee.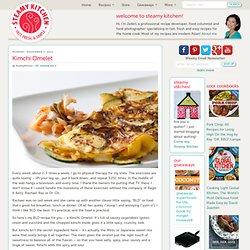 The exercises are quite boring – lift your leg up….put it back down…and repeat 3,251 times. In the middle of the wall hangs a television, and every time, I thank the owners for putting that TV there. I don't know if I could handle the monotony of these exercises without the company of Regis & Kelly, Rachael Ray or Dr. Thibeault's Table: Italian Night. We had big bowls of spaghetti with meat sauce for dinner tonight.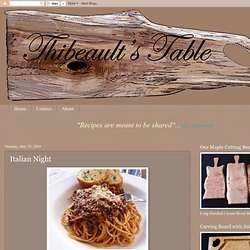 I put the pot of sauce on to simmer early in the afternoon. Moe put in a request for my Gorgonzola Garlic Bread. I hadn't made it for him in awhile. We lived in Dunkirk, NY for a couple of years and we would go to Buffalo on a regular basis to shop, and when we did, we would have lunch at a little Italian restaurant that served this wonderful warm garlic breaded seasoned with Gorgonzola and Parmesan cheese. Pad thai recipe. Recipe: pim's pad thai Did you have as lovely a weekend as I did?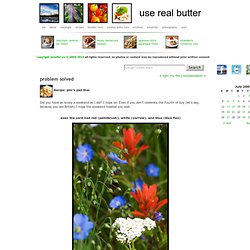 I hope so! Basil Oil Recipe. Recepten & tips // Recepten. Mushroom-and-Swiss Sliders with Spicy Fry Sauce. I went berserk the other night, whipping up some scrumptious sliders and topping them with some wine-soaked mushrooms and Swiss cheese.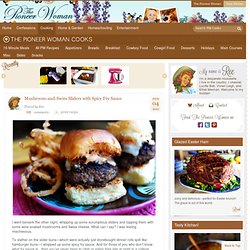 What can I say? I was feeling mischievous. Gevulde rapen met zeevruchten. Sriracha Mayo- Creamy Chili Hot Sauce- Spicy Mayo. The internet is all afire about Huy Fong's Sriracha Hot Sauce lately and I'm still fired up (no!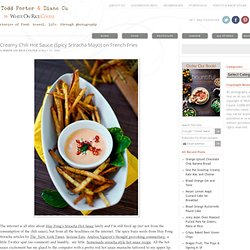 Not from the consumption of the chili sauce), but from all the headlines on the internet. The spicy buzz seeds from Huy Fong Sriracha articles by The New York Times, Serious Eats, Andrea Nguyen's thought provoking commentary, a little Twitter spat (no comment) and humbly, my little homemade sriracha style hot sauce recipe.
All the hot sauce excitement has me glued to the computer with a pretty red hot sauce mustache tattooed to my upper lip. "Got Sriracha" anyone? Cause I certainly do. Hamrolletjes met spinazie.
---