Cocktail snacks
Surinaams eten!
Garnalencocktail recept
Garnalencocktail recepten » Koud 4 porties uit Nederland In 15 minuten klaar Door louca 9 10 sterren / 4 reacties / reageer nu Ingrediënten 250 gram gepelde, hollandse garnalen 4 blaadjes ijsbergsla 125 mililiter slagroom 3 eetlepels mayonaise 2 eetlepels tomatenketchup 1 theelepel worcestersaus 2 eetlepels citroensap ½ borrelglaasje whisky of sherry snuifje zout mespuntje cayennepeper 4 schijfjes citroen 1 eetlepel verse, gehakte peterselie paprikapoeder , mild Bereidingswijze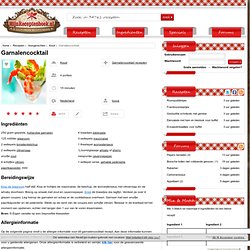 Dagelijkse kost - garnalencocktail van vroeger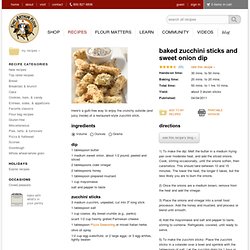 1) To make the dip: Melt the butter in a medium frying pan over moderate heat, and add the sliced onions. Cook, stirring occasionally, until the onions soften, then caramelize. This should take between 10 and 15 minutes. The lower the heat, the longer it takes, but the less likely you are to burn the onions.
Baked Zucchini Sticks and Sweet Onion Dip
Rolletjes met gerookte zalm en rucola | Yunomi
Bruschetta met pesto en geitenkaas | Yunomi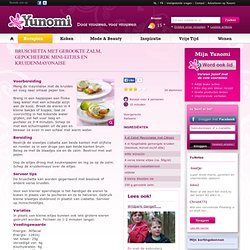 Voorbereiding Meng de mayonaise met de kruiden en voeg naar smaak peper toe. Breng in een hapjespan een flinke laag water met een scheutje azijn aan de kook.
Bruschetta met gerookte zalm, gepocheerde mini-eitjes en kruidenmayonaise | Yunomi
Verwarm voor de warme marinade 2 eetlepels olie in een pan, rasp de knoflook boven de pan en bak licht aan. Voeg het sjalotje toe en fruit 1 minuut mee. Ris de blaadjes van de takjes tijm en voeg toe. Voeg een half bouillonketeltje toe en laat dit zachtjes smelten met 1 kopje water.
Gemarineerde paddenstoelen op bruschetta | Knorr