Apps
Top 3 Code Editors For the iPad. We keep hearing about how people can do everything they would need to do on a desktop on an iPad now.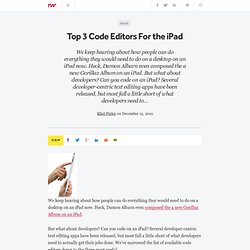 Heck, Damon Albarn even composed the a new Gorillaz Album on an iPad. But what about developers? Can you code on an iPad? Several developer-centric text editing apps have been released, but most fall a little short of what developers need to actually get their jobs done. We've narrowed the list of available code editors down to the three most useful. Developer Resources - Mac Developer Program. Development Tools and Documentation Get development tools, SDKs, guides, videos, and sample code to develop and distribute great Mac apps.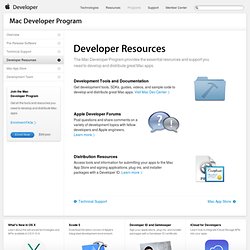 Visit Mac Dev Center. Lightbox for Android. CameraBag iPhone App Review Video. This review of CameraBag is brought to you by AppVee.com.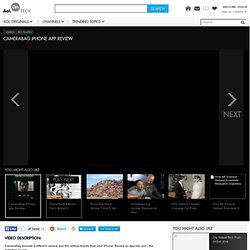 CameraBag is a must have app for the iPhone. With this app your iPhone's standard camera will be ale to emulate five different camera and film styles. You can choose to use this app to take your pictures directly or you can upload them to the app to change how you view them. Firefox | Firefox voor Android of Nokia N900 | Download Firefox naar uw mobiele apparaat. Vrijheid van typewerk Het Awesome Screen leert uw favoriete websites, zodat u met minder of zonder typewerk kunt browsen.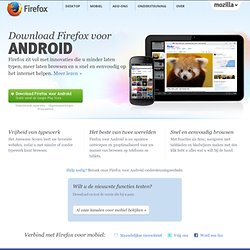 Het beste van twee werelden Firefox voor Android is nu opnieuw ontworpen en geoptimaliseerd voor uw manier van browsen op telefoons en tablets. Snel en eenvoudig browsen. Apps, extensies en thema's. Gratis iPhone Apps Top 20 - Beste App Store Applicaties. iPhone - Informatie over apps die verkrijgbaar zijn in de App Store. iPad - From the App Store. Objective-C (Developer Reference) (9780470479223): Jiva DeVoe.
OmniFocus for iPhone v1.10 has been approved! Omni OmniFocus for iPhone v1.10 adds Forecast mode—a really handy way to see your upcoming work and if you've spread yourself a bit too thin.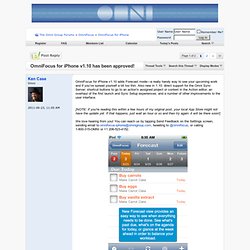 Also new in 1.10: direct support for the Omni Sync Server; shortcut buttons to go to an action's assigned project or context in the Action editor; an overhaul of the first launch and Sync Setup experiences; and a number of other improvements to the user interface. The Most Complete Twitter Application List Available - 2011 Edition. I believe this is the best, most complete and accurate list of valuable Twitter applications available on the internet right now.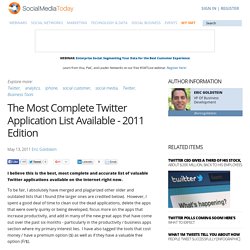 To be fair, I absolutely have merged and plagiarized other older and outdated lists that I found (the larger ones are credited below). However, I spent a good deal of time to clean out the dead applications, delete the apps that were overly quirky or being developed, focus more on the apps that increase productivity, and add in many of the new great apps that have come out over the past six months - particularly in the productivity / business apps section where my primary interest lies. I have also tagged the tools that cost money / have a premium option ($) as well as if they have a valuable free option (F/$). De beste iPad-apps. Het is zoals met alle Apple-producten: de iPad is een mooi ontworpen apparaat en behoort tot de nieuwste elektronicagadgets.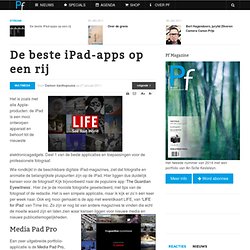 Deel 1 van de beste applicaties en toepassingen voor de professionele fotograaf. Wie rondkijkt in de beschikbare digitale iPad-magazines, ziet dat fotografie en animatie de belangrijkste pluspunten zijn op de iPad. Hier liggen dus duidelijk kansen voor de fotograaf! iPhone App Demo Portfolio. Time tracking - Timely App. Colruyt lanceert Collect&Go via iPhone. Klanten van Collect&Go, de online boodschappenservice van Colruyt, kunnen voortaan alle producten uit de Colruytwinkel reserveren via hun iPhone.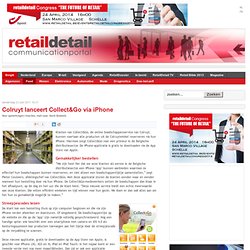 Hiermee zorgt Collect&Go voor een primeur in de Belgische distributiesector. De iPhone-applicatie is gratis te downloaden via de App Store van Apple. Gemakkelijker bestellen "We zijn heel fier dat we onze klanten als eerste in de Belgische distributiesector een iPhone-'app' kunnen aanbieden waarmee ze effectief hun boodschappen kunnen reserveren, en niet alleen een boodschappenlijstje samenstellen," zegt Pieter Ceuleers, afdelingschef van Collect&Go. Comparison of Android 2.x apps on phone and tablets. Earlier today someone asked me how regular Android 2.x apps look when they run on a 10″ honeycomb tablet.
Here are a couple of screenshots of some of my most-used apps both on the phone (Nexus S) and the tablet (Motorola Xoom). The following screenshots are made with the same version of the app binary on both devices. Twitter Twitter (phone) iPhone and Ipad apps development on Windows [How to] Some time ago I decided to list a couple of options available for iPhone development on Windows and iPad development on Windows.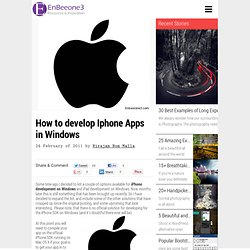 Now, months later this is still something that has been brought up recently. So I have decided to expand the list, and include some of the other solutions that have cropped up since the original posting, and some upcoming that look interesting. Please note, that there is no official solution for developing for the iPhone SDK on Windows (and it's doubtful there ever will be). At this point you will need to compile your app on the official iPhone SDK running on Mac OS X if your goal is to get your app in to Apple's iPhone app store, use Flash's iPhone packager, the Airplay SDK, or send someone else your code for compilation. 100 Web Apps to Rule Them All. Our original roundup of 100 Web Apps to Rule Them All was published in May, 2011. Nearly a year later, we're back with over a dozen new apps … and sadly with a few of our original favorites removed since they hit the deadpool.
We've added the newest apps to the top of this roundup article, so you can quickly see our new favorites. Today, more than ever before, you can get much of your work done right from your browser. There's web apps for almost everything, and increasingly they work from mobile devices, have beautifully designed interfaces that rival native apps, and work together to make your online life easier. Some have stayed the same for years, veteran standbys of the online world, while others have rapidly iterated, quickly becoming must-have apps that set the standard for the next generation of web apps.
---