Server/vserver
PhpMyAdmin. About phpMyAdmin is a free software tool written in PHP, intended to handle the administration of MySQL over the Web. phpMyAdmin supports a wide range of operations on MySQL, MariaDB and Drizzle.
Frequently used operations (managing databases, tables, columns, relations, indexes, users, permissions, etc) can be performed via the user interface, while you still have the ability to directly execute any SQL statement. PCRE - Perl Compatible Regular Expressions. Welcome! - The Apache Software Foundation. Webmin. Virtual Hosting Control System. VHCS ist weit verbreitet, und bietet Endkunden und Administratoren mit der frei verfügbaren Dokumentation, dem Forum und einigen Mailinglisten auch entsprechende Hilfe für einfache Installations- und Konfigurationsprobleme.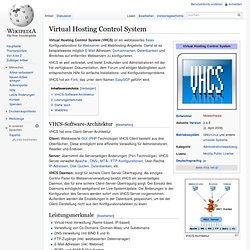 VHCS-Software-Architektur[Bearbeiten] VHCS hat eine Client-Server-Architektur. Client: Webbasierte GUI (PHP-Technologie) VHCS Client besteht aus drei Oberflächen. Diese ermöglicht eine effiziente Verwaltung für Administratoren, Reseller und Enduser. VHCS-Architektur. SysCP - The Open-Source System Control Panel.
---