Server/vserver
About phpMyAdmin is a free software tool written in PHP, intended to handle the administration of MySQL over the Web. phpMyAdmin supports a wide range of operations on MySQL, MariaDB and Drizzle. Frequently used operations (managing databases, tables, columns, relations, indexes, users, permissions, etc) can be performed via the user interface, while you still have the ability to directly execute any SQL statement.
The PCRE library is a set of functions that implement regular expression pattern matching using the same syntax and semantics as Perl 5. PCRE has its own native API, as well as a set of wrapper functions that correspond to the POSIX regular expression API. The PCRE library is free, even for building proprietary software.
PCRE - Perl Compatible Regular Expressions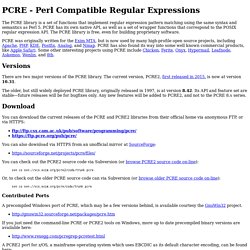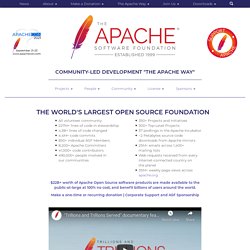 If you would like to keep up with news and announcements from the foundation and all its projects, you can subscribe to the Apache Announcements List or follow the Foundation Blog. Highest performing "NoSQL" distributed Big Data database in use at hundreds of organizations including Adobe, CERN, Comcast, Disney, eBay, GE, GitHub, GoDaddy, HP, Hulu, IBM, Instagram, Intuit, Netflix, Plaxo, Polyvore, Sony, and The Weather Channel Forest Hill, MD –08 April 2014– The Apache Software Foundation (ASF), the all-volunteer developers, stewards,... Open Source collaborative software development platform in use at DARPA, DLR German Aerospace Center, Open Source Projects Europe, and SourceForge, among others, to manage source code repositories, bug reports, discussions, wiki pages, blogs and more Forest Hill, MD –01 April 2014– The Apache Software Foundation (ASF), the all-volunteer developers, stewards, and...
Webmin is a web-based interface for system administration for Unix. Using any modern web browser, you can setup user accounts, Apache, DNS, file sharing and much more. Webmin removes the need to manually edit Unix configuration files like /etc/passwd, and lets you manage a system from the console or remotely. See the standard modules page for a list of all the functions built into Webmin, or check out the screenshots. Cloudmin 7.6 released This update improves support for XenServer 6, allows importing of Stacklet subscriber images, adds per-image post-creation scripts, adds support for virtual CPUs under OpenVZ, makes single-system backups easier, and fixes a bunch of minor bugs.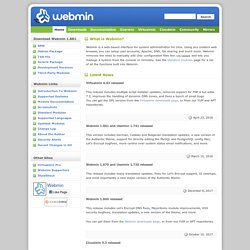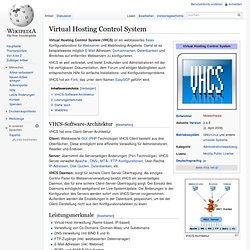 VHCS ist weit verbreitet, und bietet Endkunden und Administratoren mit der frei verfügbaren Dokumentation, dem Forum und einigen Mailinglisten auch entsprechende Hilfe für einfache Installations- und Konfigurationsprobleme. VHCS-Software-Architektur[Bearbeiten] VHCS hat eine Client-Server-Architektur. Client: Webbasierte GUI (PHP-Technologie) VHCS Client besteht aus drei Oberflächen. Diese ermöglicht eine effiziente Verwaltung für Administratoren, Reseller und Enduser. VHCS-Architektur
Virtual Hosting Control System
SysCP - The Open-Source System Control Panel