Server/vserver
About phpMyAdmin is a free software tool written in PHP , intended to handle the administration of MySQL over the World Wide Web. phpMyAdmin supports a wide range of operations with MySQL. The most frequently used operations are supported by the user interface (managing databases, tables, fields, relations, indexes, users, permissions, etc), while you still have the ability to directly execute any SQL statement.
PCRE - Perl Compatible Regular Expressions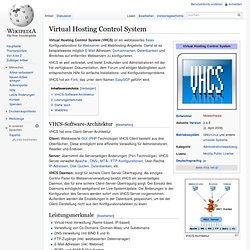 Virtual Hosting Control System (VHCS) ist ein webbasiertes freies Konfigurationstool für Webserver und Webhosting-Angebote. Damit ist es beispielsweise möglich E-Mail -Adressen, Domainnamen , Datenbanken und ähnliches auf entfernten Webservern zu konfigurieren. VHCS ist weit verbreitet, und bietet Endkunden und Administratoren mit der frei verfügbaren Dokumentation, dem Forum und einigen Mailinglisten auch entsprechende Hilfe für einfache Installations- und Konfigurationsprobleme. VHCS hat ein Fork , das unter dem Namen EasySCP geführt wird. VHCS-Software-Architektur [ Bearbeiten ] VHCS hat eine Client-Server-Architektur.
Virtual Hosting Control System
MySQL » RootForum Community » Forum
SysCP - The Open-Source System Control Panel
Ökostrom - Domain Webspace V Server und Root Server ohne CO2