Programmer
Innovateur | MCT. Web Design Process. Free Books. A lot of people keep asking about a good list of programming books.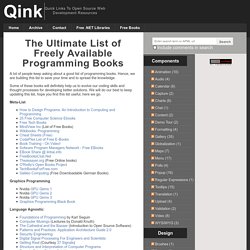 Hence, we are building this list to save your time and to spread the knowledge. Some of these books will definitely help us to evolve our coding skills and thought processes for developing better solutions. We will do our best to keep updating this list, hope you find this list useful, here we go. Meta-List. How To Become A Hacker. Copyright © 2001 Eric S.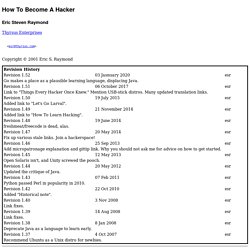 Raymond As editor of the Jargon File and author of a few other well-known documents of similar nature, I often get email requests from enthusiastic network newbies asking (in effect) "how can I learn to be a wizardly hacker? ". How to be a Programmer: A Short, Comprehensive, and Personal Summary. Debugging is the cornerstone of being a programmer.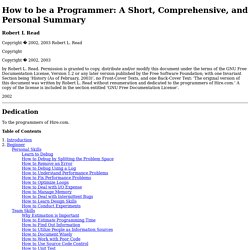 The first meaning of the verb to debug is to remove errors, but the meaning that really matters is to see into the execution of a program by examining it. A programmer that cannot debug effectively is blind. Idealists that think design, or analysis, or complexity theory, or whatnot, are more fundamental are not working programmers. The working programmer does not live in an ideal world. Nice and Free CSS Templates. Codefetch{
---