Les 4
IkRIP « met-k.com
Ik Rest In Peace. Een tijd geleden vertelde ik hier al dat mocht het ooit zover zijn, en het is ooit zover, men niet het lef zou moeten hebben dingen verkeerd te regelen. Ook na de dood regisseer ik de boel het liefst. Omdraaien in mijn graf zou niet eens mijn speciale voorkeur hebben, dus daar begint de ellende al. En je moet het maar wéten! Hoeveel mensen praten er niet over?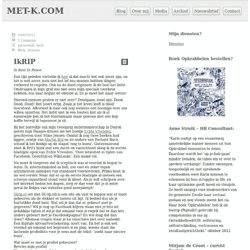 Daan Westerink
DIASPORA* ALPHA
Ilya Zhitomirskiy, 1989 – 2011 This weekend we lost one of the brightest minds of the technology world, and one of our best friends. Ilya Zhitomirskiy was a crusader—or, as he called himself, a Dragonslayer—for freedom, privacy, and openness on the Internet.
Ilya Zhitomirskiy, 1989 – 2011 Sociale media in Nederland
Daan Westerink (daanwesterink) - Twitter Photos on crowdreel
Twitter Trackbacks for Privacy and social networks: interview with Ilya Zhitomirskiy founder of Diaspora [youtube
Even the young person who sends and receives hundreds of text messages per day is unlikely to think of them as acts of reading and writing. Most text messages, including mine, are delivered in casual code for humdrum purposes, a mode of expression that makes communication seem as automatic as breathing. Roy: coffee? Jeff: now? Roy: see u there Jeff: k But consider my exchange with my daughter Alison:
Short text messages show surprising storytelling power in Norway tragedy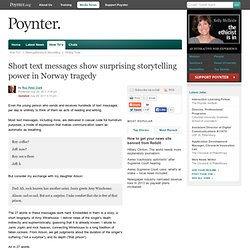 Most journalists use social media such as Twitter and Facebook as a source | Media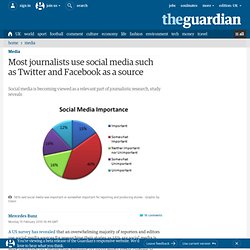 56% said social media was important or somewhat important for reporting and producing stories - Graphic by Cision A US survey has revealed that an overwhelming majority of reporters and editors use social media sources for researching their stories as 56% say social media is important for reporting and producing the stories they wrote. However, with 84% most journalists use information delivered via social media rather cautious as they think it is less reliable than information delivered via traditional media. According to the research conducted by Cision and The George Washington University , for their online research all journalists are using Google, followed by 61% which are turning to Wikipedia. Among social media 89% of journalists make use of blogs while conducting their online research, while 96% turn to corporate websites.
10 Ways journalists can use LinkedIn
A few months ago, I saw Guy Kawasaki's blog post, 10 Ways to Use LinkedIn , and it made me realize that you can use LinkedIn for a lot more than just networking. For example, journalists can get value from LinkedIn both as a research tool and as a tool for career development: Here are ten ways for journalists to use LinkedIn: 1. Get noticed for the work you do I've seen a lot of journalists with pretty sparse profiles. This is a mistake.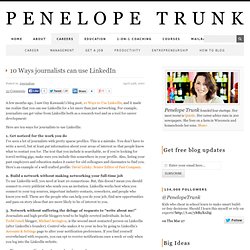 08 Feb 2011 Briljant, een tool waarmee je een online conversatie, verspreid over verschillende sociale netwerken weer kunt bundelen tot één verhaal. Storify is een tool die dit mogelijk maakt.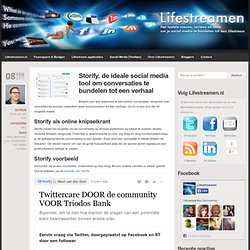 Storify, de ideale social media tool om conversaties te bundelen tot een verhaal |
Tweets bewaren, bundelen en publiceren met Keepstream