Dead poets society informations
Dead Poets Society (1989) Original Trailer
Le cercle des poètes disparus (1989) - Résumé de l'intrigue
Painfully shy Todd Anderson has been sent to the school where his popular older brother was valedictorian. His room-mate, Neil, although exceedingly bright and popular, is very much under the thumb of his overbearing father. The two, along with their other friends, meet Professor Keating, their new English teacher, who tells them of the Dead Poets Society, and encourages them to go against the status quo. Each, in their own way, does this, and are changed for life. - Written by Liz Jordan <c9310494@alinga.newcastle.edu.au>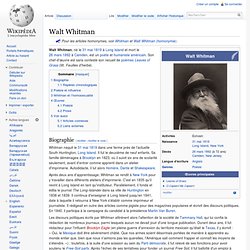 Un article de Wikipédia, l'encyclopédie libre. Walt Whitman Œuvres principales Walt Whitman, né le 31 mai 1819 à Long Island et mort le 26 mars 1892 à Camden, est un poète et humaniste américain. Son chef-d'œuvre est sans conteste son recueil de poèmes Leaves of Grass (litt. Feuilles d'herbe).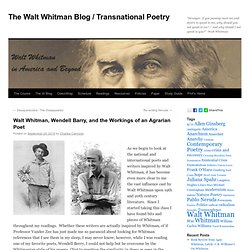 Walt Whitman, Wendell Barry, and the Workings of an Agrarian Poet | The Walt Whitman Blog / Transnational Poetry
As we begin to look at the national and international poets and writers inspired by Walt Whitman, it has become even more clear to me the vast influence cast by Walt Whitman upon 19th and 20th century literature. Since I started taking this class I have found bits and pieces of Whitman throughout my readings. Whether these writers are actually inspired by Whitman, of if Professor Vander Zee has just made me so paranoid about looking for Whitman references that I see them in my sleep, I may never know; however, while I was reading one of my favorite poets, Wendell Berry, I could not help but be overcome by the Whitmanian style of his poems. (Not to mention the similarity in dress as seen in the pictures above)
walt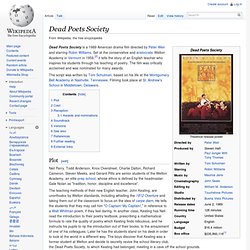 Dead Poets Society
Dead Poets Society is a 1989 American drama film directed by Peter Weir and starring Robin Williams. Set at the conservative and aristocratic Welton Academy in Vermont in 1959,[2] it tells the story of an English teacher who inspires his students through his teaching of poetry. The film was critically acclaimed and was nominated for many awards. The script was written by Tom Schulman, based on his life at the Montgomery Bell Academy in Nashville, Tennessee. Filming took place at St. Andrew's School in Middletown, Delaware.