Entertainment
Orbiter Space Flight Simulator
Excuse me, but ef all you guys. Most of you could not even be black (I'm thinking here of the Eddie Murphy/Dave Chappelle riffs on this comedy meme), for five minutes, much less however many years Kanye has been on the planet. Meanwhile, Kanye, no college degree, no actual family, came from nothing, or, let's say, not much, to be known the world over - first for the beats, which most will admit, are pretty good. Then he overcame adversity, started rhyming (the jury is out on who is best, so let's leave that aside for now), and now is trying to assay fashion. And he is taking hits. When hipster whites diss blacks who have done as well as West has - they always do so from some kind of "aesthetic" background.
Here's Kanye West Ranting for Over Eight Minutes Straight on Kimmel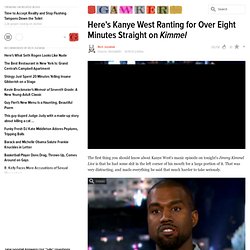 100,000 Stars
Kevin Hart Saved Ludacris
Lunch Date with Shanta
The Artist is a 2011 French[nb 1][2][3][4][5][6] romantic comedy-drama film in the style of a black-and-white silent film.[7][8][9][10] It was written, directed, and co-edited by Michel Hazanavicius, produced by Thomas Langmann and starred Jean Dujardin and Bérénice Bejo.[11] The story takes place in Hollywood, between 1927 and 1932, and focuses on the relationship of an older silent film star and a rising young actress as silent cinema falls out of fashion and is replaced by the "talkies". In France it was nominated for ten César Awards,[15] winning six, including Best Film, Best Director for Hazanavicius and Best Actress for Bejo. The Artist became the most awarded French film in history.[16] Two years later, Zimmer announces the end of production of silent films at Kinograph Studios, but Valentin is dismissive, insisting that sound is just a fad. In a dream, Valentin begins hearing sounds from his environment (as does the audience), but cannot speak himself, then wakes up in a sweat.
The Artist (film)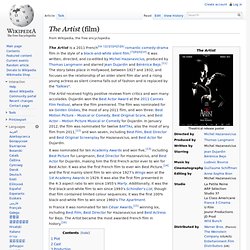 30xM4.gif (263×310)
Love story.
saddest moment in pokemon
THEXPAT - The Hague
X-Men
Publication history[edit] 1960s[edit] 1970s[edit]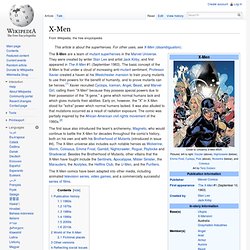 Sold Out Fri 4/18 Doors: 7:00 pm / Show: 8:00 pm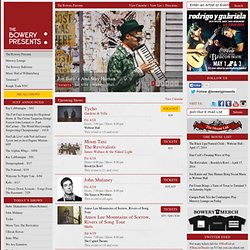 The Bowery Presents - Live Music in New York / Albany / Boston / New Jersey
Lullaby by Lateeyah (Cover)