Veggie Burgers
Falafel. Falafel is a fried ball or patty made from ground chickpeas/garbanzo beans.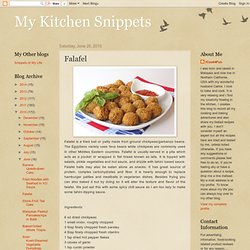 The Egyptians variety uses fava beans while chickpeas are commonly used in other Middles Eastern countries. Falafel is usually served in a pita which acts as a pocket or wrapped in flat bread known as lafa. COURGETTE FRITTERS. I know the word fritter conjures up a complex world of deep-frying and dense-eating, but these are light, simple babies - just grated courgettes, mixed with feta, herbs and spring onions, stirred up with flour and eggs and dolloped into a frying pan to make little vegetable pancakes which, unlike most fried food, are best eaten not straight out of the pan, but left to cool to room temperature.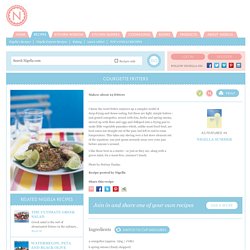 This takes any slaving over a hot stove element out of the equation: you just spoon serenely away over your pan before anyone's around. I like these best as a starter - or just as they are, along with a green salad, for a meat-free, summer's lunch. Day 8 – Pumpkin and Chickpea Burgers « The. Oh, come now.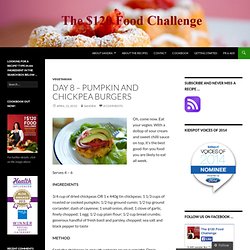 Eat your vegies. With a dollop of sour cream and sweet chilli sauce on top, it's the best good-for-you food you are likely to eat all week. Day 13 – Lentil Burgers « The. There's a misconception about vegetarian food that I loosely describe as the 'flaxseed and mung beans' view of the food world.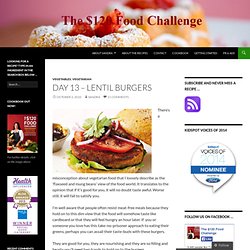 It translates to the opinion that if it's good for you, it will no doubt taste awful. Worse still, it will fail to satisfy you. I'm well aware that people often resist meat-free meals because they hold on to this dim view that the food will somehow taste like cardboard or that they will feel hungry an hour later. If you or someone you love has this take-no-prisoner approach to eating their greens, perhaps you can assail their taste-buds with these burgers.
They are good for you, they are nourishing and they are so filling and hearty you'll need two hands to hold on to the burgers. Love That Quinoa Burger! « November 1, 2010 by Linda So yummy!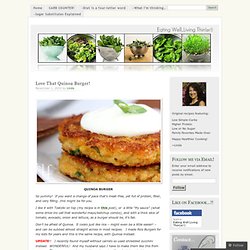 If you want a change of pace that's meat-free, yet full of protein, fiber, and very filling…this might be for you. I like it with Tzatziki on top (my recipe is in this post), or a little "fry sauce" (what some drive-ins call that wonderful mayo/ketchup combo), and with a thick slice of tomato, avocado, onion and lettuce, as a burger should be, it's fab. Don't be afraid of Quinoa.
---