Music
RATATAT - Mumtaz Khan (Beat Deprivation Remix)
Welcome to LenMus! It is a free open software project, committed to the principles of open source software, free education, and open access to information. It has no commercial purpose. It aims at developing publicly available knowledge, methods and algorithms related to teaching music, and music representation and management with computers and, at the same time, to provide free quality software for music students, amateurs, and teachers. I started LenMus when I was studying music theory, as a help to practice sight reading and aural training.
Open software for music theory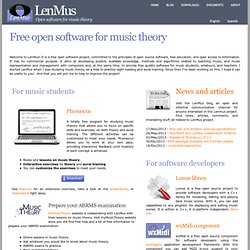 Hot Chip
Old Time Radio at The Monster Club
Ukulele Tabs
Polyvinyl Records
Michael Gondry's Music Video Picks
online free music lessons, video uploading, video music learning and free jam track community
Cigar Box Ukuleles
Introduction to Movable Chords
Hot Chip - shop - Hot Chip - TBC – CD + DVD: Signed by the Band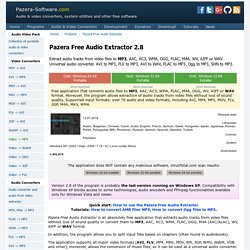 Pazera Free Audio Extractor 1.1 - Extract audio tracks from video files - FLV to MP3, AVI to MP3, AVI to WAV, AVI to WMA - Jacek Pazera
Pazera Free Audio Extractor is an absolutely free application that extracts audio tracks from video files without loss of sound quality or convert them to MP3 , AAC, AC3, WMA, FLAC, OGG or WAV format. The application supports all major video formats ( AVI , FLV , MP4, MPG, MOV, RM, 3GP, WMV, VOB and other), moreover, allows the conversion of music files, so it can be used as a universal audio converter. The program has a number of predefined settings (profiles) specially designed for novice users.
Kai Bernau. Portfolio. CD Cover Generator. 1.
The Ten Thousand Things