gardening
Get flash to fully experience Pearltrees
Gardening Advice Center Share with us your gardening experience! Name: jim@GardenAction E-mail: webmaster@gardenaction.co.uk Date posted: December 21, 2011 - 04:01 pm Message: You just need to follow these pages.
A series of guides covering everything from the germination of your pepper plants to the various ways you can preserve and store your chile pods. Beginner Guide [read beginner's guide] This guide is aimed at anyone who has hit on the idea that it would be fun to grow chile peppers.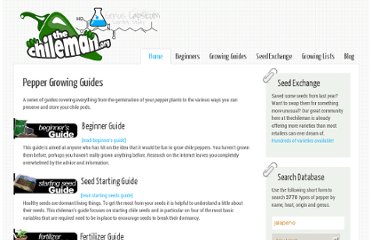 We have tried huge numbers of early hot peppers, and here offer the best. Peppers for every taste, in many different colours and shapes! Again, many are very early to help with short British summers, and some are of more unusual species such as Capsicum pubescens and Capsicum baccatum. A note about Germination rates - beginners may not realise that as a matter of course, chilli and pepper seed doesn't have as high a germination rate as other vegetables, which is why packets contain a few more seed than you might need. However, all our seed is really fresh and we don't send anything out unless at least 80% of the seeds germinate when we test them before packing. Please order your seeds in time.
Side stems affect plant vigor As a tomato grows, side shoots, or suckers, form in the crotches, or axils, between the leaves and the main stem. If left alone, these suckers will grow just like the main stem, producing flowers and fruit. Suckers appear sequentially, from the bottom of the plant up. The farther up on the plant a sucker develops, the weaker it is, because the sugar concentration gets lower as you move up the plant.
If you've run out of clever greeting card ideas, try a card you can plant into the ground. Craft blog Make and Takes demonstrates how to make "seed paper" and turn it into a plantable greeting card. If you've ever made paper before, this process is not so different—you just need some paper scraps (preferably in pretty colors), a blender and some water.
One couldn't say that the concept of vertical farming isn't controversial, but they could say that it has serious merits that need to be considered on both sides of the issues. credit What is a vertical farm? The basic premise, as you see in this image, is to be able to grow food in urban areas by creating tall buildings where, instead of each floor having offices, each floor is in essence its own super greenhouse, where different crops can be grown to feed people within its own community. The idea is to not only be able to feed the community, but to protect the land that's being damaged by over-farming and making sure that there will still be enough food for an ever growing population. credit