Frontend

Browsershots makes screenshots of your web design in different operating systems and browsers. It is a free open-source online web application providing developers a convenient way to test their website's browser compatibility in one place. When you submit your web address, it will be added to the job queue. A number of distributed computers will open your website in their browser. Then they will make screenshots and upload them to our central dedicated server for your review.
Download Details - Microsoft Download Center - IE App Compat VHD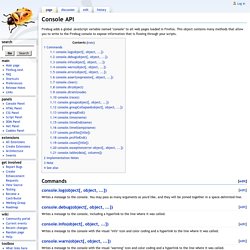 Console API - FirebugWiki
From FirebugWiki Firebug adds a global JavaScript variable named "console" to all web pages loaded in Firefox. This object contains many methods that allow you to write to the Firebug console to expose information that is flowing through your scripts.
Javascript development tools - resources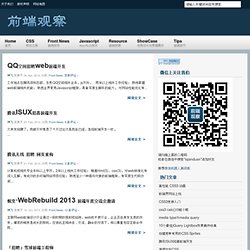 前端观察 | 专注于网站前端设计与前端开发
QQ空间招聘web前端开发 工作地点在腾讯深圳总部,负责QQ空间相关业务,js方向。 两年以上相关工作经验; 熟练掌握web前端相关技能; 熟悉业界常用Javascript框架,具备写原生脚本的能力。 对网站性能优化有... 阅读全文 > 腾讯ISUX招募前端开发
开发文档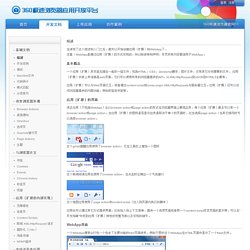 综述 当读完了这个综述和入门之后,就可以开始创建应用(扩展)和WebApp了。 注意:WebApp是通过应用(扩展)的方式实现的,所以除非特别声明,本页所有内容都适用于WebApp。 基本概念
高品质 HTML+CSS 制作服务 – SonicHTML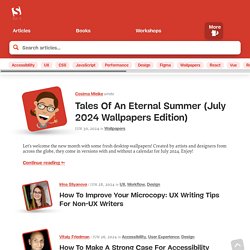 Interview With Khajag Apelian"Type Design Is Not Only About Drawing Letters" Having started his career studying under some of the best typographic minds in the world, Khajag Apelian not only is a talented type and graphic designer, unsurprisingly, but also counts Disney as a client, as well as a number of local and not-for-profit organizations throughout the Middle East. Even more impressive is Khajag's willingness to take on work that most people would find too challenging. Designing a quality typeface is a daunting task when it's only in the Latin alphabet.
瀑布流布局浅析 - TaobaoUED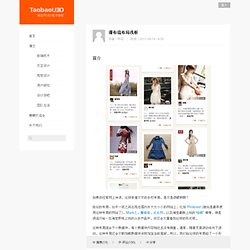 简介 如果你经常网上冲浪,这样参差不齐的多栏布局,是不是很眼熟啊? 类似的布局,似乎一夜之间出现在国内外大大小小的网站上,比如 Pinterest (貌似是最早使用这种布局的网站了),Mark之,蘑菇街,点点网,以及淘宝最新上线的"哇哦" 等等,倒是很流行哈~ 在淘宝即将上线的众多产品中,你还会大量看到这样的形式呢。