Nature
It's like a little Inuksuk… Before you say anything about the content of this article, I hate people who litter. I'll judge you if I think you're too lazy to recycle. I hate pollution and the death of our fragile ecosystems and all the rest. But- with that disclaimer out of the way- Glass Beach in Fort Bragg, California is the incredible result of human wastefulness and the resilience of nature. I've been trolling around for lesser known landscapes to road trip to and explore, and stumbled across this chunk of multicolored west coast paradise.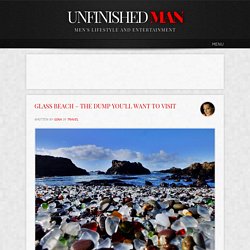 Glass Beach - The Dump You'll Want to Visit - Unfinished Man - StumbleUpon
Stairway In The Woods Photograph by Kathleen Struckle - Stairway In The...
Comment, Like, & Favorite Tags: stairway photographs, woods photographs, forest photographs, letchworth photographs, high photographs, stairway canvas prints, stairway iphone cases, woods canvas prints, woods iphone cases, forest canvas prints, forest iphone cases, letchworth canvas prints, letchworth iphone cases, high canvas prints, high iphone cases Buy Prints | Greeting Cards Expert Printing and Assembly
along_the_tracks_1_b.jpg from chromasia.com - StumbleUpon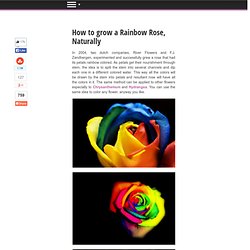 How to grow a Rainbow Rose, Naturally
In 2004, two dutch companies, River Flowers and F.J. Zandbergen, experimented and successfully grew a rose that had its petals rainbow colored. As petals get their nourishment through stem, the idea is to split the stem into several channels and dip each one in a different colored water. This way all the colors will be drawn by the stem into petals and resultant rose will have all the colors in it. The same method can be applied to other flowers especially to Chrysanthemum and Hydrangea.
Posted admin in Photography on November 9th, 2011 / 3 Comments Advertisement The National Geographic has act a source of inspiration for people to care about the planet. It is one of the largest non-profit scientific and educational institutions in the world. Its interests include geography, archaeology and natural science, the promotion of environmental and wallpapers .
35+ Underwater Photography Wallpapers: National Geographic | HybridLava
Smashing Picture - StumbleUpon
Today we have great examples of night photography from photographers all over the world. In our inspiration galleries we present our latest findings from the smashing universe of designers or artists. Today we have great examples of night photography from photographers all over the world.
35 Beautiful Examples Of Rain Photography - Smashing Magazine - StumbleUpon
Photography of Katherine Dinger
36 Jaw-Dropping Nature Photos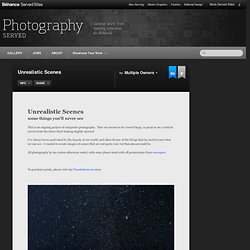 Unrealistic Scenes on Photography Served
Unrealistic Scenes some things you'll never see This is an ongoing project of composite photographs.