Visual Art
30+ High Quality And Free Vector Object Sets To Beautify Your Designs. Sometimes, when you are about to design, a well-designed object can easily inspire you.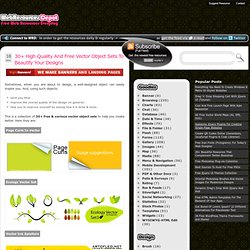 And, using such objects: save you timeimprove the overall quality of the design (in general)help you to improve yourself by seeing how it is done & more.. 30 Beautiful Photoshop Text Effect Tutorials. There are thousands of Photoshop tutorials out there, but few that are top-notch in terms of instructions, presentation – and of course – outcome.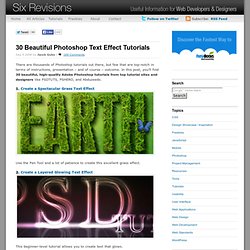 In this post, you'll find 30 beautiful, high-quality Adobe Photoshop tutorials from top tutorial sites and designers like PSDTUTS, PSHERO, and Abduzeedo. 1. Create a Spectacular Grass Text Effect. A Nice List of Great Photoshop Lists. Lists have been around for a long while and are a hot topic today.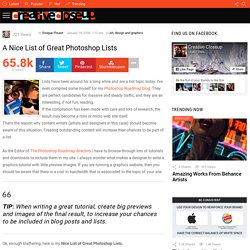 I've even compiled some myself for my Photoshop Roadmap blog. They are perfect candidates for massive and steady traffic, and they are an interesting, if not fun, reading. If the compilation has been made with care and lots of research, the result may become a mini or micro web site itself. That's the reason why content writers (artists and designers in this case) should become aware of this situation. Creating outstanding content will increase their chances to be part of a list.
180+ Free Photoshop Plugins. Photoshop is a powerful image editing software which is very useful for web designers and photographers to create desired effects in the images.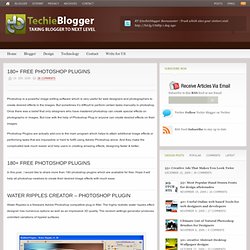 But sometimes it's difficult to perform certain tasks manually in photoshop. Once there was a belief that only designers who have mastered photoshop can create special effects on photographs or images. But now with the help of Photoshop Plug-in anyone can create desired effects on their images. 70 Of The Best Photoshop Actions For Enhancing Photos.
The compilation consist of 70 of the best Photoshop actions collected from all around the web from photo effects to actions for even creating photo borders, An essential design resource for all designers weather your an expert or an beginner.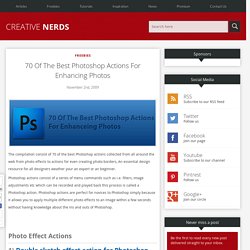 Photoshop actions consist of a series of menu commands such as i.e. filters, image adjustments etc which can be recorded and played back this process is called a Photoshop action. Photoshop actions are perfect for novices to Photoshop simply because it allows you to apply multiple different photo effects to an image within a few seconds without having knowledge about the ins and outs of Photoshop. SketchType: Gallery.
Programs
Tutorial. Inspiration.
---