Minecraft
Minecraft Wiki. Forestry Wiki. Forestry for Minecraft Page: Main.HomePage - Last Modified : Mon, 03 Sep 12 Forestry for Minecraft is a modification for the game Minecraft designed with compatibility to BuildCraft and IndustrialCraft in mind.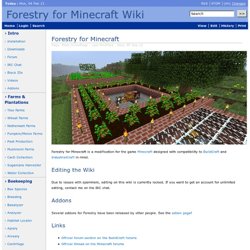 Buildcraft Wiki. Laser Mod. You can download an updated version here.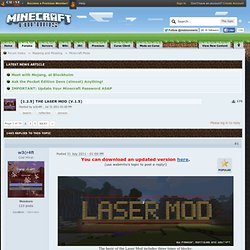 (use webmilio's topic to post a reply!) The basic of the Laser Mod includes three types of blocks: Use the laser mod to defense your house, as a light source, or for a mob-trap and much more! The ruby All blocks are based on the ruby now. BuildCraft-IndustrialCraft Crossover. BuildCraft-IndustrialCraft2 Crossover Mod v2.0[SSP/SMP] This mod adds 4 electric engines, a oil materializer which produces oil from UU-matter, a generator that can run off of oil, fuel, or power from Build Craft's conductive pipes.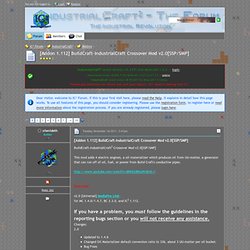 Download: v2.0 [Universal] Mediafire Link for MC 1.4.6/1.4.7, BC 3.3.0, and IC2 1.112. Industrialcraft - Wiki.
---