Diving into Ruby on Rails
Every layout in Less Framework is based on a single grid, composed of 68 px columns with 24 px gutters. The only measures that change from layout to layout are the amount of columns and the width of the outer margins. The three sets of typography pre­sets are aligned to a 24 px baseline grid; one is based on 16 px body text, one on 17 px, and one on 18 px.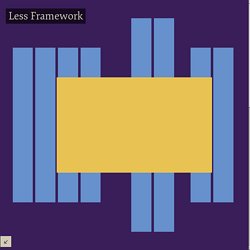 HTML ASCII Characters
Rails Forum - Ruby on Rails Help and Discussion Forum
Save time. Create with confidence. ★ Analytics, icons, and more A lean, mobile-friendly HTML template; optimized Google Analytics snippet; placeholder touch-device icon; and docs covering dozens of extra tips and tricks. ★ Normalize.css and helpers Includes Normalize.css v1 — a modern, HTML5-ready alternative to CSS resets — and further base styles, helpers, media queries, and print styles.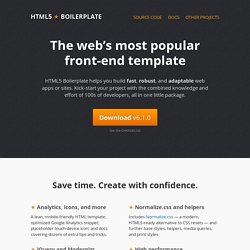 Active Admin | The administration framework for Ruby on Rails
The administration framework for business critical Ruby on Rails applications. Active Admin is a Ruby on Rails plugin for generating administration style interfaces. It abstracts common business application patterns to make it simple for developers to implement beautiful and elegant interfaces with very little effort. A beautiful interface designed for real people. Global Navigation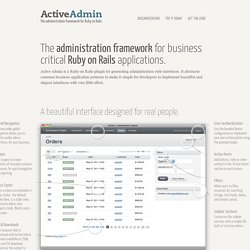 Skip to main content About Notepad++ is a free (as in "free speech" and also as in "free beer") source code editor and Notepad replacement that supports several languages. Running in the MS Windows environment, its use is governed by GPL License.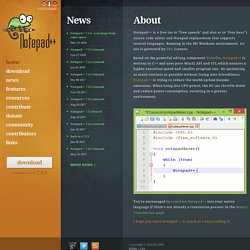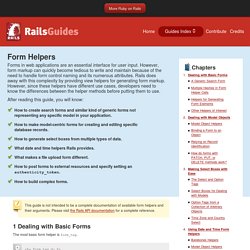 Rails Form helpers
This guide is not intended to be a complete documentation of available form helpers and their arguments. Please visit the Rails API documentation for a complete reference. 1 Dealing with Basic Forms The most basic form helper is form_tag. When called without arguments like this, it creates a <form> tag which, when submitted, will POST to the current page. For instance, assuming the current page is /home/index, the generated HTML will look like this (some line breaks added for readability):