Social Media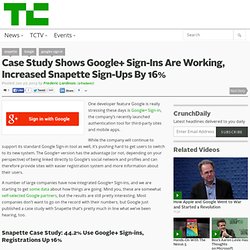 Case Study Shows Google+ Sign-Ins Are Working, Increased Snapette Sign-Ups By 16%
One developer feature Google is really stressing these days is Google+ Sign-in , the company's recently launched authentication tool for third-party sites and mobile apps.
Zuckerberg: No ads in Home yet, but they will come to Cover Feed eventually
Facebook pages can be a huge way to connect to audiences. Facebook statistics tell us that the average user (at the time of this writing) is connected to 60 pages, groups and events. This means that aside from all the other Facebook friend activity that goes on, your page is one of 60 trying to grab attention a fan's attention. For a more effective social media marketing program, here are ten things that you can do to turn your Facebook page into a dynamic and engaging destination for your Facebook fans. 1. Be unique
Facebook Marketing: 10 Tips on Better Fan Pages - Online Marketi
How to Get the Most Out of Social Media Using Hootsuite : Techno
The Real Results series is supported by Gist , an online service that helps you build stronger relationships. By connecting your inbox to the web, you get business-critical information about key people and companies. See how it works here . For startups, the amount of money you have to burn before you either need to break even or raise more capital is your runway. Extending the length of that runway is an art form that requires startup founders to learn how to squeeze maximum value out of every dollar they spend.
How Startups are Using Social Media for Real Results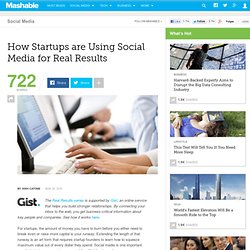 Content marketing is essential for B2B businesses providing both qualitative and quantitative returns. And while 6 in 10 marketers are planning to increase content marketing spends this year, success-rates still vary greatly as it's a new concept for most. Maria Pergolino, director of marketing for Marketo (a TopRank Online Marketing client) shared a presentation at the Marketo User Summit on getting the message out, focused on social media and content marketing tips/tricks. How do you succeed in content marketing? Create content that sells Create a content map Optimize content for search Repurpose content Learn to succeed even in situations with little or no content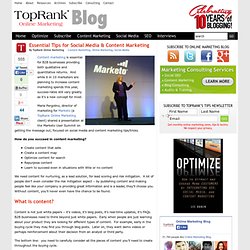 Social Media & Content Marketing Tips – Marketo User Summit - Online Marketing Blog
CHART OF THE DAY: The Half-Life Of A YouTube Video Is 6 Days
How Musicians Are Using Social Media to Connect with Fans
Today's musicians, both mainstream and indie, are using social media to connect with fans, build anticipation, and generate revenue in new and unique ways. The products range from singles to mix tapes to digital six-packs, even oddly shaped USB sticks , vinyl, and the occasional traditional album. But how are these artists reaching their new fan bases online through social channels? Much like the business world, social media promotion for musicians is still a very new game, with no exact recipe for platinum success.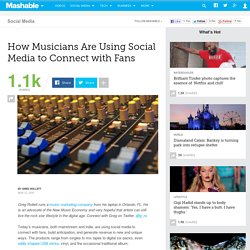 Lufthansa Offers Apple's iPhone-Losing Dude A Free Flight To Ger
Greenpeace et Nestlé sur Facebook : l'Art de la Guerre | ReadWri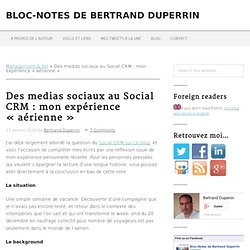 J'ai déjà largement abordé la question du Social CRM sur ce blog , et voici l'occasion de compléter mes écrits par une réflexion issue de mon expérience personnelle récente. Pour les personnes pressées qui veulent s'épargner la lecture d'une longue histoire, vous pouvez aller directement à la conclusion en bas de cette note. La situation Une simple semaine de vacance. Découverte d'une compagnie que je n'avais pas encore testé, et retour dans le contexte des intempéries que l'on sait et qui ont transformé le week- end du 20 décembre en naufrage collectif pour nombre de voyageurs (et pas seulement dans le monde de l'aérien. Le background
Des medias sociaux au Social CRM : mon expérience "aérienne" | B
Why Banning Social Media Often Backfires
Humans have a natural proclivity to want what they cannot have. Our insatiable appetite for sharing information, combined with the nearly limitless ways to access the web have thus far frustrated the most sophisticated attempts to block access to social media services. From the Great Firewall of China to the public schools of Britain, IT security experts are finding that restricting Internet access can have the unintended consequences of civic backlash, poor worker productivity, and students unprepared for cyber threats. Here are a few examples that illustrate the ban and backfire.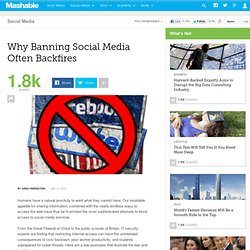 In This Article Exhibit 1: Word of mouth is influential throughout the consumer decision journey. Exhibit 2: By looking at impact as well as volume, marketers can measure the effects of word-of-mouth messages more accurately.
A new way to measure word-of-mouth marketing - McKinsey Quarterl
J'ai déjà eu l'occasion de vous parler de social scoring et des indicateurs-clés des médias sociaux que l'IAB tente de standardiser. Hasard du calendrier, ce ne sont pas deux mais trois approches différentes qui viennent d'être proposées ces derniers jours. Du très quantitatif au très qualitatif, la diversité de ces approches nous permet d'y voir un peu plus clair dans cette pratique encore méconnue.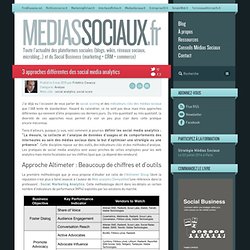 The Real Money Is In The "Right-Time" Web
Social marketing is just starting to bubble up and everybody wants in. But only ex-Googlers needed to apply to invest in MyLikes , a social marketing ad network which just raised a $630,000 seed round. The company, which was founded by two ex-Googlers—former Google Apps product lead Bindu Reddy and former AdSense tech lead Arvind Sundararajan—took money only from 11 other ex-Googlers. CEO Reddy says she wanted to take money from people she knew and trusts, and those happened to be all Ex-Googlers.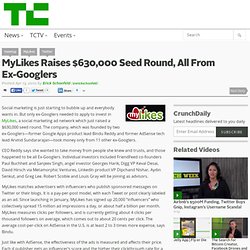 MyLikes Raises $630,000 Seed Round, All From Ex-Googlers
As location continues to garner a lot of buzz, more and more brands are thinking about innovative ways to use it for promotion. We've seen dozens of brands sign up with Foursquare to promote things, and they're starting to embrace Gowalla in a major way too. The latest three are: Adobe, Chipotle, and the New Jersey Nets. Today at his Where 2.0 talk in San Jose, CA, Gowalla CEO Josh Williams unveiled Adobe's plan to use the service's signature stamps to give away a dozen copies of their new Creative Suite 5 software.
Pixels And Salsa: Adobe And Chipotle Play Gowalla's Game
The Real Reason You Are Addicted To Farmville (And Zynga Is A $5
Peter Yared is founder and CEO of social and mobile app infrastructure company Transpond. There's been a lot of chatter over the past few weeks about the long-term viability of social game developers. Facebook essentially shut down the viral channels social games were using to fuel their growth and is now attempting to force game developers to use Facebook's own virtual currency, the very expensive Facebook Credits . While social game developers like Zynga are contemplating moving games to their own destination sites and launching full fledged mobile versions, they in fact have a much bigger challenge that needs to be addressed: their games have got to get a lot better. Social Games are Now a Hits-Based Business While there's a tendency to think of social gaming as an extension to the casual gaming market, they are, in fact, a major growth market that is quickly becoming a high stakes, hit-based business.
With social game market in flux, what Zynga needs is Farmville 2