Funding
European startups: Here's how to (not) raise capital in the US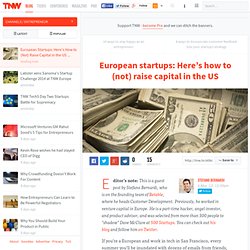 If you're a European and work in tech in San Francisco, every summer you'll be inundated with dozens of emails from friends, contacts and unknown European entrepreneurs who will ask you for advice and introductions to US investors for their classic VC fundraising trip.
Nevers heard of an european startup raising US VC without very strong us footprint:
- local connections
- founder commitment to install in the us
- european VC closing the gap (Index for instance) by PED Jun 15
Does Your Startup Have a Good Story?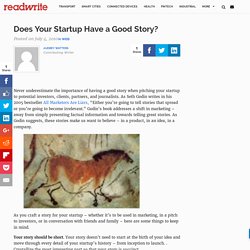 Never underestimate the importance of having a good story when pitching your startup to potential investors, clients, partners, and journalists.
How to Pitch a VC (aka "Startup Viagra")
At some point in the life of a venture-backed startup there typically arises a choice between doing an inside round, where the existing investors lead the new financing, or an outside round, where new investors lead the new financing. At this point interesting game-theoretic dynamics arise among management, existing investors, and prospective new investors. If the company made the mistake of including big VCs in their seed round, they'll face this situation raising their Series A. If the company was smart and only included true seed investors in their initial round, they won't face this issue until their Series B. Here's a typical situation.
Inside versus outside financings: the nightclub effect cdixon.or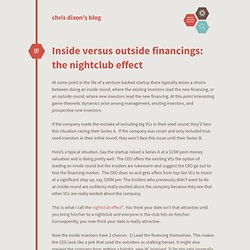 Editor's note: Chuck Dietrich is chief executive of online presentation startup SlideRocket . Startup CEOs wear many hats. None, perhaps, is more important than that of "company pitchman." In today's competitive funding climate, CEOs often present at events like Under the Radar, South by Southwest, and DEMO –- where they have five minutes on stage to 'sell' their company to potential investors, partners, and customers. Getting these presentations right leads to financing, buzz and growth; getting them wrong doesn't. In my role as CEO of SlideRocket, I view hundreds of presentations a week and thousands over the course of the year.
How to nail the five-minute pitch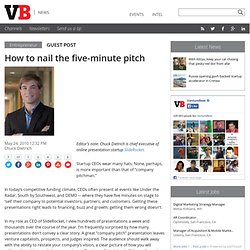 5 legal mistakes startups make while raising capital | VentureBe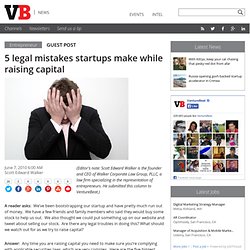 (Editor's note: Scott Edward Walker is the founder and CEO of Walker Corporate Law Group, PLLC, a law firm specializing in the representation of entrepreneurs. He submitted this column to VentureBeat.) A reader asks : We've been bootstrapping our startup and have pretty much run out of money. We have a few friends and family members who said they would buy some stock to help us out. We also thought we could put something up on our website and tweet about selling our stock.
How We Raised $1.3 Million As First-Time Founders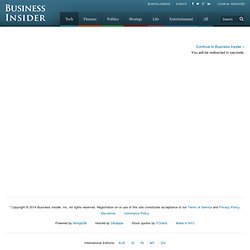 When Jim and I quit our finance jobs to start the next big thing, we were really unprepared for our startup journey . We didn't have startup experience, we had no real domain expertise (our startup wasn't going to be about finance), and we didn't know any investors in the tech community. There was very little reason for them to want to invest in our startup. Exactly three years later, we raised $1.3 million for Yipit , a daily deals aggregator , from Ron Conway and David Lee's SV Angel, RRE, DFJ Gotham, IA Ventures, and a handful of other amazing tech investors. This post isn't about the tactics we used once we started getting interest — I'll share that with you later and you should check out VentureHacks .
Raising Money On AngelList: 21 Tips From Two Active Angels The following is the result of a collaboration between Ty Danco and Dharmesh Shah. Ty is an angel investor and startup mentor (you should be reading his blog ).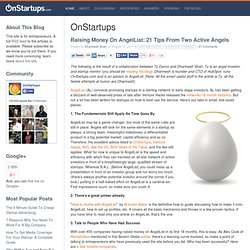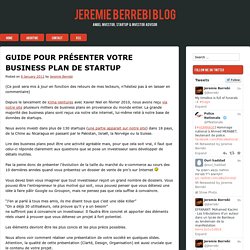 (Ce post sera mis à jour en fonction des retours de mes lecteurs, n'hésitez pas à en laisser en commentaire) Depuis le lancement de Kima Ventures avec Xavier Niel en février 2010, nous avons reçu via notre site plusieurs milliers de business plans en provenance du monde entier. La grande majorité des business plans sont reçus via notre site internet, lui-même relié à notre base de données de startups. Nous avons investi dans plus de 130 startups ( une partie apparait sur notre site ) dans 18 pays, de la Chine au Nicaragua en passant par le Pakistan, Israël, la Norvége ou la Suisse.
Behind the Scenes: How Fab Raised $40 million with a lot of data and not much pain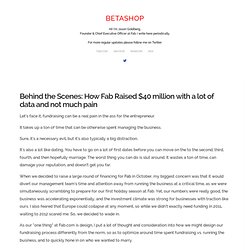 Behind the Scenes: How Fab Raised $40 million with a lot of data and not much pain Let's face it, fundraising can be a real pain in the ass for the entrepreneur. It takes up a ton of time that can be otherwise spent managing the business. Sure, it's a necessary evil, but it's also typically a big distraction. It's also a lot like dating.
In the comments to last week's Burn Rate post , I was asked to share some burn rates from our portfolio. I can't do that. But an alternative suggestion was to write a post suggesting some reasonable burn rates at different stages.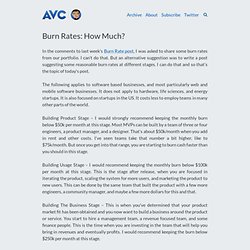 Burn Rates: How Much?