Web
JS
Grid (Allan Jardine) As all designers know, the grid is absolutely fundamental to layout, whether you want to keep to a tight grid, or break it for effect.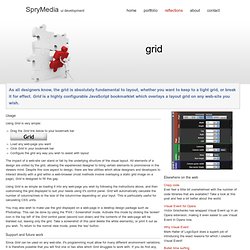 Grid is a highly configurable JavaScript bookmarklet which overlays a layout grid on any web-site you wish. Using Grid is very simple: Drag the Grid link below to your bookmark bar Load any web-page you want Click Grid in your bookmark bar Configure the grid any way you wish to assist with layout. SproutCore. How To Make Your Site Compatible For Cell Phones | Useful HTML-, CSS- and JavaScript Tools and Libraries - Smashing Magazine.
Advertisement Front-end development is a tricky beast.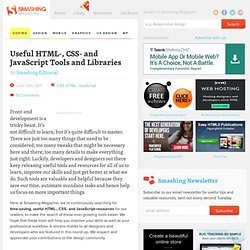 It's not difficult to learn, but it's quite difficult to master. 35 Excellent Wireframing Resources. Oct 05 2010 Wireframing is an important part of the design process, one that shouldn't be overlooked by even the most experienced designers.
Wireframes can save development time by outlining exactly how a site should look and function, in a manner that can be shown to and approved by your clients. But wireframing can be confusing, especially to new designers. What's the right way to create a wireframe?
CSS
---