Guides
Sean Carton | August 29, 2011 | 16 Comments inShare79 "Curation" is a buzzword (even if it isn't technically a word…unless you count the 14th century French definition meaning "to cure") that's smokin' up the interwebs these days.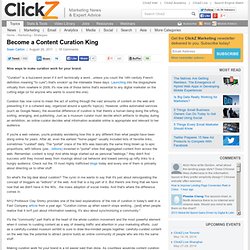 Become a Content Curation King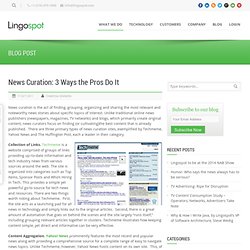 News curation is the act of finding, grouping, organizing and sharing the most relevant and noteworthy news stories about specific topics of interest. Unlike traditional online news publishers (newspapers, magazines, TV networks) and blogs, which primarily create original content, news curators focus on finding (or cultivating)the best content that is already published. There are three primary types of news curation sites, exemplified by Techmeme, Yahoo!
News Curation: 3 Ways the Pros Do It
Content curation is a great way to manage sharing content online and a great asset to your content marketing strategy. Here are 5 valuable Twitter tips for content curators to share great content online: Read Mashable's Twitter Guide. This comprehensive guide is filled with invaluable information on everything you need to know about Twitter from starting out to networking and using Twitter to build your business.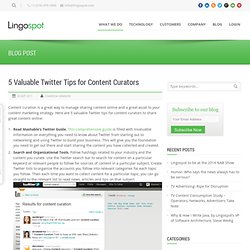 5 Valuable Twitter Tips for Content Curators
Susan Kistler on Content Curation Part III: Seeking Reviewers and Curators - AEA365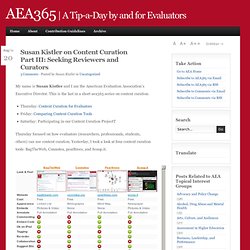 My name is Susan Kistler and I am the American Evaluation Association's Executive Director. This is the last in a short aea365 series on content curation. Thursday focused on how evaluators (researchers, professionals, students, others) can use content curation. Yesterday, I took a look at four content curation tools: BagTheWeb, Connotea, pearltrees, and Scoop.it. Today, I'm hoping that others might be interested in expanding on this project.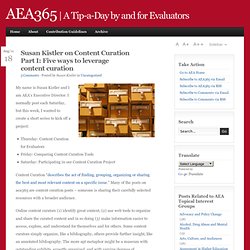 My name is Susan Kistler and I am AEA's Executive Director. I normally post each Saturday, but this week, I wanted to create a short series to kick off a project: Thursday: Content Curation for EvaluatorsFriday: Comparing Content Curation ToolsSaturday: Participating in our Content Curation Project Content Curation "describes the act of finding, grouping, organizing or sharing the best and most relevant content on a specific issue."
Susan Kistler on Content Curation Part I: Five ways to leverage content curation - AEA365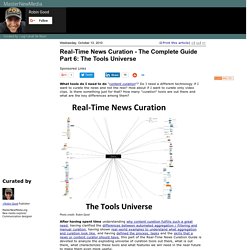 Real-Time News Curation - The Complete Guide Part 6: The Tools Universe
Real-Time News Curation: Part 6 - The Tools and Technologies
socialmediafoundations - Curation Planning Questions
Part III: Curation Types and Real-World Examples There exists many types of curation, and many ways to interpret what curation really is. As I have attempted to illustrate in Part II of this guide, in my own view, aggregation is automated and it is not the same as curation.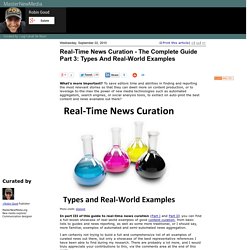 Real-Time News Curation - The Complete Guide Part 3: Types And Real-World Examples
Real-Time News Curation - The Complete Guide Part 2: Aggregation Is Not Curation
We are no longer just consumers of content, we have become curators of it too.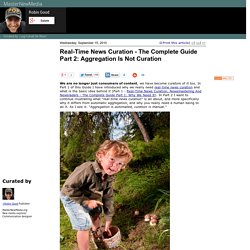 Real-Time News Curation - The Complete Guide Part 4: Process, Key Tasks, Workflow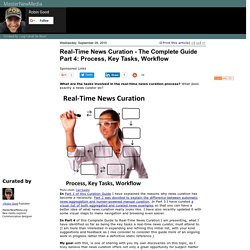 I have received a lot of emails from readers asking to illustrate more clearly what the actual typical tasks of a news curator are, and what are the tools that someone would need to use to carry them out.
The time it takes to follow and go through multiple web sites and blogs takes tangible time, and since most sources publish or give coverage to more than one topic, one gets to browse and scan through lots of useless content just for the sake of finding what is relevant to his specific interest.
Real-Time News Curation, Newsmastering And Newsradars - The Complete Guide Part 1: Why We Need It