Tools for Life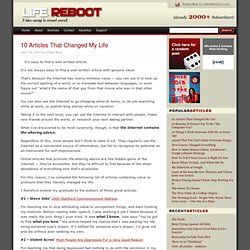 It's easy to find a well written article. It's not always easy to find a well written article with genuine value. That's because the Internet has nearly limitless value — you can use it to look up the correct spelling of a word, or to translate text between languages, or even figure out "what's the name of that guy from that movie who was in that other movie?" You can also use the Internet to go shopping while at home, or do job searching while at work, or publish blog entries while on vacation. Taking it to the next level, you can use the Internet to interact with people, make new friends around the world, or research your next dating partner. What I've discovered to be most surprising, though, is that the Internet contains life-altering advice.
11 Great Online Tools for Students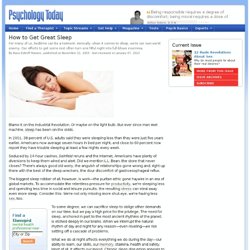 Blame it on the Industrial Revolution. Or maybe on the light bulb. But ever since man met machine, sleep has been on the skids. In 2001, 38 percent of U.S. adults said they were sleeping less than they were just five years earlier.
Psychology Today: How to Get Great Sleep
January 2006 To do something well you have to like it. That idea is not exactly novel. We've got it down to four words: "Do what you love." But it's not enough just to tell people that.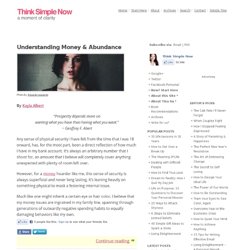 Photo by Hannes Caspar By Kate Carpenter "We grow primarily through our challenges, especially those life-changing moments when we begin to recognize aspects of our nature that make us different from the family and culture in which we have been raised." ~ Caroline Myss When Oprah Winfrey interviewed Jane Fonda for The Oprah Magazine, these two amazing women touched briefly on the subject of caring about what others think of them. Oprah: I've read that, like me, you've always struggled with the disease to please. Jane: I used to walk into a party and think, Oh, my God, will I be interesting enough?
It doesn't matter how brainy you are or how much education you've had - you can still improve and expand your mind. Boosting your mental faculties doesn't have to mean studying hard or becoming a reclusive book worm. There are lots of tricks, techniques and habits, as well as changes to your lifestyle, diet and behaviour that can help you flex your grey matter and get the best out of your brain cells. And here are 11 of them.
11 steps to a better brain - being-human - 28 May 2005 - New Sci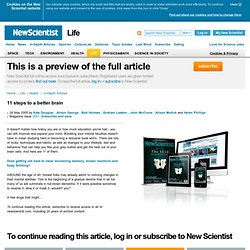 How to Be a Leader in Your Field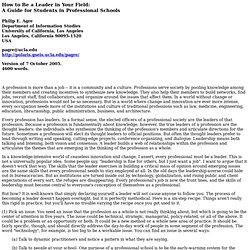 How to Be a Leader in Your Field: A Guide for Students in Professional Schools Philip E. Agre Department of Information Studies University of California, Los Angeles Los Angeles, California 90095-1520 USA pagre@ucla.edu http://polaris.gseis.ucla.edu/pagre/ Version of 7 October 2005. 4600 words.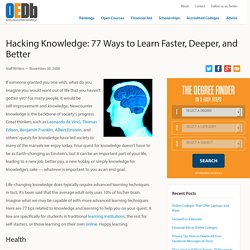 If someone granted you one wish, what do you imagine you would want out of life that you haven't gotten yet? For many people, it would be self-improvement and knowledge. New knowledge is the backbone of society's progress. Great thinkers such as Leonardo da Vinci, Thomas Edison, Benjamin Franklin, Albert Einstein, and others' quests for knowledge have led society to many of the marvels we enjoy today. Your quest for knowledge doesn't have to be as Earth-changing as Einstein's, but it can be an important part of your life, leading to a new job, better pay, a new hobby, or simply knowledge for knowledge's sake — whatever is important to you as an end goal. Life-changing knowledge does typically require advanced learning techniques.
Maybe I am a bit behind on this but have you used Google reader? You need to create a google account for yourself, but that is easy and just requires your email address and a password. Go to http://www.google.com/reader.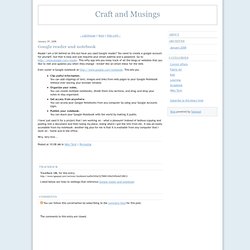 Craft and Musings: Google reader and notebook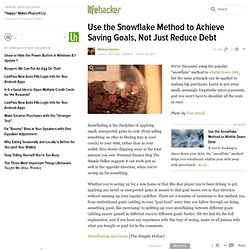 Use the Snowflake Method to Achieve Saving Goals, Not Just Reduc
I have a mug in my room, hidden behind my Ewok and Lil' Mikey dolls. I fill it up with the loose change I find in my day to day life, either on the ground, through the change in my pockets at the end of the day (that I'd otherwise lose, knowing myself), or doing laundry. Since the walls are made of glass, and there is a flag design printed on the front, I can easily monitor how much money is stashed away in there.
Implement Advanced "Siestas" for Improved Sleep - Nap - Lifehack
SExpand A poor night's sleep is almost guaranteed to negatively impact your day, but you don't have to get all your winks in one shot. Consider the "siesta" sleep method and other schedules to get in more quality shut-eye. Designer Dustin Curtis chronicled his own battles for better sleep, concluding that "all you really need to survive and feel rested is the REM phase." He writes at his blog that the way to force your brain into this state is to trick it into thinking you're only going to have a tiny window of time to get your sleep on.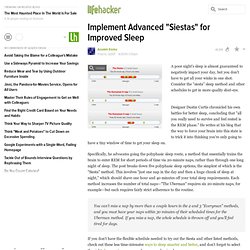 "No day is so bad it can't be fixed with a nap." - Carrie P. Snow College students and kindergartens love them.
10 Benefits of Power Napping, and How to Do It